Shed storage ideas: 11 stylish ways to organise your garden tools and pots
Get organised with our shed storage ideas – from clever shelving to handy hooks, plus other ways to optimise your space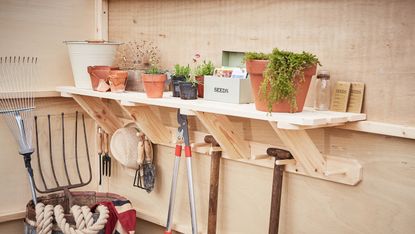 (Image credit: The Posh Shed Company)
Ready for a good springtime sort-out? These shed storage ideas are a good place to start. For even our most picture-perfect shed ideas can accumulate a jumbled heap of clutter, without the right storage solutions to hand.
To demonstrate how transformative shed storage can be, let's imagine a warm summer's morning. You're heading outdoors to plant some new seedlings, water your sweet peas, or pluck weeds from your prized beds. First things first, you head to the shed.
Things start to turn south straight away. Getting inside is a job in itself – a rogue spade has fallen and jammed the door shut. After wrestling for a while, you're in, but the watering can is nowhere to be seen. Never mind, you'll start on the seedlings instead. But, disaster! You trip over a bag of compost, knocking them everywhere. Not to worry, there are plenty more seeds – you can start again. But, of course, that packet of seeds has long gone, into the abyss of tangled tools that lurk in every corner...
Now rewind, and imagine how much easier it would be if everything was in its proper place. Your peaceful morning of gardening would be restored – in fact, every garden task would be a downright joy! Plus, your tools will be kept in much better condition if they're stored correctly.
So, if you're fed up with tripping over tools, losing your seeds, and tackling tangled string, then keep reading. From stylish shelves, vintage hooks, DIY solutions and much more, these shed storage ideas are all you need to get your garden essentials in line.
1. Add shelves to your vertical space
Let's start with shelves – such a simple solution, yet so handy. Even for smaller sheds, a slimline shelving system will make the most of all the vertical space, meaning you can clear any clutter from the floor.
Even very narrow surfaces are useful for smaller objects, and you can add nails and hooks, too, for hanging paint brushes, keys, or other small bits and bobs.
You can also use them to display garden treasures or pretty accessories, to give your shed a more homely feel. A basket or two and a string of bunting, for instance, will add a lovely dose of cottage garden ideas charm.
2. Make the most of your walls
If your shed is on the larger side, then there's nothing stopping you from really making the most of the walls. Install hooks all the way up, and you can arrange your tools in clear view for easy access.
A small table also makes a good addition to any shed. Use the space below for larger pots or bags of compost and grit. On top, you could stack glass cloches to keep them out of harm's way. Alternatively, use the table top for potting up seedlings.
3. Look for vintage treasures
Vintage metal hooks make a pretty addition to a shed, and are useful too. This rustic feature above adds an antique touch with its weathered appearance, and complements the surrounding grey-blue hues beautifully. What's more, it can be used for pots and tools.
Have a browse on online marketplaces such as Gumtree or Ebay, or check out your local second-hand store for treasures. It's a surefire way to add character and function to a shed.
4. Opt for multifunctional shelves
'If space is tight, a combined shelf and tool rack might be the answer,' says Kay Frost, Co-Founder of The Posh Shed Company. It gives you plenty of space to store bits and bobs on the shelf whilst making sure your spades and best loppers are kept tidy.
We love the use of an old barrel nearby too, for neatly storing larger rakes, forks, or brooms.
5. Coordinate your storage with your garden essentials
Shed storage isn't just practical – it can add style to your space, too. We love how this freestanding shelving unit has a rustic blue-green tone, which ties together with the over-hanging clock, barbecue, and even the tea set.
So, match your shelves to your garden accessories and best BBQ for a pleasing theme – why not take a look at our best exterior wood paint to get started?
Wooden trays, Kilner jars for seeds, and hanging wire baskets are all fabulous storage additions too, as they allow you to see all your essentials clearly.
6. Opt for cute letter hooks
Boost the fun factor in your shed by putting up some cute letter hooks. You could even put your stamp on the space by spelling your own name.
And, why not take inspiration from the image above and attach them to the back of a shed door? That way, you can grab your best secateurs and all your most regularly-used tools quickly, when you're busy in the garden.
7. Stack your pots in rows
A neatly stacked row of terracotta pots is a welcome sight for any gardener.
Start by sorting through your pots, and check if they need a clean. If so, simply leave to soak in warm soapy water before giving them a scrub and a rinse. Then, leave to dry before stacking. It's well worth doing, as will help prevent spreading disease to your plants. Plus, clean pots will look much more pleasing all in a line.
8. Show off your best tools
Do you have a favourite tool, perhaps a recent birthday gift or simply a treat from you to you? Then give it the limelight it deserves by hanging it in a neat row along with your other prized gardening possessions and best garden shears.
Having them in the spotlight might inspire you to keep them in tip-top condition too.
9. Get labelling
If you've got loads of stuff in your shed that you simply can't throw away (anything could be useful one day) then embrace the power of labelled containers.
Old magazine files, shoe boxes, plastic buckets, and even Tupperwares are budget-friendly options and will be super handy for sorting all your smaller garden accessories.
So, put an afternoon aside and arrange your shed's smaller contents into categories. Then, write labels clearly on the front of each container, so you always know what's what.
10. Upcycle a pallet as an easy storage solution
Another budget-friendly idea is to create a DIY storage unit out of an old pallet. All you need to do is hammer in some long nails and the odd hook to support your handheld tools.
Simply secure above a workbench for instant access. For extra style points, you could add a coat of vibrant colour, too.
Our pallet furniture ideas have plenty more upcycling ideas.
11. Use the outside of your shed, too
When warmer weather comes around, you might be out in your garden daily. So rather than lugging all your heavy tools in and out of the shed, optimise the outer walls for a temporary storage solution.
You see, it's not just a place for the best compost bin. Just a few sturdy nails will make it a fab spot to hang your best garden rake throughout the day. Much better than leaving it lying between your raised beds, where you might trip over it.
Is it OK to store paint in a shed?
If you're wondering if it's okay to store paint in your shed, the short answer tends to be yes, as long as the environmental temperatures aren't extreme.

As Matthew Brown, Technical Consultant of Sadolin and Sandtex says, 'Paint and woodstains should be stored at a constant temperature, preferably in a cool, dry place away from direct sunlight. A shed or outdoor cupboard that's securely closed would be ideal.'
But perhaps you've recently followed our guide on how to paint a shed and have some left over in the tin. Well, there's no need to throw it away. As the experts at Dulux say, 'Storing leftover paint is easy as long as you keep the tins away from direct sunlight and in a frost-free environment.'
Matthew Brown from Sadolin and Sandtex adds, 'Shelf life for paint and woodstains varies from one product to the other, but as a general rule, we recommend storing oil, water and solvent-based products for no longer than three years.'
'If you're storing a tin that's already been opened and is half full, make sure you remove the lid and cover the top with plastic cling film, then secure with the original.'
However, every paint is slightly different, so it's always a good idea to double-check the storage instructions on the label.
Can you store power tools in a shed?
Yes, you can keep power tools such as the best lawn mower or best strimmer in your shed, but there are a few conditions that need to be met to ensure you do so safely.
As Paul Hicks, Product and Marketing Manager at STIHL says, to store tools properly, they need to be kept away from dust, moisture, and other adverse conditions.
'Store tools in a dry and locked location, which is also out of the reach of children,' Paul continues. 'STIHL Lithium-Ion tools come with integrated hanging eyes for easy wall mounting, making safe storage easy.'
And make sure you put them away clean. 'Cleaning your equipment after every use is the best way to make them last,' says Paul. 'Battery-powered or electrical tools can be cleaned simply with a damp cloth.'
For lawn mowers, any residual grass clippings should be brushed off from underneath the machine. Always make sure the spark plug is removed or the power supply is disconnected beforehand, Paul adds.
And remember to empty the fuel from petrol tools, Paul says, particularly at the end of the season before storing away. Failure to do this could result in the fuel damaging the machine.
'Once the fuel tank has been emptied, it is important to run the tool until it stops, to ensure you use up the fuel in the system. If you are storing a chainsaw, it is also important to fill up the chain oil tank.'
Need for inspiration to keep your garden in order? Our garden storage ideas are the perfect solution.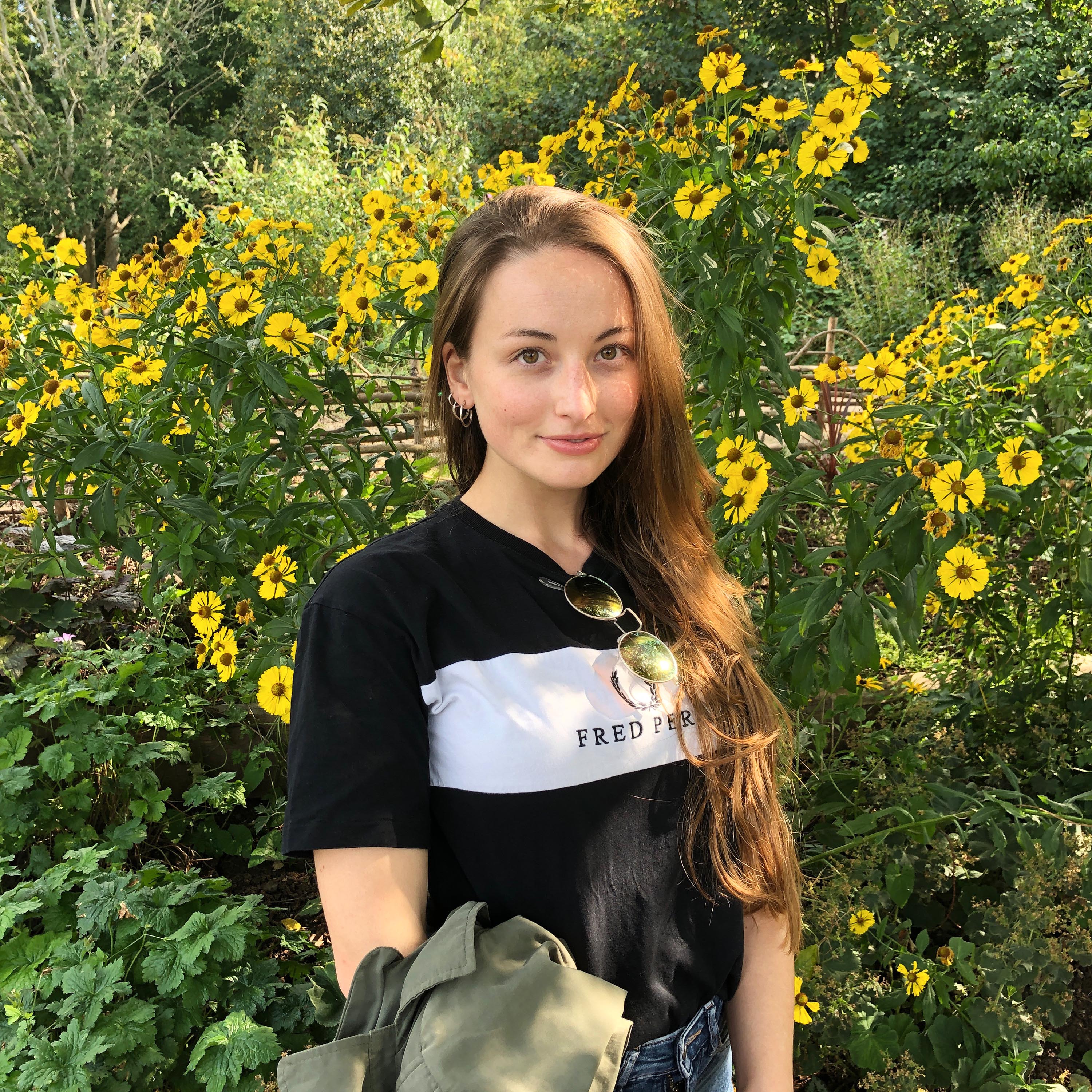 The garden was always a big part of Holly's life growing up, as was the surrounding New Forest where she lived. Her appreciation for the great outdoors has only grown since then. She's been an allotment keeper, a professional gardener, and a botanical illustrator – plants are her passion.