The best loppers 2021: get excellent cutting performance with our top buys
Keep up with the pruning. You'll need the best loppers for bigger branches, and these are the top choices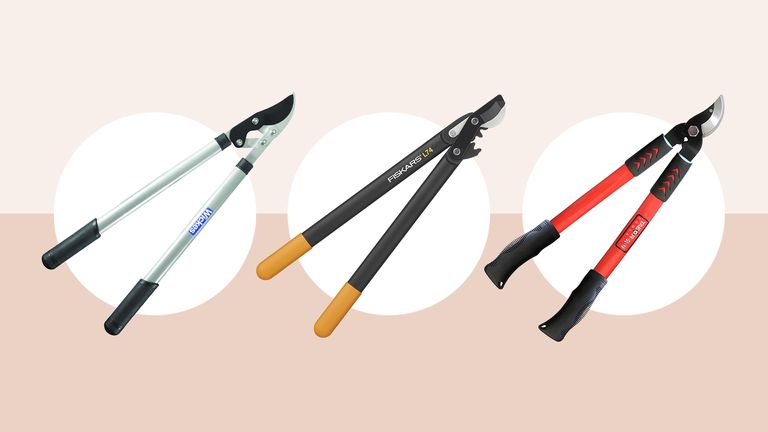 (Image credit: Future)
Pruning is an essential garden task so having the best loppers to hand will make gardening tasks that little bit easier. Many of the trees and shrubs in your garden will need pruning to improve their shape, remove dead growth, and to keep them healthy so they'll produce flowers and berries.
Loppers are a necessity if the branches you're cutting are too big for secateurs or perhaps because they're hard to reach. 
But which are the best loppers to suit what you're growing in the garden – and your budget? That's where we come in. We've tracked down the best selection for your needs, so just scroll down for the top buys, then head to our best hedge trimmer buying guide if you need a little extra power to aid your garden pruning tasks. 
The best loppers 2021
1. Spear & Jackson Razorsharp Telescopic Bypass Lopper
Best lopper: aluminium handles keep weight down, and they can be adjusted to reach where you need to
Specifications
Best for: All-round pruning
Length: 48 to 80cm
Materials: Carbon steel and aluminium
Reasons to buy
+Telescopic mechanism+Aluminium handles+Carbon steel blades+10 year manufacturer guarantee
Reasons to avoid
-1.4kg weight may not suit everyone
This model is telescopic, so it can help you prune easily in hard to reach areas, and get good leverage.
Length changer
With a twist and lock mechanism, you can adjust the handle length of this lopper between 48 and 80cm.
In aluminium
Handles made from aluminium keep the weight of this lopper down, but bear in mind that you'll still be supporting 1.4kg of weight with your arms raised.
Rust preventer
The blades are made from carbon steel and PTFE coated to resist rust and make cutting smooth.
2. Kärcher TLO 18-32 Cordless Tree Lopper/Cutter
Best cordless lopper: save effort with a model that cuts one handed at the touch of a button
Specifications
Best for: Leaving one hand on a ladder
Length: 91cm
Materials: Metal and plastic
Reasons to buy
+Single-handed operation+Cuts branches up to 3cm diameter+Built-in hook
Reasons to avoid
-Battery and charger not included-High budget buy
If you like the idea of lopping with the press of a button rather than by two-handed manual operation, this is the model for you.
In one
Manual loppers need two hands, but with this model you can cut with one, allowing you to hold on to a ladder with the other hand when you're working high up.
Branch hook
A hook's built in to help you remove high loose branches or anything that gets stuck when you've cut it.
On charge
Fully charged, the battery should last through 240 cuts, and the LCD display will let you know how much time you have left. You will have to buy both battery and charger in addition to the lopper, though.
3. Fiskars PowerGear Bypass Lopper
Best long-life lopper: keep on cutting with blades that can be sharpened and replaced
Specifications
Best for: Durability
Length: 55cm
Materials: Stainless steel and fibreglass reinforced plastic
Reasons to buy
+Cuts up to 3.8cm diameter+Lightweight+Suit left and right handers
Reasons to avoid
-Maintenance kit sold separately
Cut branches up to 3.8cm in diameter with this lightweight design that includes a hook head for branch removal.
Easy lift
If you're concerned about lifting loppers, the 0.55kg weight of this model could be the solution. The modest heft is thanks to reinforced fibreglass plastic handles. 
Slice through
The blades have a non-stick coating to make cutting smooth and the results clean. The lower blade is curved for better catching of the branch you're cutting.
Stay sharp
Invest in the separate maintenance kit to keep the blade sharp. The blade can also be replaced so your tool lasts longer.
4. Wickes Telescopic Steel Bypass Garden Lopper
Best value lopper: make your garden budget go further with a pocket-friendly choice
Specifications
Best for: Thrifty gardeners
Length: 49.5 to 79.5cm
Materials: Steel and rubber
Reasons to buy
+Cutting width up to 3cm+Non-stick blades+Extendable handles
Reasons to avoid
-Won't tackle bigger branches
If you have a long list of buys for your garden on a set budget, this lopper might save the day with its value price point.
Twist and lock
You can extend the handles of this lopper from 49.5 to 79.5cm to reach the branches you need to, then twist and lock to keep them in place.
Cleaner cut
The blades are hardened and tempered non stick to help you cut through fresh wood.
Think size
A maximum cutting width of 3cm means you won't be able to deal with the larger branches some other designs allow, but this lopper should be sufficient for plenty of tasks.
5. Tabor Tools GL18E Bypass Mini Lopper
Best lopper for easy storage: you can hang this design up neatly once you've finished pruning
Specifications
Best for: Avoiding a tool hunt
Length: 50cm
Materials: Metal and carbon steel
Reasons to buy
+Rubberised comfort grip+Blades can be sharpened+Can be hung from blade or handles+Cuts up to 2.5cm diameter branches
Reasons to avoid
-Not telescopic
This model will prove easy to manoeuvre if you don't need to reach too far to prune with its 50cm length. 
Tidy up
You can hang this lopper up by positioning the hole in the blades on a peg or hook, or use the hole in the handles instead. Either way, it'll prevent you losing track of it in a tangle of tools.
Sharpen up
The blades of this model can be sharpened for a longer life. They're coated to reduce friction when you're cutting, too.
Keep working
The handles have a rubberised cover to improve grip and make your garden tasks more comfortable to carry out.
6. Darlac Telescopic Anvil Lopper
Best anvil lopper: deal with dead wood with a heavy duty design
Specifications
Best for: Hard and dead wood
Length: 54 to 76cm
Materials: Aluminium handles
Reasons to buy
+Extendable+Light handles+Deal with dead and very hard wood
Reasons to avoid
-You'll need a bypass lopper, too
Need to cut dead or hard wood? These anvil loppers are up to the work these garden tasks involve.
Go longer
Handles that extend from 54 to 76cm allow you to reach high branches more easily with this model.
Arm saver
A weight of 1kg can help you keep your arms up for longer. The handles are made from aluminium to keep the design lighter.
Stay safe
There's a flip-lock mechanism on this lopper so the blades will stay securely closed when they're not in use.
7. Burgon and Ball Telescopic Bypass Lopper
Best long-reach lopper: with extension up to 100cm, this design will help you prune high
Specifications
Best for: High-up pruning
Length: 68 to 100cm
Materials: Aluminium and carbon steel
Reasons to buy
+Rubber-grip handles+Extendable+Twist-lock mechanism+Light
Reasons to avoid
-Cuts up to 2.5cm
For hard to reach areas of your garden, try this telescopic lopper that'll cut cleanly to keep your plants healthy.
Strength saver
Aluminium handles make this a lightweight lopper so you don't expend too much muscle power on lifting.
Get a grip
Rubber handles make this a comfortable option to hold and will help you keep on pruning for longer.
All round
This model will tackle general pruning jobs around the garden and the non-stick blades will help keep what you're cutting healthy.
How to choose the best loppers
While you can do plenty of the pruning you need to around your garden with secateurs, for tougher pruning jobs on woody stems and branches, loppers should be in your garden toolkit.
Types of loppers
Pick from bypass loppers and anvil loppers when you're buying. For most jobs it's bypass loppers that will fit the bill. Like scissors, they have two blades that should create the cleanest cut on live wood.
If you need to cut hard, dead wood, look for an anvil lopper. These have one blade and then a flat edge so crush as well as cut. These can do the jobs that would bend bypass loppers.
Cutting diameter
Make sure the design you choose can cope with the size of branches you're going to be cutting. Some aren't made for bigger diameters but that won't matter if you're not going to be tackling larger branches. 
Blade material
Blades are generally made from steel and hardened or carbon steel is preferable. Some have a non-stick coating, which can help them stay free of stickiness.
Handle length
If handles are longer you'll get more leverage on branches, which can make your work easier. On the other hand, longer handles can be more unwieldy, so don't go longer than you need to tackle the pruning in your garden. You might want to opt for a telescopic lopper that allows you to extend the handles only when required. Look for lockable designs.
Think weight
If weight will be a concern, opt for designs with aluminium or fibreglass handles to lessen your load.
Maintenance concerns
If you want a lopper to see you through many years in the garden, look for a model with blades you can sharpen, and replace.
More on garden tools: