The best garden rake 2021: maintain your plot with these essentials
Plenty of outdoor tasks require the best garden rake, but which are the top buys? You'll find them all right here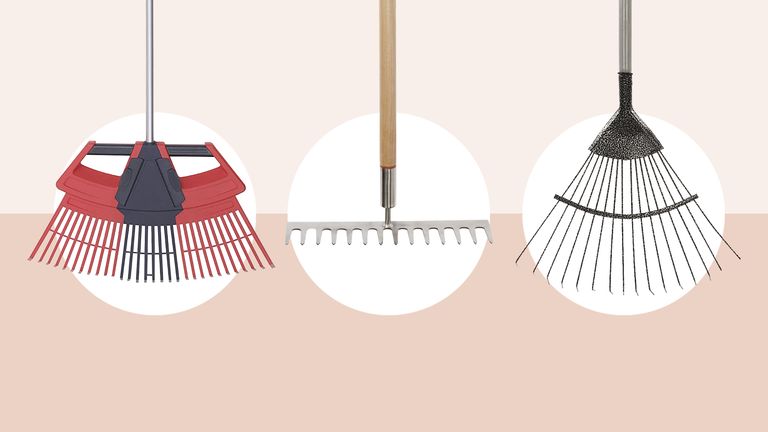 (Image credit: Future)
Raking is one of the must-do jobs in your garden, so it's a good idea to add the best garden rake to your garden tools collection. Whether you're preparing soil for planting, removing the moss and thatch from your lawn, or clearing up autumn's fallen leaves, it's a rake you'll need.
But which are best garden rakes out there? We're here to help. Our selection has rake models for all of these jobs and with clever features you might like, and our picks come at a range of prices so you can stay on budget.
For the inside track on the best rakes around, just scroll down, and don't forget to check out our best lawn mower buying guide for advice on more buys to keep your plot looking lovely.
The best garden rake 2021
1. Spear & Jackson 3-in-1 Leaf Rake
Best multi-tasking garden rake: get leaves off the lawn and out of borders and make pick-up easy
Specifications
Best for: Effective leaf clearing
Materials : Aluminium and plastic
Reasons to buy
+Detachable leaf grabbers+Use as leaf or shrub rake+Lightweight
Reasons to avoid
-You might prefer separate tools
This modular rake makes clearing leaves all round your garden a quicker task with its three-in-one design.
Tool choice
Tackle leaves on the lawn with the 30 inch leaf rake; change to a narrower shrub rake so you can get leaves and debris out from among the plants in your borders; and gather up piles of what you've raked up with the detachable 11 inch grabbers.
Keep working
This garden rake is lightweight with a tubular aluminium handle. The upshot? You can carry on leaf tidying for longer.
Space saver
If you're short on storage space, opting for this model means you could avoid having to find room for a shrub rake and leaf grabbers, too. The only negative is that you'll have to adjust the rake for each job.
Buy the Spear & Jackson 3-in-1 Leaf Rake
2. Draper 34875 Leaf Rake
Best value garden rake: get set for clearing up leaves with this economical design
Specifications
Best for: Thrifty gardeners
Materials: Wood and plastic
Reasons to buy
+Large head+Strong and flexible head+Comfortable to use
Reasons to avoid
-Takes up shed space
With a large head, this rake will help you speed through your garden tidying, and it's a great-value buy to boot.
Extra large
Some 30 teeth on this model make clearing leaves from the lawn or garden paths a quicker job than it might otherwise be.
In plastic
The plastic used for this design is both strong and flexible and the rake head will catch the leaves but leave the grass unharmed. It's securely attached to a handle made from wood.
Light work
Weighing just 998g, this rake won't have you sweating over your lawn care and leaf clearing.
Buy the Draper 34875 Leaf Rake
3. Darlac Telescopic Rake
Best adjustable garden rake: an expanding head and extendable handle make this a flexible choice
Specifications
Best for: Simple adaptation
Materials: Metal
Reasons to buy
+Use as leaf or shrub rake+Telescopic handle+Twist-lock mechanism
Reasons to avoid
-You might like a separate shrub rake
Gardeners who are on the small or taller side will appreciate the adjustability of this garden rake's handle.
Wide or narrow
You can adjust the 15 tine head of this rake. Wide, it will be effective on the lawn, and narrower it can be used to clear leaves and debris in beds and borders while avoiding the plants there.
Handle length
You can extend the handle from 79 to 160cm with the twist lock mechanism. Average height users may not need this function, but for some gardeners, this could be a real back saver.
Easy does it
The rake weighs less than 1kg. In other words, it's no heavyweight and all the better for it.
Buy the Darlac Telescopic Rake
4. Wickes Lawn Rake
Best budget garden rake: maintain your lawn with this low cost choice
Specifications
Best for: Money savers
Materials: Plastic and carbon steel
Reasons to buy
+Less than a tenner+Hanging hole in handle+Epoxy-coated finish
Reasons to avoid
-No bells and whistles
Looking for a bank-account friendly way to get all the tools you need to tend the garden? Check out this rake for your kit.
Long life
The 16 round tines of this model are made from carbon steel and have an epoxy-coated finish, so it should prove durable.
No bending
A length of 162.5cm is designed to avoid any stoop while you work, and the back ache that can come with it.
Hang up
A hole in the handle of this design means you can hang it up in the shed so it doesn't clutter the floor, nor get tangled with your other garden essentials.
5. B&Q GoodHome Durum Soil Rake
Best wood-handled garden rake: prepare beds for planting with this durable ash and stainless-steel model
Specifications
Best for: Fans of traditional tools
Materials: Ash wood and stainless steel
Reasons to buy
+FSC-certified ash wood shaft+Stainless-steel head+Hanging cord
Reasons to avoid
-Handle requires annual maintenance
Prepare beds for planting with this soil rake. It's a vital element of a complete garden toolkit.
Wood care
A wooden handle makes this a strong and durable design. It's advisable to treat it annually with linseed oil to prevent cracks developing in the wood.
FSC approved
You can be sure the ash in the handle comes from sustainable forests as it is certified by the Forest Stewardship Council.
Tidy up
With a hanging cord, this soil rake can be tidied neatly when you're done with it. Clean it first to keep it in good condition.
Buy the B&Q GoodHome Durum Soil Rake
6. Fiskars Light Soil Rake
Best garden rake for grow-your-owners: ideal for working on veg beds as well as those flowers
Specifications
Best for: Keen gardeners
Material: Aluminium and steel
Reasons to buy
+36cm width+14 tines+Long handle
Reasons to avoid
-Not the only rake you'll need
Rake, level and smooth vegetable and flower beds and distribute bark mulch with this durable design.
Tough customer
Some 14 pointed and sharp tines make this rake suitable for working on harder soils. There's a distance of 2.5cm between them to stop stones slipping through.
Don't strain
The aluminium handle keeps the weight of this model down, and the grip is comfortable. The handle's length is designed to protect your back.
Hard wearing
With hardened steel tines you should be calling on this design to prepare beds and borders for years to come.
Buy the Fiskars Light Soil Rake
How to choose the best garden rake
The design of your garden will determine which garden rakes you require to maintain it. What else counts? Well, your budget, storage space, and your preferences in terms of what the rake is made from might factor into your selection as well.
Rake types
A garden rake will help you care for your lawn, clearing the thatch and moss so it looks its best. It can clear up leaves as well, although you might prefer to get yourself a dedicated leaf rake for this job to avoid spearing the leaves as opposed to gathering them.
A soil rake will help you prepare the soil in your beds before planting. Unless your planting is very minimal, or you're a containers-only gardener, one of these will prove a useful addition to your toolkit.
A shrub rake will help you clear up in beds and borders. It's narrower so you can work between the plants.
Materials
You'll find tines made from plastic and metal on offer. Plastic can prove good for gathering without damage to your lawn; metal offers durability. When it comes to the handle, you might like the style and hard-wearing nature of wood, while tubular metal designs could help make the tool as light as you'd like it to be.
Adjustability
Think about whether you want a design with a telescopic handle so you can adjust the length to suit you. Being able to adjust the width of the head so your tool doubles as a shrub rake could be handy – especially if storage space is at a premium.
More garden tools advice: