Best sheds: store your garden essentials in these practical designs
We've found the best sheds for pottering, storage and secret garden escapes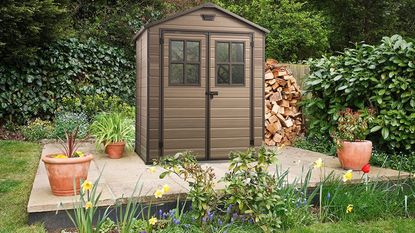 (Image credit: Keter)
The best sheds will enhance any home. They're a space to store those garden essentials, somewhere to put bikes or camping equipment, a place to potter and tend to new plants, or even an escape from a busy house.
As we get out to enjoy the garden in the summer, we can be nipping in and out of the shed regularly as we tend to lawns, flower beds and vegetable patches, or set up the garden chairs, sunbeds and parasols ready for some serious lounging.
Of course there's more to sheds than their traditional uses – those who are a dab hand at DIY have turned them into everything from micro pubs to mini cinemas to hobby rooms.
We take a look at some of the best sheds you can buy to suit your garden style and needs, whether its a big workshop you want or somewhere that can hold all you need to keep a small garden in order.
1. Forest Garden 4x3 Apex Overlap Timber Shed
Best shed for small garden storage: fit your garden essentials in this small design
Specifications
Shed style: Windowless apex
Cladding: Overlap
Material: Wood
Size : H194xW133.8xD101cm
Reasons to buy
+
Compact size for small gardens
+
Traditional character looks
+
Dip treated with a 10-year anti-rot guarantee
Reasons to avoid
-
Lack of windows makes it unsuitable for pottering in
-
Will need retreating annually to protect it
This compact shed is a useful addition to a small garden. The Forest Garden 4x3 Apex Overlap Timber Shed is traditional in style with an apex roof, smooth-planed barge boards and decorative finial.
Tuck it neatly into a corner or against a wall. Easy to assemble (a two person job) and move around if necessary, it offers sturdy storage big enough to hold essential garden tools, such as forks, mowers and hedge trimmers. Security features include anti-tamper hidden hinges.
2. Mercia Shiplap Corner Shed
Best for generous storage in a corner position
Specifications
Shed style: Flat-roofed pentagon
Cladding: Shiplap
Material: Wood
Size: H197.2xW207.7xD207.3cm
Reasons to buy
+
Large size lets you pack plenty in
+
Space-saving design
+
Double doors allow good access
+
Dip treated with 10-year anti-rot guarantee
Reasons to avoid
-
A pricier shed option
-
Shape may limit its placement options
-
Will need treating with preservative annually
This unusual five-sided shed will make the most of an unused corner of the garden. Robust and durable, the Mercia Shiplap Corner Shed has ample inner space for tucking away not just garden tools, but also barbecues and some furniture that could benefit from being stored over winter.
Lockable double doors make it easier to get awkwardly shaped objects inside. On the exterior it has exterior shiplap cladding, with a solid sheet floor and roof. A styrene glazed window lets in light, making it suitable for workshop use.
3. Sol 72 Outdoor 7 Ft. W x 7 Ft. D Shiplap Apex Wooden Shed
Best shed that could also be a summerhouse
Specifications
Shed style: Windowed apex
Cladding: Shiplap
Material: Wood
Size : H211xW212xD236cm
Reasons to buy
+
Attractive style, especially if painted
+
Big enough to park a compact ride-on lawn mower
+
Dip or pressure treated options available
Reasons to avoid
-
Seven-foot includes the roof overlap and is not the base measurement
This charming shed can be given a cabin-like feel with a lick of colourful paint, making it pretty enough to act as a summerhouse or studio. The Sarno Shiplap Apex Wooden Shed is made from high-grade FSC approved timber clad in a shiplap design.
An apex roof means there is plenty of height and, with access via double doors, it is wide enough to park a ride-on lawnmower inside and still have space for garden tools. The opening joinery window is storm resistant. The flooring is attractive tongue and groove timber, with a solid sheet roof. Available dip treated or pressure treated.
4. Forest Garden 6 x 4 ft Reverse Apex Overlap Dip Treated Shed
Best for traditional storage and pottering
Specifications
Shed style: Reverse apex with window
Material: Wood
Cladding: Overlap
Size: H216.8xW188.2xD133.8cm
Reasons to buy
+
Reasonably priced for its size
+
Window offers light for working in the shed
+
Increased framing for strength
Reasons to avoid
-
Will need retreating annually
-
Window material is thin
A reasonably priced small shed with a lot going for it. The Forest Garden Reverse Apex Overlap Dip Treated Shed is easy to put up thanks to an improved design. Some thought has gone into making it strong and long-lasting with increased framing and a pressure-treated timber door braced for rigidity. It has hidden hinges and is lockable to protect garden tools.
The apex roof, which is made of sheet material and black sand felt, gives good head height, while the window at the front lets in natural light – the better to pot your seedlings by ready for planting. It has been dip treated and comes with a 10-year guarantee against rot.
5. National Trust by Crane Blickling Garden Shed, 1.8 x 3m,
Best shed for creating a country house feel
Specifications
Shed style: Apex with window
Cladding: Vertical sawn boards
Material: Scandinavian redwood
Size: H243xW180xD300cm
Reasons to buy
+
An attractive addition to any garden
+
Heritage design and quality manufacture
+
Log store for keeping fuel ready for winter
An Englishman's home is their castle, even if it might not be all that stately. But the National Trust by Crane Blickling Garden Shed can give you a taste of such grandeur right in your own back garden.
This classic shed is inspired by the outbuildings of National Trust properties, right down (or rather up) to its corrugated roof, and has fine finishing touches like cast iron black door furniture.
It is made by craftsmen in Norfolk from FSC certified Scandinavian redwood, and is delivered and installed by Crane. The sheds come in a choice of six National Trust colours, such as Disreli Green (pictured), and this style includes a log store to keep your wood-burning stove well stocked.
6. BillyOh Partner Woodgrain Pent Roof Metal Shed
Best for heavy duty use and secure storage
Specifications
Shed style: Windowless pent
Cladding: Woodgrain effect
Material: Galvanised steel
Size: H1.81xW2.63xD1.24m
Reasons to buy
+
Contemporary look
+
Low maintenance
+
Secure and fire-resistant
Reasons to avoid
-
Lacks the authenticity of wood
-
No windows
If security and durability are a primary concern, the Billy Oh Partner Woodgrain Pent Roof Metal Shed could be the answer. This galvanised steel shed is strong, spacious and lockable. The sliding double doors make it easy to slip everything from bikes to tools to furniture in.
Fire resistant with vents for added air circulation, the metal it's made from is roll formed with deep ribs for extra strength. The hot-dipped panels means it requires no maintenance and there is a 10-year no rust perforation warranty. The woodgrain and brown colour scheme gives it a more traditional shed-like appeal, rather than a functional garden lock-up.
7. Dobbies Rowlinson Oxford Shed with Lean-To
Best for rustic charm and added log space
Specifications
Shed style: Apex with lean-to
Cladding: Shiplap
Material: Wood
Size : H 200xW195xD94cm
Reasons to buy
+
Duel function as garden and log store
+
Pressure treated for protection
+
Rustic appeal
Reasons to avoid
-
Windowless so no natural light
-
Unsuitable for larger pieces of garden equipment
A shed to warm a wood-chopper's heart, this comes with a lean-to that is perfect for stacking lots of freshly cut logs to dry until they are needed. The Rowlinson Oxford Shed with Lean-To has quite a traditional look and is reasonably compact so won't dominate a small garden.
It is pressure treated against rot and covered with mineral roofing felt (including the log store). The sturdy shed offers enough space to store a reasonable amount of gardening tools and equipment, including axes, of course.
8. Keter Scala Outdoor Plastic Garden Storage Shed
Best for durability and low maintenance
Specifications
Shed style: Apex with windows
Cladding: Faux wood panels
Material: Plastic
Size: H226W152xD185cm
Reasons to buy
+
Appealing looks
+
Low maintenance. No yearly treatment required
+
Windows to let in natural light
Reasons to avoid
-
Dimensions can be smaller than stated, and materials flimsier than expected
-
Lacks the character of wood
The idea of a plastic garden shed can sound worryingly like a Wendy House. However, the Keter Scala Outdoor Plastic Garden Storage Shed manages to avoid looking a child's play thing.
Designed like a cabin, complete with windows, it even has brown, wood-effect panelling. This should appeal to anyone who doesn't want to have to treat their shed yearly as it should look good after a quick wipe down.
It's double wall construction makes it fully weather resistant and fade resistant. The twin doors give easy access for whatever you want to store in there. There is built-in ventilation for safety, two fixed windows for natural light and a locking system.
9. Forest Garden Shiplap Apex Garden Store
Best small spaces to store tools and boots
Specifications
Shed style: Sentry box apex
Cladding: Shiplap
Material: Wood
Size: (Tall) H183xW110xD51cm
Reasons to buy
+
Bijou. Suitable for limited outdoor space.
+
Comes in three sizes, including small, medium and tall.
+
Handy as a boot store
Reasons to avoid
-
Too small for large items of garden equipment
Even if you only have a modest garden or a courtyard with flower beds and pots, there's a shed for you. And this is it. The contemporary Forest Garden Shiplap Apex Garden Store will look good on your patio or terrace, and is just big enough to store brooms, spades and trimmers. You could even pop muddy rubber boots in the base and keep this by the back door.
It is kept secure with hidden hinges and lockable plate hasp and staple fastening. Mounted on bearers and with a mineral felt roof, it protects the contents from the elements, too. Interlocking shiplap tongue and groove boards make it robust, and its been pressure treated to prevent rot, with a 15-year guarantee. It is unpainted so you can add your own twist of colour.
10. Forest Large Double Door Pent Wooden Garden Storage
Best for securing bikes and mowers
Specifications
Shed style: Wide low pent
Cladding: Shiplap
Materials: Wood
Size: H145xW195xD87cm
Reasons to buy
+
Perfect for bikes or mowers
+
Reversible roof gives the option of having it front or back sloping
+
Generous 2000 litre capacity
Reasons to avoid
-
No flooring so will need a solid level base to stand on.
-
Low height
Keen cyclists will appreciate having somewhere safe to store their bikes rather than a hallway or in a cluttered garage. This Forest Large Double Door Pent Wooden Garden Storage has a 2000 litre capacity, making it big enough to pop in the mower or stack in several bikes and helmets.
Two doors open up virtually the whole of the space, and have a plate hasp and staple latch for use with a padlock (not included) and hidden door hinges for added security. The felted roof can be sloped forward or backwards, according to preference. The shiplap design and golden brown finish design give it a neat appearance, and it is dip treated with a 10-year guarantee against rot and fungal decay.
How to buy the best sheds
Why you can trust Gardeningetc Our expert reviewers spend hours testing and comparing products and services so you can choose the best for you. Find out more about how we test.
Timber sheds
Sheds were traditionally made of timber, and this is still the most popular material if you prefer a natural look. It is also easier if you want to paint it a different colour. Wood sheds can be dip treated, where the panels are dipped into preservative to colour and protect the wood from insects and fungal decay. Both will fade over time so the timber will need to be treated regularly.
With sheds that are pressure treated, the protection will last longer as the panels are put into a container filled with chemicals then placed under pressure to force the treatment deeper into the wood. Highly effective against fungus and insect infestation, it is a slightly more expensive process.
Plastic sheds
Plastic is becoming a popular choice because of its practicality. Durable and low maintenance, it is weather and UV resistant, won't rot or require staining and can just be wiped down to clean the shed up. Chose your colour carefully as you can't stain plastic like wood or repaint it as easily.
Metal sheds
These a good choice for the security conscious. They can be perfect if you have expensive bikes or equipment to store. Steel sheds can be light yet solid and come with long warranties, anything up to 25 years. Galvanised layers underneath can protect from the elements and prevent rust forming. They come in different colours or even have a wood-effect finish to recreate the character of timber.
Choose your wood panel style
A wood shed is usually constructed in one of three ways, each reacting differently to changes in the weather and the seasons.
Overlap
Horizontal panels overlap each other with the bottom of each slat going over the top of the next. This lets rainwater run off easily so it is watertight. It's not airtight though, so draughts and damp can enter the shed.
Tongue and Groove
A neater and more robust alternative to overlapping, the panels slot into each other rather than sitting over the top of each other. It tends to be more mid-range quality, and though structurally rigid, the panels can be prone to warping in the heat, causing gapping.
Shiplap
A superior cladding consisting of wood panels that overlap in a way that creates a flat surface. Overlapping lips on the boards interlock so rainwater runs off while providing greater protection against draughts. It is more expensive to produce shiplap, which can be reflected in the price.
Think about the base for your shed
Small sheds won't need foundations but will need a flat, level base. They can be built on hard-standing or a patio. Bigger sheds can be built on on crushed stone with treated wood foundations, concrete foundation blocks or paving slabs.
For larger sheds and workshops, concrete slab foundation should offer more stability. If you want the option of moving your shed, the Hawklok system comprises interlocking grids made from recycled plastic that can be fitted together to make a firm and level base.
More garden building ideas:
Alison is Assistant Editor on Real Homes magazine. She previously worked on national newspapers, in later years as a film critic and has also written on property, fashion and lifestyle. Having recently purchased a Victorian property in severe need of some updating, she is currently chipping away at a back garden covered in crazy paving, ready to landscape it with a lawn and fruit and veg patch to sow and grow her own.