How to design an outdoor kitchen
Swap the room inside your home for an outdoor kitchen and live outside all summer long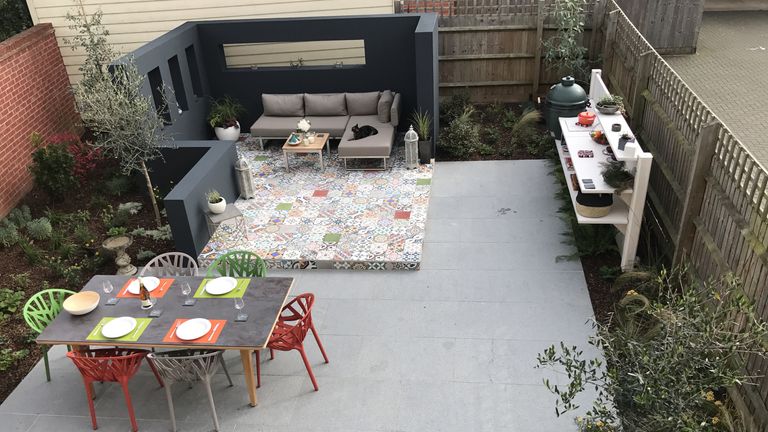 (Image credit: Newform Landscapes)
An outdoor kitchen has become an ultra-desirable garden feature. Adding one of these means you can make the most of your garden all summer long, both preparing and eating out there, enjoying the unmissable flavour of food cooked outside, plus avoiding the hot slog in the kitchen when the mercury's high.
An outdoor kitchen is more than just a place to cook. You can provide preparation and plating-up space plus storage as well as cooking facilities in the shape of a barbecue or outdoor oven. You could add extra cooking options, too. And you might even consider features such as a fridge and sink for the most sophisticated take on an outdoor kitchen.
Want to plan your own outdoor kitchen? Read on for everything you need to know, then check out outdoor kitchen design ideas. 
What features should an outdoor kitchen have?
An outdoor kitchen can be relatively simple, a sophisticated feature that replicates the facilities you have inside your home – or somewhere between the two. What you go for will depend on your budget and your space.
The most straightforward of designs could have a built-in barbecue or pizza oven, plus some preparation space, while the ultimate outdoor kitchen might combine a barbecue with a side burner, have both a sink and fridge, and include extensive preparation space and storage.
In terms of the layout, an outdoor kitchen is just like one inside the house. It could be a linear arrangement, or an L shape, for example, and could include an island or peninsular unit. Think about how you like to cook as well as the space available. Do you want to face the guests, or turn your back to them when you're preparing and cooking?
An outdoor kitchen will always look smaller than its indoor equivalent, so think about sizing up worksurfaces and seating areas to suit the exterior context. When it comes to storage, though, bear in mind that you'll need less than you do in the kitchen inside your home.
You might want planting to be part of the outdoor kitchen design with both herbs and vegetables freshly available.
Bearing in mind that the weather can't be relied on you might also want to plan outdoor heating into your design.
How can I cook in an outdoor kitchen?
A barbecue could take centre stage in an outdoor kitchen, but you may want to go for a pizza oven as well, which can also allow you to roast meat and even bake bread. As an alternative, a kamodo is a popular option because it can grill, smoke and oven cook, and can save you doubling up on outdoor appliances. The egg shape can also make an attractive feature.
Decide whether you'd like burners as part of your kitchen layout so that you can both boil and heat. A teppanyaki can also be a useful feature if you like this style of cooking inside.
Structure and features of an outdoor kitchen
Weatherproof materials are, of course, essential for an outdoor kitchen. Worksurfaces could be made from stone, stainless steel, or micro-cement, for example, and cabinetry needs to be able to stand up to the conditions, too. Any fridge needs to be a model suitable for outdoor use.
An outdoor kitchen will need a strong and level base. The flooring your choose for the area should be non-porous to avoid staining when things are spilled. It also needs to be slip-resistant.
Decide whether you want some walls in your design. They can protect the cooking area from the wind, plus you can position storage and worksurfaces against them. They can also provide hanging space for utensils.
You might also consider a roof for an outdoor kitchen to create shade and protection from passing showers.
Constructing an outdoor kitchen
Think about the direction of the prevailing wind when you're planning the location of your outdoor kitchen to avoid smoke from the barbecue causing a nuisance. You'll also want to avoid the sun making it hard to see while you're working for both safety and comfort's sake.
If you're fitting a sink and need electricity for a fridge, this may influence where you can locate the outdoor kitchen. Remember, too, that services will need to be planned in from the start and installed by a registered tradesperson.
Where to buy an outdoor kitchen
To create your own outdoor kitchen, find outdoor storage and units at DIY stores, or all the essentials at specialist suppliers.
Alternatively, specialist companies can design and build an outdoor kitchen for you, or you can work with a garden designer or landscape architect who can help you create an outdoor kitchen as part of a redesign of the entire garden for a total transformation.
Is planning permission needed for an outdoor kitchen?
Often you won't need planning permission for an outdoor kitchen, but there are limitations on where a structure can be located near a boundary and on height. Also, if you live in a conservation area, or your home is listed, other restrictions can apply. Check with your local planning authority. The kitchen may need building regulations approval if it's a more complex design.
More outdoor living advice: