Backyard pond ideas: 14 ways to create a water-filled feature for your yard
From modern designs to DIY options, these backyard pond ideas will give your outdoor space a striking focal point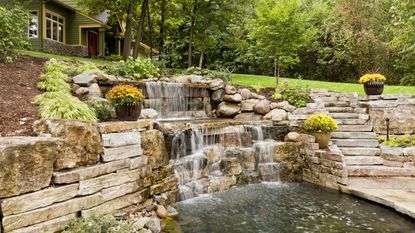 (Image credit: Tim Abramowitz/Getty Images)
Pick the right backyard pond ideas for your outdoor space and not only will you add a visually appealing feature but you'll also create a lovely sound element. A well designed pond is a wonderful addition to any well-landscaped outdoor space, plus you'll also get to enjoy the many benefits of aquatic gardening.
Backyard ponds come in all shapes and sizes, so whether you're after a contemporary feature for a modern backyard or you simply want a simple way to bring water into your space, it's easy to find a style that will fit in with the size of your yard and your budget.
If you do decide to include a pond in your backyard ideas, you'll need to keep in mind that they do require a fair bit of maintenance, from algae control to mosquito prevention. Plus, if you live in a four-season climate, it can often be necessary to winterize your pond each year and protect it from the elements.
Backyard pond ideas: 14 ways to add wow factor to your plot
Whether you want to go for a Zen aesthetic or you'd prefer to cultivate your own water lilies for a natural look, you'll find something in our backyard pond ideas to suit your chosen style.
1. Go for a high-design style
If you're after sleek and contemporary backyard pond ideas, then take inspiration from this modern set-up.
For a more formal outdoor space like this one, especially one with hardscaping or terracing, one of these more geometric ponds might appeal to you more than a natural pond. They're best combined with dynamic water feature ideas like a cascade or a fountain for additional visual interest and to help soften the overall effect.

2. Build a waterfall for maximum impact
While your backyard waterfall doesn't need to be as impressive as this example, it's still a stylish water feature to include with your backyard pond.
We love the way this waterfall uses the same materials as the garden steps to create a stunning centerpiece that blends into its surroundings. The design makes the most of the natural contours of the backyard, cleverly linking the upper and lower levels of this woodland plot.
Beyond their visual and auditory appeal, waterfalls can also serve as aerators that contribute to a pond's overall health. There are a few limitations to keep in mind, however — they're best used in shallower ponds as their aeration can be on the weaker side compared to other methods such as a water pump. The ideal scenario is to combine a waterfall with another aeration system, such as a fountain or a diffuser to keep your pond in the best possible condition.
3. Fill your pond with koi
Koi ponds are a popular choice for backyard pond ideas, and for good reason. The colorful nishikigoi fish, or brocaded carp, are both pleasing to look at and great helpers when it comes to pond maintenance. Koi, as they're more commonly known, were originally bred in Niigata, Japan, some 200 years ago, but they've traveled the world via enthusiastic owners, some of whom even enter their fish into competitions.
But you don't have to be a koi expert to enjoy the brightly hued fish — they're a lovely addition to any backyard pond. Just remember that they do require care, as with any pet. 'If there are koi in the pond, there are numerous steps you must take to ensure the vitality of the fish and their environment,' says John Artarian, owner and president of Aquatic Habitats, an aquatic architecture company based in New York's Hamptons. 'Keep the water chemistry sound. You must test the water for its levels of ammonia, nitrate, and KH [carbonate hardiness]. Furthermore, you must make sure all of your pumps, aeration and filtration systems, and Ultraviolet lights are functioning at full capacity.'
4. Add a bridge as an architectural detail
Another common feature of Japanese garden ideas are bridges over water features, and it's easy to replicate this look in your own backyard pond ideas to give them a more architectural edge.
Of course, bridges can be practical if you have an extensive network of ponds that you need to cross. But even if you have a small-scale pond in your backyard, you can use a bridge to contrast the natural design elements. And it's not a bad spot for enjoying the view of your aquatic landscaping, especially if you have koi.
5. Keep things natural
A natural pond is one of the most common types built in backyards, as they're relatively easy to incorporate into a natural landscape from a design perspective. Once filled with a selection of the best pond plants and features like smooth river rocks, these type of ponds will quickly blend into their surroundings. They're also great for wildlife gardens as they create the perfect habitat for creatures like frogs and turtles.
But don't let their low-key appearance fool you — all ponds, no matter their style, require planning before installation and a sophisticated maintenance system for upkeep. It's certainly not as simple as digging a hole and filling it with water.
Want to have a go at creating your own backyard pond? Our step-by-step guide on how to build a garden pond is packed with useful tips.
6. Play with different levels
If you're searching for sloping garden ideas that also incorporate a pond, how about this impressive set-up for inspiration?
Rather than simply having a large backyard pond at the bottom of the plot, this design works with the natural levels of the space, with steps leading down to an elevated patio to allow the homeowners to sit and enjoy the stunning pond.
The paved seating area is surrounded by an upper pond, with a series of waterfall spouts that allow water to trickle down to the main lower level of the pond below. It ensures there's constant movement in the water to keep the pond in good health, plus it creates a soothing backdrop when relaxing on the patio.
7. Make a pond the centerpiece of a small yard
Now here's a stunning look for your small backyard ideas. This circular pond sits in the middle of this less-than-large backyard, creating a focal point in the space. And contrary to what you might think, opting for an oversized pond doesn't have to make your plot feel cramped.
As illustrated so beautifully here, making the pond and pergola as big as possible ensures they have plenty of impact in the space. The circular design of the pond also leads you through the yard to the covered seating area at the far end, while the pretty mix of planting in raised beds helps to soften the lines of the hard landscaping.
8. Create a stepping stone path
Stepping stone ideas can be a playful addition to your pond, offering a fun way to cross your backyard water feature. In a natural-style pond, opt for rough-hewn rocks as opposed to smooth ones as textured designs will help you with traction. In a more contemporary, high-design pond, you could keep your stepping stones strictly geometric in shape for a more formal look.
Remember, ponds quickly grow algae, and algae is quite slippery, so be careful as you leap from stone to stone.
9. Save space with a water bowl
If you have a tiny backyard that doesn't have the space for elaborate backyard pond ideas, consider creating a mini pond in a watertight vessel, such as a large concrete, stone or metal bowl, or even a metal trough. They're the perfect way to elevate your patio ideas as you still fill them with small fish and aquatic plants, as even add a tiny waterfall or fountain for the acoustic effects.
As with a full pond, you'll still need to maintain these little aquatic environments, cleaning them regularly and keeping aeration in mind. Luckily, given their small stature, mini ponds are a lot less expensive and time-consuming to maintain than their larger counterparts.
10. Get creative with a recycling project
Need to save money? Being restricted to budget backyard ideas doesn't mean you can't have a pond in your space. By getting creative, you can turn everything from mini stock tanks, oak barrels and even old bathtubs into a unique feature in your plot. Often, all they'll need is a good clean and a little bit of vision to transform them into something special.
If you're going to use oak barrels like the ones pictured above for your pond, you shouldn't need to line them as they are already watertight. Simply place them on a level surface, fill them with water and add your favorite pond plants. You'll need to maintain them in the same way you would any other backyard pond.
If you want to add fish to your recycled barrel pond, it can be a good idea to fully line it first. This will ensure anything that used to be stored inside the barrel doesn't seep out from the wood into the water and potentially poison the fish.
11. Incorporate a pond ornament or two
If caring for live animals isn't in your backyard pond playbook, you could always add an animal sculpture instead. Or if you'd prefer something a little more avant-garde, you could install a contemporary art sculpture.
Pond ornaments come in all shapes, sizes, and materials, so whether you're looking for something to suit rustic garden ideas, like an antique weathervane, or something more Zen, such as a Japanese stone lantern, there's certainly an option for you. Make sure whatever ornament you choose is weatherproof so it will be long-lasting.
12. Elevate your pond for easy maintenance
Not all backyard pond ideas need to be built into the ground. Raised ponds offer a different look, and they're often easier to install than an in-ground pond — no digging required! They're also easier to drain when you need to perform maintenance.
Perhaps most importantly, however, raised ponds are more suitable for accessible garden design than in-ground ponds. Their raised height means it's much easier to clean them and tend to pond plants or fish, meaning they can be enjoyed by everyone, no matter what their age or physical capabilities.
What's more, an elevated pond can be much safer than an in-ground pond, particularly when it comes to children and pets. It's a lot more difficult for a child or a dog to accidentally fall into a raised pond thanks to the retaining wall that surrounds it.
This DIY pond design is clad with from recycled pallets, which provide a really inexpensive way to finish off the exterior of your pond. As these wooden boards aren't watertight, you'll need to line your pond with a waterproof liner or membrane.
You can find more creative ways to use pallets in your backyard in our pallet furniture ideas feature too.
13. Build a lounge area next to your pond
The main purpose of a pond is to enjoy its presence, and one of the best ways to incorporate that experience into your backyard landscaping ideas is to build a patio or deck next to your pond. You can then furnish it with loungers, chairs, or even a dining table.
If you don't want to build an entire patio adjacent to your pond, you could also install a simple outdoor bench to create a similar effect.
As pictured here, a low-level barrier alongside the pathway to the seating area is a simple way to keep people away from the edge of the pond. For added safety, make sure you install some outdoor lights near your seating area to avoid any accidents after dark. After all, the last thing you want is guests tripping up in the dark and falling into the water.
14. Create an English cottage garden vibe
Even the smallest of homemade water feature ideas can be an incredibly effective way of setting the look and feel of your plot.
A small brick-built pond like this one can be nestled into the corner of a plot and surrounded by pretty climbing plants and biennials such as foxgloves to create an beautiful scene that wouldn't look out of place in an authentic cottage garden.
Add a classic metal garden chair and you've got the perfect spot to while away the afternoon with a good book.
How do you keep a backyard pond clean?
All ponds should have a pump and filtration system, but simply having one is not enough for pond maintenance. Pond consultant Tory Jon of Pond Academy names three key factors in maintaining your backyard pond ideas: algae control, weed control, and regular cleaning.
For algae, he recommends 'UV clarifiers, pond dyes, algae-eating fish, or chemical algaecides,' in addition to manual cleaning.
For pond weeds, maintenance is not as cut-and-dry as you might think. 'Some pond weeds can be beneficial, providing cover for fish and blocking the sun's UV rays which can fuel algae growth. But, again, if left unchecked, pond weeds can choke out a pond, deteriorating it rapidly,' he says. 'Pond weed maintenance depends on the type of weed you're trying to control, but plan on some manual removal and regular product application.'
And then for run-of-the-mill cleaning, you've got to make sure your filtration systems are working properly, and then you have to give them a bit of a hand. 'While a pond filter and skimmer will do a lot of the heavy lifting, there's still some manual maintenance to keep in mind. For example, cleaning the aforementioned filters and skimmers, manual debris removal, performing water changes, feeding fish if you have them, repairing any leaks, and so on.'
Needless to say, ponds can involve a fair bit of work to keep them in good condition and working properly.
How can you prevent mosquitoes from laying eggs in your backyard pond?
Mosquitoes love to lay their eggs in stagnant water, so it's crucial to keep your pond water moving. 'A fountain with a UV filter is a great option,' says landscape design professionals at Yardzen, an online outdoor landscaping firm.
Fish like koi will also help keep mosquito numbers down, as they'll eat them! The fish will also kill mosquito larvae, amongst other pests.
No fish? No problem. 'If you do still see larvae, you can buy tablets called mosquito dunks which will kill them before they become mosquitos,' says Jeremy Yamaguchi of Lawn Love.
You can also add some of the best mosquito repellent plants near to your pond and patio to further deter these pesky pests.
How can you prepare a backyard pond for winter?
'Every pond winterizing should start with a good cleaning. Get rid of all decomposing organic material, like fallen leaves as they can release toxic gasses and kill your fish during winter,' says landscaping expert Pol Bishop of Fantastic Gardeners.
But depending on how high-tech your backyard pond ideas are, you might need to take a few extra steps.
'When we service a client's pond, we remove the pumps and the ultraviolet lights and store in a safe warm place for the winter. We also blow out and air lock any plumbing lines going to the pond,' says John Artarian of Acquatic Habitats. 'And if there are fish, we install an external aerator, a pond de-icer, and a nylon reinforced netting system. This will allow them to safely enter torpor, which is essentially their version of hibernation.'
Makes these tasks part of your winter garden jobs and your backyard pond will still be in great shape when the warmer weather returns once more.