How to grow blueberries: it's easy with our advice
Learn how to grow blueberries in your garden for a colourful crop of this tasty fruit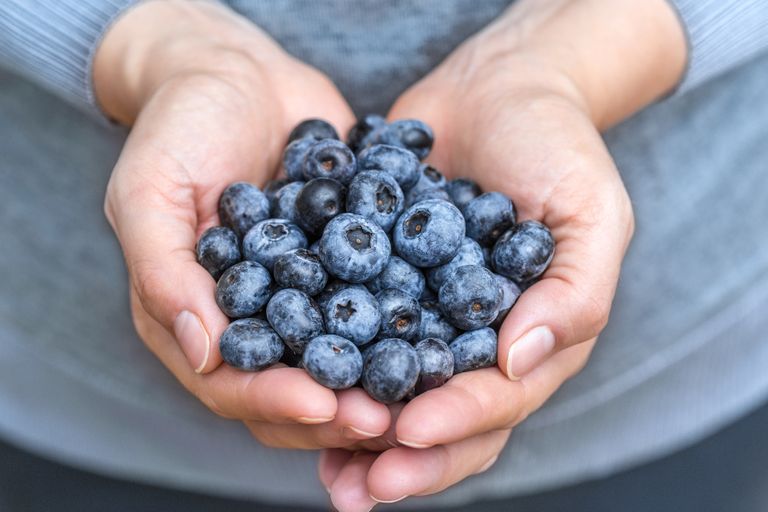 (Image credit: Getty Images)
Learn how to grow blueberries in your garden and they'll provide a welcome splash of colour every autumn. As well as being great in smoothies, jam and as a topping on porridge, blueberries are delicious added to crumbles and even salads. They're nutritious, too.
Blueberry plants prefer well-drained, acidic soils, rather than heavy clays, and will thrive in a spot that's sunny but sheltered. To make sure your soil is acidic enough, use a pH testing kit, which you can get from any garden centre. You're looking for a pH of 5.5 of below for blueberries. If your soil is marginally higher, you can use sulphur chips to lower the pH before you plant. If your soil is much higher than 5.5, grow your blueberries in a container, where it's easier to control the pH, instead.
Blueberries are sociable plants and will produce the most fruit if you plant other varieties of blueberry nearby.
Keep reading for our step-by-step guide to growing blueberries, from how long it'll take to grow, to the common problems and how to avoid them. If you fancy growing other more nutritious fruits too, take a look at our guide to how to grow an avocado.
Step-by-step guide to growing blueberries
Method:
1. When you plant your blueberry seeds will depend on the variety you buy, so always check the seed packet. Most are sown indoors from October to December. You can also buy bare-root blueberry plants in autumn.
2. Sow your blueberry seeds into small pots of moist, acidic compost. Lightly press your seeds into the compost and then cover with a fine layer. Place on a sunny windowsill or you pop your seeds into a propagator set to 20C. Keep the seeds moist but don't soak them.
3. When your plants are big enough to handle, move into their own pots and keep in a sheltered spot outdoors. By spring, they should be big enough to transplant into garden beds or their final growing containers.
4. Before moving your blueberries to garden soil, dig through plenty of bulky, acidic organic matter, such as pine needles or composted conifer clippings. Manure will be too rich for the plants.
5. Locate your blueberry plants 30cm apart. Keep the soil moist with rainwater and feed be careful not to overfeed. An annual addition of acidic mulch and a high-nitrogen feed in later winter should be enough. Your plants may need protecting with fleece during frosty months.
How to grow blueberries in containers
Blueberries can be grown successfully in containers, where it's easier to keep the soil acidic. Follow the steps above but make sure you use a piece of broken clay pot or some polystyrene to cover the drainage hole in the pot before you plant. Choose an ericaceous – or acidic – compost, which is available at most garden centres.
It's best to grow young blueberry plants in 30cm pots located next to one another to get the best harvest. Make sure you remove the top layer of compost each autumn or spring and replace it. You'll also need to move your plants into larger containers every couple of years.
The best places to buy blueberry seeds and plants online
When are blueberries ready to pick?
Blueberries are ready to pick when the fruits turn from green to dusty blue. Depending on the variety, this is normally from mid-summer onwards. You can pick berries as and when they ripen, as not all the fruit will turn blue at once.
Blueberries can be dried, frozen or made into jams, so there are plenty of ways to store your crop and use it up throughout the year.
Varieties of blueberries to try
Nelson – mid- to late-season variety that is very hardy and produces large fruit
Spartan AGM – Very hardy, early- to mid-season variety that likes growing alongside other blueberries
Tophat – tasty berries and attractive autumn colour
Common problems when growing blueberries
The good news is, blueberries aren't impacted by many pests of diseases. According to the RHS (opens in new tab), your biggest problem will be peckish birds. Protect your plants by covering them with netting, or invest in some other bird-scaring devices.
More grow your own ideas:
Laura has been writing about homes and gardens for 14 years. She started out as a newspaper reporter, then was editor of a regional magazine, and editorial manager for a travel company (who doesn't love a free holiday?). She started at Real Homes magazine in 2015 as Deputy Editor and then become Editor before taking on her current position, which focuses on video and events (you may have seen her presenting Real Homes TV). She loves spending time in the garden with her toddler and has a bizarre passion for moving lawns!
Sponsored by