5 ornamental grasses Monty Don grows for autumn colour – you'll want to try them too
Monty Don's ornamental grass borders are full of autumn colour and texture. Here's how to make grasses the star of your own autumn show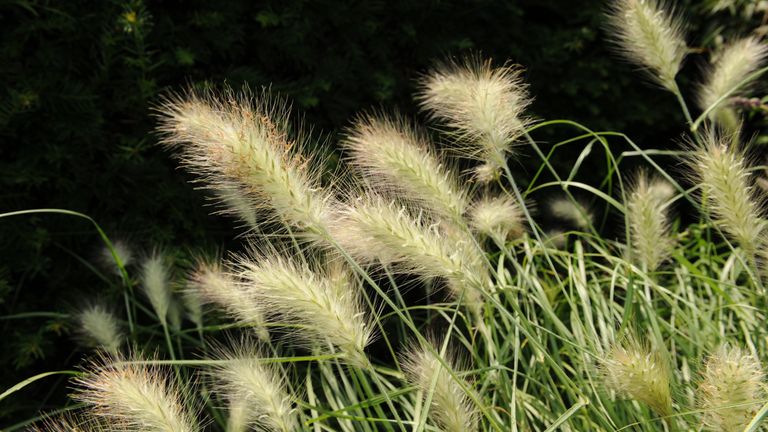 (Image credit: Future)
The grasses in Monty Don's garden add texture and colour in swathes of light and airy romantic planting. They will add a cool style to your garden that's right on trend and now is a great time of year to plant them. Easy and adaptable, they create texture and interest all year round with an understated elegance.
There is a huge selection of grasses available in a range of eye-catching colours and heights, everything from rich gold and luminous silver to inky black and even vibrant striped varieties. If you want to learn how to grow ornamental grasses, the trick to add that special wow factor is to plant different types of grass in big loose blocks to maximise the impact rather than mixing them in with other plants as a filler. Do this and the rippling grass becomes the star of the show rather than the supporting act. Used this way, it adds a sleek touch that is simple yet looks breathtaking every time.
So what type of grasses are Monty Don's favourites? Read on to find out which varieties to choose, whatever the size of your garden. You'll find more inspiration for every type of garden in our garden design ideas gallery.
1. Statuesque Stipa
As they sway in the breeze and catch the autumn sunlight gold and russet coloured Stipa add a grand touch as they are tall yet their airy structure lets the light through. Some of Monty's favourites are pheasant grass (Stipa arundinacea) which has wonderful fluffy foliage that takes on a gorgeous red tint as summer heads into autumn, and Stipa gigantea with its golden flowerheads that look like delicate wavy oats on tall stems. Monty is also a fan of Mexican feather grass (Stipa tenuissima), which has arching leaves with fluffy plumes of flowers.
2. Coppery Carex
Monty loves golden and copper coloured grasses, and Bronze Carex comans is one of his favourites. It needs no special attention, apart from being planted in well-drained soil, and works as a feature in the garden virtually all year round. Carex flagellifera will grow into a clump of spiky reddish-brown leaves, with light brown flower spikes at this time of year. It's another grass that adds interest to the garden all year round. The pendulous coppery-bronze foliage of Carex buchananii is perfect for adding structure to a border.
3. Multi-tasking Miscanthus
Miscanthus last for months on end and there are lots of different varieties to choose from. Monty uses them to get height and volume. The tall imposing ones add elegant form to the garden, while the compact varieties are good at the front of borders. Dramatic Miscanthus sinensis 'Silberfeder' has large silvery-pink flower plumes from tall deep green foliage that can grow to as high as 2 metres. Vibrant Miscanthus sinensis 'Zebrinus' is one of the stripy varieties with horizontal cream stripes marking its green leaves.
4. Red 'Rubra'
One of the best grasses for a mixed border is Imperata cylindrica 'Rubra', according to Monty Don. Also known as Japanese blood grass, this spectacular variety grows in clumps that develop into a fantastic display in summer and autumn. The jewel-like colour of the brilliant red spikes adds a bold touch to borders and containers. This is a grass that prefers not to be in full sun so it's a great choice if your garden is on the shady side.
5. Pretty Pennisetum
Graceful Pennisetum alopecuroides 'Hameln' (also known as Chinese fountain grass) has pretty purple-tinged flower tufts like brushes in summer and autumn, and a mound of arching leaves that grow into a dense clump. It's a good choice for smaller gardens as it's more compact than the other perennial grasses favoured by Monty Don in his stunning Jewel Garden. This means it's a great choice for patio pots. Another plus point is that the foliage stays looking good throughout winter when the rest of the garden is sleeping.
Top tips for planting grasses
Generally undemanding about soil, grasses enjoy dry conditions so dig in some horticultural grit before planting. Dig a hole the same depth as the pot your grass came in. Trim any tired foliage then position the grass in the hole and firm up the soil around it. Water well. If you are planting your grasses in pots, use a loam based compost such as John Innes no 2 (opens in new tab), available at Amazon.
More planting ideas:
Lifestyle journalist Sarah Wilson has been writing about gardens since 2015. She's written for Gardeningetc.com, Livingetc, Homes & Gardens, Easy Gardens and Modern Gardens magazines. Her first job on glossy magazines was at Elle, during which time a visit to the legendary La Colombe d'Or in St-Paul-de-Vence led to an interest in all things gardening. Later as lifestyle editor at Country Homes & Interiors magazine the real pull was the run of captivating country gardens that were featured. Having studied introductory garden and landscape design as well as a course in floristry she is currently putting the skills learned to good use in her own space where the dream is establishing a cutting garden.
Sponsored by