Social media is raving about this product that will protect your garden furniture from spills and stains
It could be your secret weapon for keeping outdoor furniture looking as good as new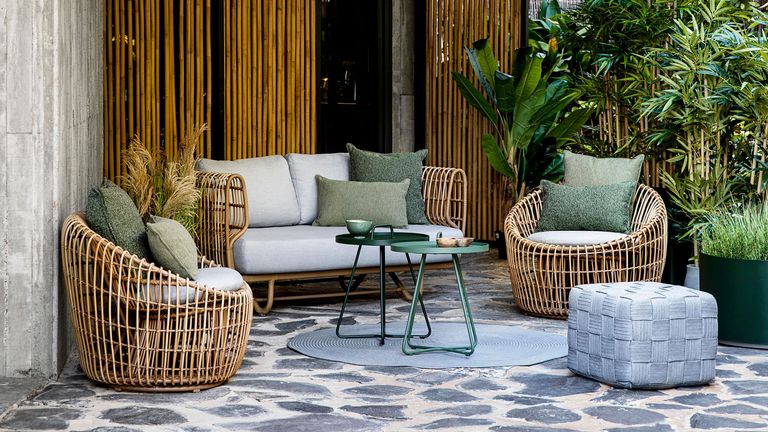 (Image credit: Nest.co.uk)
As the weather warms up, we're enjoying time spent lounging on our best garden furniture. But the more time we spend in our outdoor spaces, the more chances there are of spillages on our comfy seating.
Help is at hand, however, as we've discovered that a Rust-Oleum spray will repel liquid so that spilled drinks, melted ice cream, and sauces from your barbecue burger won't leave unsightly stains. What's more, it could help extend the life of your furniture by protecting it from unexpected rain.
The Rust-Oleum Shield H20 Fabric Water Repellent Treatment Spray (opens in new tab) might just be our secret weapon this summer. Spray it on both sides of outdoor cushions and leave them to dry for 24 hours before testing the results with some water.
Any liquid should simply form beads that can be wiped off the surface of the cushions without being absorbed into the fabric. A coat of this spray could also be a good way of keeping soft outdoor furnishings fresh, forming a barrier against sun cream.
This TikTok video showing the Rust-Oleum spray in action soon attracted comments from other users. One said that they had used it on their cushions too, and it had helped them to last for years.
Another recommended buying two bottles to avoid running out halfway through the job, because they're quite small.
The Rust-Oleum spray costs $15.98 (£11.50) at Home Depot and is also available on Amazon. It can also be used on your best garden parasols and deck chairs in order to keep them in tip-top condition.
Just remember to give garden furniture a spray once a year. If you're looking for more garden seating ideas to upgrade your space, head to our guide.
Read: Best patio cleaner - 7 top buys to clear moss, algae and dirt
Alternatively, try spraying outdoor rugs and floor cushions to help them stay looking their best through the summer. Since outdoor furniture is exposed to the elements, it's important to look after it with covers when not in use.
Simply keeping your garden furniture clean will also help to maintain it so you can enjoy it for years to come. Will you be trying this trick?
Millie joined Gardeningetc in early 2021. She loves creating a vibrant display of containers in her small urban garden and is always picking up new plants at the local garden center. She's never without some fresh flowers at home and her favorite houseplant is her variegated pothos that's currently climbing its way over her bookshelves.
Sponsored by