Cottage garden patio ideas: 11 beautiful ways to create a flower-filled seating space
Discover our cottage garden patio ideas and transform your seating area into an enchanting space to relax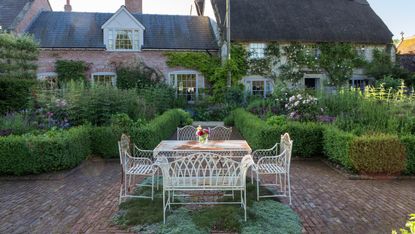 (Image credit: Mark Bolton/Future)
Looking to add a touch of romance to your plot? These cottage garden patio ideas are for you. With a few styling tips and a ton of flowers, it's easy to create a whimsical spot full of old English charm.
You may have seen our cottage garden ideas already and been inspired to try some out for yourself. But, as the epicentre of many a garden, we wanted to shine the spotlight on cottage-style patios, too. There are just so many lovely things you can do to transform a dull patch of paving into a really rather magical space.
The beauty of cottage gardens is that they're relaxed, almost higgledy-piggledy. You will seldom find the pared-back, hard surfaces which you might see in a more contemporary space – no gloss, chrome, or light-up water features, for example. You probably won't find palms or other exotic plants either. Instead, think billowing borders of soft planting, and more traditional materials.
Garden designer Tracy Foster of Tracy Foster Garden Design says 'One of the most wonderful things about the cottage garden style of gardening is that it was born out of the need to do things cheaply and simply. Materials for paths and walls look better if they are reclaimed and reused which can be a great money saver as well as being much less wasteful and better for the environment.'
So, beautiful and affordable – it's a win-win! From surrounding your outdoor seating area in clambering roses and giant urns, to adding a beautiful bird bath or two – read on for all the inspiration you need to create the cottage garden patio of dreams.
1. Create an enchanting canopy
Many people love to use their patio to sit, relax, and enjoy a meal outdoors. Well, how's this for a magical alfresco space?
Whether you're entertaining or enjoying a cuppa for one, this gorgeous pergola provides a perfect retreat. The vibrant foliage overhead not only creates a sheltered, intimate vibe, but will also provide cool shade in the summer. Why not recreate the look by growing some of the best cottage garden plants up and over your pergola?
Soft roses in pastel hues border the space, elevating the view even further and, as we can imagine, filling the air with delicious scent. Decorate your table with jam jars of freshly cut flowers and tea lights, and add an array of pretty placemats fo finish the scene.
2. Add an antique urn for traditional charm
Keep a lookout for second hand terracotta containers – like this antique urn for example. It adds an old-time charm to a garden and provides a lovely focal point when popped at the corner of your patio.
Don't worry about keeping it pristine – moss and weathering will only add to its character. Then, surround with purple globes of alliums for a beautiful display.
3. Go for a more natural, overgrown vibe
We love how this sweet country cottage is almost hidden by greenery! Tucked beneath rambling roses and ivy, it's the perfect fairytale setting. Softly shaped hedges surround huge swathes of planting, whilst an old red-brick patio takes centre stage.
As we mentioned above, don't be afraid to welcome a touch of the wild by allowing nature to do its thing. Here, a mound of moss and lichen provides a living carpet for the outdoor seating set-up. And, the rusted patination to the quaint chairs and table transport us straight to Frances Hodgson Burnett's Secret Garden.
4. Try a beautiful bistro set
A bistro set is always a lovely addition to the garden. Simple, timeless, affordable, and available in a whole host of colours – they work just beautifully on a cottage garden patio.
The delicate, pale hue of this set lifts the space and complements the surrounding Hostas, Erigeron, and Scabiosa perfectly. The best bistro sets are often foldable too, so a great choice for smaller plots.
Take a look at these stylish seating ideas inspired by Monty Don's garden, for more classic country charm.
5. Allow it to grow wild
We told you not to keep things neat! Cottage garden style is all about the plants and as you can see, sometimes, more simply is more.
Try planting the perennial Alchemilla mollis into any nooks and crannies of your patio, as seen here. With gently scalloped leaves and vibrant lime-green flowers in the summer, it's a lovely, low-maintenance plant. Plus, it looks stunning after rainfall, as droplets of water cling to its foliage like jewels.
The wild look is balanced by the soft topiary behind. Again, nothing too formal – but it gives the garden a considered, rather than abandoned, feel.
6. Fill containers with annuals
These two large pots frame the entrance to the patio and make a striking feature in themselves. They are full of pale-mauve pincushion flowers – an annual meadow-flower that's a favourite of butterflies – amongst other purple-hued beauties.
Keeping a selected colour palette is a great way to bring a sense of cohesion to a cottage garden style space. Although, of course, a more eclectic approach is totally fine, too – whatever suits your style!
There's more inspiration in our patio gardening ideas feature.
7. Add a stone bird bath for a rustic look
To elevate your patio, why not add a bird bath? A classic stone version such as this will weather beautifully over time and provides a charming focal point.
What's more, it will offer a retreat for any visiting featured friends. And is there anything more delightful then watching garden birds chirp and flit merrily nearby? You might like to take a look at our other advice on how to attract birds to your garden, too.
8. Line your patio steps with flowers
If your plot is on a slope, then you may have steps leading to (or away from) your patio. They can be easily worked into your cottage garden style with the addition of plants.
You may have already picked your favourites, but these ones are Saliva 'Hot Lips'. A favourite amongst many gardeners, their eye-catching white and red blooms sit along elegant stems. They look lovely planted en masse.
Head over to our garden steps ideas for more ways to make them a feature of your space.
9. Add eye-catching statues
One for children and adults alike – why not decorate your patio with a stone statue or two? This smartly-standing whippet is a delight amongst the surrounding Astrantias.
What's more, it will continue to add interest and character to your plot when the flowers die back come winter. You could also try positioning two, either side of a pathway, for a classic, countryside feel.
10. Adorn your walls with roses
Sweetly-scented roses are a must-have for any cottage-style garden, so make sure you bring them to the patio, too. Just take a look at these beautiful roses to introduce scent and colour to your garden for inspiration. You can display miniature kinds in pots, larger types in nearby borders, or why not introduce a climber or two?
As the RHS advise, both climbing and shrub varieties can do well when trained up walls, pillars or archways. We love David Austen's 'Gertrude Jekyll' for bright pink blooms with incredible scent, which can be used as a short climber.
11. Add rustic wooden shelves
These A-line shelves have a rustic charm that works well on a cottage garden patio. Covered in pots, lanterns and outdoor ornaments, it's a great way to add an extra dose of style to your space.
With its natural wooden finish, it blends in with the rest of the theme perfectly. You could also use it to string up bunting for a vintage feel, or even festoon lights to up the ambience further.
What materials shall I use for a cottage garden patio?
For a cottage garden patio, embrace reclaimed, traditional materials. 'Examples that spring to mind are brick edges, simple gravel paths, crazy paving with self seeded herbs and flowers growing in the cracks, herringbone brick paths, and simple stepping stones running through the planting,' says garden designer Tracy Foster of Tracy Foster Garden Design.
'The look also lends itself well to narrow paths and flowing curves, which is great if you would like a change from the prevailing hard lines of recent design trends,' she adds.
'Anything that looks handcrafted or homemade will fit in well, especially if it's made of local material in a regional style. Woven willow obelisks, cleft chestnut fencing, woven willow or hazel hurdles, and dry stone or mellow brick walls are suitable choices.'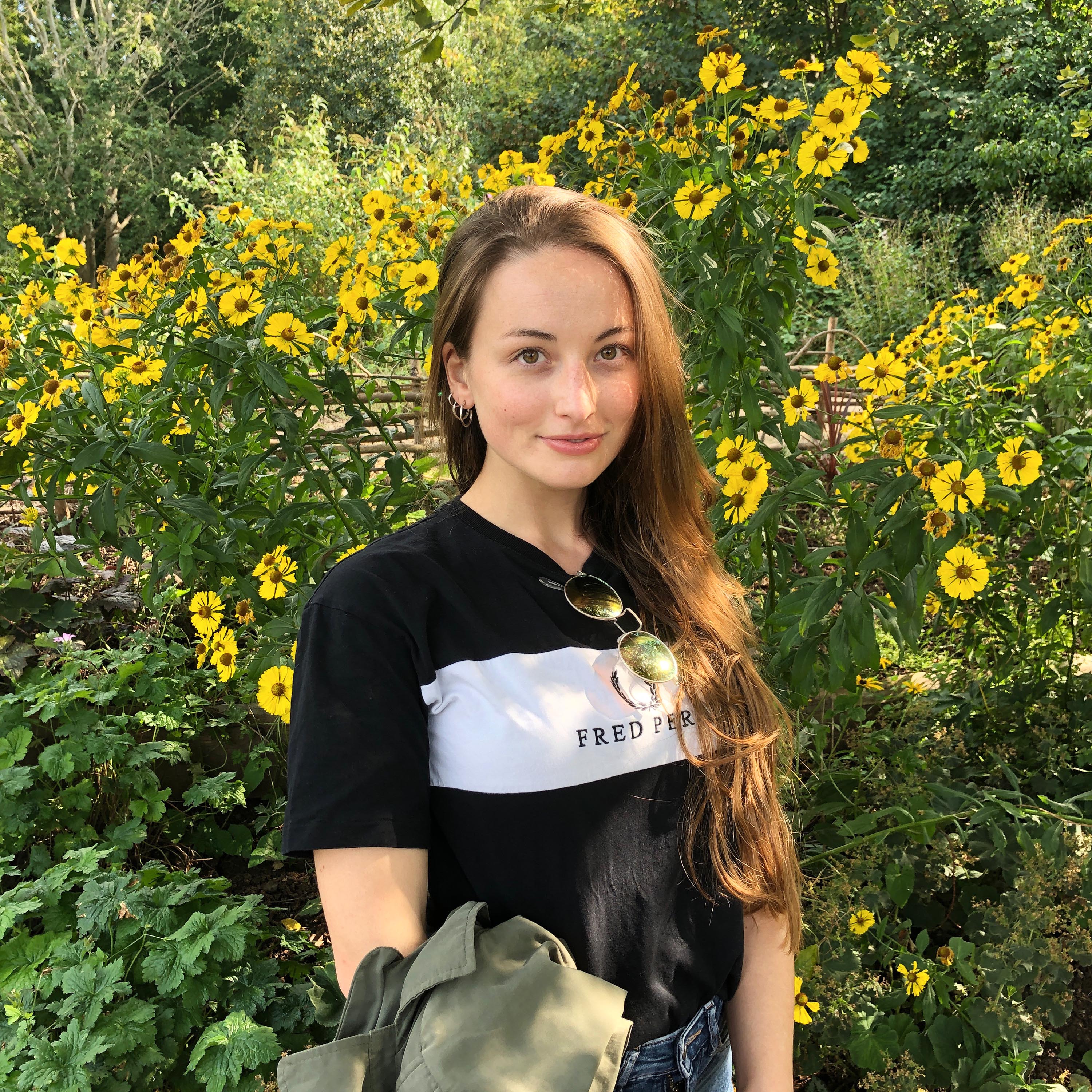 The garden was always a big part of Holly's life growing up, as was the surrounding New Forest where she lived. Her appreciation for the great outdoors has only grown since then. She's been an allotment keeper, a professional gardener, and a botanical illustrator – plants are her passion.