Best cottage garden plants: our top flowers for romantic borders
Take your pick from our favourite cottage garden plants and create stunning summer borders billowing with colour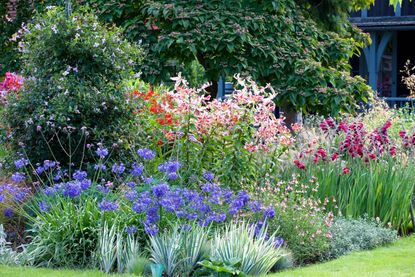 (Image credit: Leigh Clapp)
Looking to create beautiful flowerbeds packed with the best cottage garden plants? If you are then we've got plenty of inspiration for creating those romantic picture-postcard borders. Cottage gardens are all about the plants. Manicured lawns, paved patio areas and green avenues flanked by formal herbaceous borders all have their place, but a true cottage garden should be an informal colourful patchwork of billowing blooms.
With their roots in medieval times as land rented by farmworkers or 'cottars', cottage garden ideas developed out of practicality and necessity as a place to grow produce. Later in the Victorian era they became more ornamental and nostalgic with flowers taking the lead over herbs and produce.
Planting was spontaneous and abundant. Flowers grown would have varied from self seeders to wild flowers and perhaps some gifted by the big house. All were planted together with will little attention to planning or plant hierarchy. Today a little planning is useful to create the perfect cottage garden scheme, so read on for some of our favourite cottage garden plants that will help you to create those show-stopping summer borders.
The best cottage garden plants
Why you can trust Gardeningetc Our expert reviewers spend hours testing and comparing products and services so you can choose the best for you. Find out more about how we test.
1. Geranium – best all round cottage garden plant
If there's any one plant that epitomises cottage garden planting it's the hardy geranium, also known commonly as the cranesbill. A true wild flower, these clump forming and spreading perennials have beautiful cupped blooms and come in a wide variety of shades from pale blue to violet and deep magenta, and are deserving of any mixed border. With an informal, rambling appearance, hardy geraniums are brilliant for bringing colour to cottage garden borders year after year.
Where to plant
Hardy geraniums are very versatile and can be grown in full sun or partial shade in fertile well-drained soil. They work particularly well used for ground cover and planted at the front of borders. They are not suited to growing in pots.
How to care for geraniums
Hardy geraniums are easy to grow and need little attention. They are fast growing and large clumps may need lifting and dividing in spring. By cutting the plant back to ground level after flowering a second flush of flowers may occur.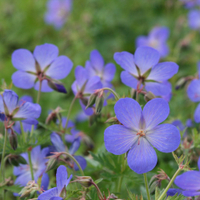 Geranium 'Johnson's Blue' at Crocus
This beautiful fast-growing geranium has deep lavender blue blooms with veined petals which will flower from May - August. Cut right back after flowering to give a second flush.
2. Delphinium – best for bringing colour to a border
Delphiniums are loved for their showy spears of colour which range from myriad blues to white and purple varieties; for a true cottage garden feel opt for a variety rather than blocks of one colour. Flowering from June to July these are summer favourites in a border, but they also make brilliant cut flowers.
Where to plant
Delphiniums can be sown from seed for flowering the following year. Sowing instructions differ with variety but generally sow under cover in spring or in autumn or in August and over winter to plant out in position the following spring. They like well-drained soil and aren't suited to growing in pots.
How to care for delphiniums
Apply liquid fertiliser once shoots start to appear in spring and regularly throughout the growing period. Stake to protect from wind damage and to encourage a second flush cut stems back to the base after flowering.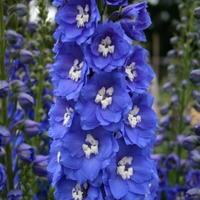 3. Sweet peas – best cottage garden flower for cutting
A true cottage garden favourite, sweet peas can be both annual and perennial. The annual variety have highly scented, frilly blooms which are great for scrambling over obelisks or up arches or can be grown up canes for cutting. The perennial variety, lathyrus latifolius, also known as the everlasting sweet pea, is not scented but is very hardy and will bring colour to your garden summer after summer from June to September.
Where to plant
Annual sweet peas can be sown in spring to flower in summer, however for best results sow in autumn using deep root trainer trays and overwinter in a cold frame. Plant out into final position in late March but make sure the plants have been hardened off first – they are hardy so can survive light frosts. Annual sweet peas are hungry so plant out in a trench filled with plenty of well-rotted manure.
How to care for sweet peas
Either type you choose will need tying into a supporting structure. Water well until established and then 1-2 times a week in hot weather, but try not to overwater as you want to encourage strong, deep roots. Cut annuals when in full bloom and do not allow to set seed as the flower will then go over.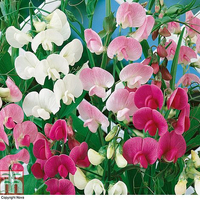 4. Hollyhocks – best for growing by walls and fences
These tall biennials or short lived perennials are a mainstay of the cottage garden and look particularly effective lining a wall or fence. Hollyhocks come in a vast spectrum of shades and will bring colour from summer to autumn, reaching heights of up to 2.5m.
Where to plant
Hollyhocks like full sun and free draining soil. They are easy to grow from seed - sow in spring.
How to care for hollyhocks
Hollyhocks may need staking to protect from wind. Cut back after flowering to encourage flowering for several seasons.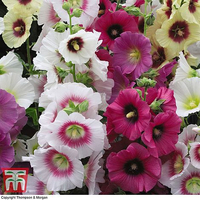 Hollyhock Halo mixed seeds (National Trust) at Thompson & Morgan
Hollyhocks will bring height and impact to the back of a border or look great lining the front of a cottage. For a spontaneous cottage garden look opt for a mix of colours – such as this Halo mix, with blooms characterised by a contrasting ring of colour inside.
5. Foxglove – best cottage garden plant for shaded areas
Quintessential cottage garden flowers, these elegant biennials are real showstoppers that will bring soaring spires of colour to your borders, conjuring the romance of a wild woodland and country hedgerows. Bees and butterflies love them, too!
Where to plant
As biennials, you will need to sow foxgloves in late spring/early summer for flowering the following year. They can be grown in full sun but prefer slightly shaded areas and soil that is neither too wet nor dry.
How to care for foxgloves
Foxgloves need very little care. If you cut out the main shoot once flowered it will spur more 'prince' shoots. Cut back after flowering to encourage a second flush, alternatively leave them to set seed freely or collect the seeds to sow. Warning – foxgloves are poisonous if ingested.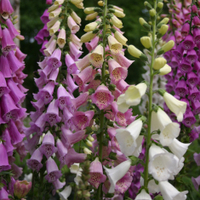 6. Clematis – best climbing plant for a cottage garden
Hugely versatile, these climbers can be grown over walls, fences, trellis, pergolas and obelisks to add height and interest to a cottage garden. With different varieties flowering in almost every month, clematis are brilliant for bringing colour to the garden all year round. They also make brilliant companion plants and can be grown through a variety of hosts.
Where to plant
With so many varieties of clematis there are types suitable for almost every garden situation. Most will thrive in any rich, fertile and well-draining soil.
How to care for clematis
If you are growing up a large structure make sure the clematis has support in place before planting. Clematis can be divided into three main groups: early-flowering species; early, large-flowered species and late-flowering species – each requires different pruning and treatment so check before cutting.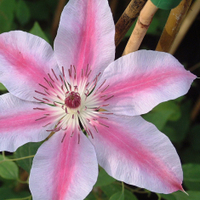 Clematis 'Nelly Moser' at Waitrose Garden
A deciduous climber with large pink blooms this clematis is brilliant for growing over pergolas and arches but prefers partial shade to full sun. Waitrose Garden has a huge variety to chose from.
7. Roses - best cottage garden plant for flowers and scent
Loved for their classic elegance and fragrance, roses are probably the most versatile flowers to grow in a cottage garden. There is a rose for almost every situation from pots and bushes for borders, to tree roses and climbers that can be grown over walls, fences, pergolas and even large garden structures. Repeat flowering varieties can bring colour and scent to your garden through from June until December with the right care.
Where to plant
Different roses are suited to different situations so do your research beforehand. Most like full sun but even if you have a shaded north-facing location there are still roses that can tolerate this, as well as poor soils, such as Claire Austin.
You can buy as plants but the most economical way is to plant bare root which you can buy from November to April. Roses are hungry so they will need to be planted with two good shovels of well-rotted manure. Water until established and then once a week in the first year.
How to care for roses
Most roses need care and attention including feeding in spring and summer, followed by mulching and then pruning in winter/early spring. Different varieties will require different pruning techniques. Climbers will need tying in to a supporting structure. Dead head as blooms go over to encourage a second flush of repeat flowering varieties.
Pippa is Style Editor for Period Living magazine and spends many a weekend exploring the Cotswolds for decorating shoot ideas. When she's not writing about homes and gardens for Period Living and Homes & Gardens, you'll probably find her pottering on her Gloucestershire allotment, called Pippa's Plot, where she has cultivated a stunning cutting garden so she can grow flowers for styling her own home and interiors shoots.