5 plants and trees to order now and get ready for spring
It may be dark and gloomy out, but now is the perfect time to plan your garden and get ready for some spring planting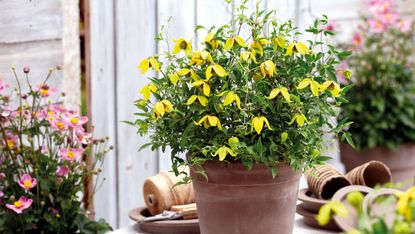 (Image credit: Suttons)
It's the time of year when seed catalogues appear in your postbox, full of fabulously coloured plants and trees to tempt you. Although the weather might not be very spring-like at the moment, using this time to plan your garden scheme for the year ahead is a great idea.
So light the fire, make that cuppa and start planning and ordering those key buys so you have them ready to go out when the sun starts to warm the soil again.
We've rounded up five of our favourites below, plus you'll find more advice on planning your 2021 flowerbeds in our guide to garden borders.
1. Sweet peas
Who doesn't love learning how to grow sweet peas? They tick all of the boxes don't they – beautifully scented, stunning colours and they epitomise that quintessential country cottage garden style.
Order now and you can start sowing them in your greenhouse from now until March. Plant out during March and May and they'll start to flower from June through to September. They love full sun and well-drained soil and you will need to give them some vertical support – make sure you have that ordered too!
2. Clematis
Clematis loves to be planted in warm moist soil, so in the UK (or in places with a similar climate), it's best to opt for spring or early autumn. You can order these plants now and they will be despatched from March, which will be the ideal time as the days will be getting longer and and hopefully there will be more sun.
The typical flowering period runs from May to the end of September, and this super-dwarf variety will produce many nodding, lemon-yellow petals that will add a burst of colour to your pots and hanging baskets.
Head over to our guide on how to grow clematis for more advice.
3. Geraniums
A favourite amongst most gardeners, the geranium is a great choice for a colourful display. It's a toughie too – heat and drought resistant, these plug plants can be planted in April and May once spring finally arrives.
This variety produces exactly what its name suggests – large, semi-double flowers in an array of deep red tones. They can go in your beds, hanging baskets, patio containers and window boxes for a guaranteed splash of colour from June to September.
There's more inspiration for seasonal displays in our hanging basket ideas feature.
4. Acers
Acers are striking and can be a great addition to your garden if you want to create a stunning focal point. Spring and autumn are the best times of year to plant them as they like warmer soil and temperatures.
If you want to plant ready for the instant colour, now is the ideal time to choose your variety and order it. This plant has bright autumnal red leaves, is fully hardy and doesn't need pruning – always a bonus in our book!
Head over to our guide on how to grow acers for more expert tips.
5. Dahlias
If you'd rather miss out the sowing of the seeds and would prefer to plant straight out in the garden, then buying tubers is the way to go.
Dahlia are best planted this way and will be ready to go into the soil after the last frosts, or pot them up in March or early April and keep them undercover until it warms up.
Once they are in the ground you will need to support them with canes and tie in every few weeks. They will flower from July to November, and remember that if you're picking for displaying in vases then wait until they are in full flower before cutting them.
There's more tips on getting the best results in our how to grow dahlias guide.
Read more:
Sophie has been an interior stylist and journalist for over 20 years. She recently trained to be a florist and launched The Prettiest Posy where she curates beautiful flowers for weddings and events.