5 plug plants that will transform your bedding displays this summer
If you want to give your garden a head start, add these pretty plug plants to your shopping list for your summer pots and borders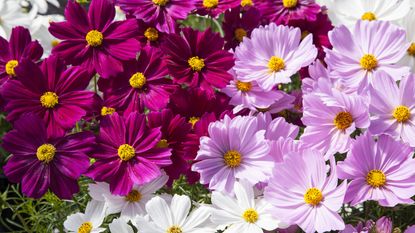 (Image credit: Suttons)
Already planning your summer bedding displays? We don't blame you. We could all do with a burst of colour to brighten our days right now, so picking out some vibrant blooms and getting them ordered early is a great way to bring some cheer to a gloomy winter day.
Ordering plug plants is ideal when it comes to creating summer bedding plant displays. A plug plant is essentially a young plant that's ready to go straight into the soil in your chosen place. It means you don't need to sow from seed, which is great for those of us who don't have the patience or space to do this.
Plug plants are pricier than if you grow flowers from seed, but you're getting them a few steps ahead in the growing process. They'll also have an established root system, which guarantees a better result.
Keep scrolling for our top five picks and add them to your shopping list for your summer bedding displays. There's plenty more inspiration for your planting schemes in our guide to garden borders too.
1. Zinnia
One of the best things about these zinnias is that they thrive in typical UK weather. They will flower all summer long and are perfect for your borders and containers.
This double mix variety will give you a lovely colour range of dwarf bedding zinnias and they are mildew resistant. Do give them a regular water and deadhead them when faded as this will encourage further blooms.
2. Cosmos
Cosmos are the gift that keep on giving in the summer. They will keep producing their beautiful saucer like heads once they start blooming in June until late September.
Full of vibrancy, cosmos will give your garden a delightful display of colour and you can plant them in your beds or pots. They are also fabulous as a cut flower, so pop a few in a vase to brighten up your interiors too. Cutting them regularly will also encourage repeat flowering.
3. Begonias
They're seen as something of an old-fashioned plant, but begonias are a good choice if you're a fan of classic cottage garden ideas.
They're incredibly versatile as they look fabulous planted in flowerbeds, borders, hanging baskets and pots, plus they have a good tolerance to heat and are easy to grow on and maintain.
They come in a wide range of colours, and this mixed variety will look striking with their leaf colour ranging from lush green to copper.
Plant them out at the beginning of May and they will bloom from June until the end of August.
4. African Daisy
These bright bobbing headed daisies will add character and vivid colours to your beds this summer.
They are the first cascading African daisy and are drought tolerant – perfect for if we get a heatwave this summer!
You will see the fabulous flowers from June until the end of September so pop the plugs in your baskets, window boxes and containers ready for then and enjoy this fun daisy.
5. Snapdragons
What more could you ask for than these pretty petalled snapdragons that come in shades of pink, yellow and red!
They have a gentle quality that will add a softness to your displays compared to other flower types and bees love them too which is always a plus.
Snapdragons will be in full bloom for the whole of May until the end of September, making them worth investing in as they really do provide fabulous colour for a long period so fill your borders and pots with them for stunning summer blooms.
Head over to our guide to bee friendly plants for more great ways to encourage lots of pollinators to your garden.
Sophie has been an interior stylist and journalist for over 20 years. She recently trained to be a florist and launched The Prettiest Posy where she curates beautiful flowers for weddings and events.