5 simple potting bench ideas to get planting in style this season
A potting bench is an essential bit of kit for any keen gardener, giving you the perfect spot to prep and plant your bulbs, seeds and cuttings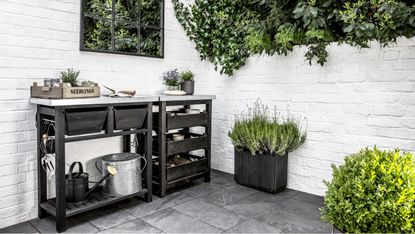 (Image credit: Garden Trading)
Want to get organised in the garden and make your life easier when it comes to planting all of your spring bulbs and seeds in pots and containers? Adding a potting bench to your outdoor space is a practical option, giving you some extra storage and providing a high-level surface for all your planting tasks, so no more back pain from stooping down to plant seeds in pots or seed trays.
Potting benches have multiple uses – some are simple benches with just a worktop, while other options have shelves and storage boxes underneath. A well-designed potting bench is a great addition, especially when it's sowing season and there's lots of seed packets to sort through. Some are mobile too which is a good option as you can move them to different areas of the garden when necessary, and with a bit of TLC most can stay out all year round. Keep scrolling for our five potting bench ideas, then head over to our garden design ideas for more ways to make the most of your outdoor space.
1. Keep it modern
If you love modern style then look for a potting bench that lends itself to a more contemporary style of garden. A galvanised sheet metal top gives a smart and practical finish and black-stained wood will make it stand out from the trad crowd. Designs with hooks are a great idea for hanging tools from, and always consider what will be most useful for you in terms of storage – large and deep pull-out drawers could be used to keep compost in so you don't need to bend down to the compost bag every time you fill up your pots. Hang a garden mirror above your potting table so you can enjoy reflected views of your outside space while you work.
2. Save space with a square design
If you're tight on space then opt for a potting bench that's more compact rather than the usual rectangular style. A square design may be a little deeper, but that can be useful as you'll still have the potting space that you want. A two-tier bench has its uses as you can pile up your pots at the back of the lower tier and have all of your seeds and tools at the front. A potting bench with a higher back is a good idea too so you can pile the compost higher, which will make it easier to fill your pots. Want to make your own compost? Head to our how to compost guide for our top tips to get you started.
3. Choose a budget-friendly option
If you're on a budget you'll want value for money, so look out for designs that won't break the bank but are made from hardy materials to offer durability. It's important to choose a potting bench that's made from a good sturdy wood – pressure-treated softwoods are a great-value option. And if you're good with building flatpack furniture, choosing a potting bench that requires assembly is another way to keep down the price. If you're not keen on the plain wood finish, adding a couple of coats of exterior wood paint will personalise your design and protect it from the winter weather.
4. Keep everything organised
Choosing a potting bench with extra shelving will always be a bonus – any extra compartments can be used to keep seed packets and plant seed markers close to hand, not to mention all of those odd bits of string and wire we all seem to acquire! If you tend to be a little messy when you're planting (and who isn't), then a bench top with sides will keep your compost where it needs to be, rather than on the ground.
5. Go for a portable design for potting on the go
If your garden is compact or you want to plant up at the allotment, then look out for a foldable potting box. They are a fabulous idea and you can use them both inside the house and out. You simply unfold them on the ground or on top of a garden bench or table if you desire a bit of height, add in some compost and fill your pots with ease – the perfect low-mess option!
Read more:
Sophie has been an interior stylist and journalist for over 20 years. She recently trained to be a florist and launched The Prettiest Posy where she curates beautiful flowers for weddings and events.