5 ways to use cold frames and cloches in your garden
Extend your growing season and protect new seedlings with a cold frame or cloche. Choose the right one for your needs with our top tips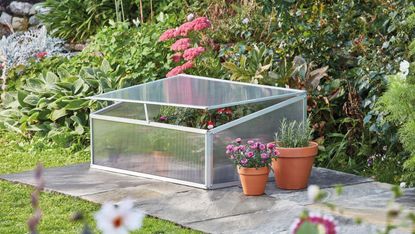 (Image credit: Thompson & Morgan)
If you're looking for ways to protect your plants or seedlings during the colder months but don't have the space or budget for a greenhouse, cold frames or cloches are a great alternative for small gardens.
A cold frame is essentially a mini greenhouse and there are lots of benefits to using one in your garden, particularly if you're new to growing. They're portable and great for small spaces, or they can be a good way to extend your growing space if your greenhouse is already full to the brim.
A cloche, on the other hand, does a similar job, but on a much smaller scale. It's a French word meaning 'bell' and they can be placed on individual plants to protect them from cold temperatures.
Keep reading for our top ways to use cold frames and cloches in your space, then check our our greenhouse ideas if you're after a bigger area for growing plants, fruits and veg throughout the year.
1. Raise it up
If you want to protect your back, go for a raised cold frame as it means you won't have to spend all your time bending down to tend to your seedlings. A raised design gives you plenty of easily accessible growing space at a comfortable height. They usually have a hinged lid and sides that feature glass or plexiglass to allow light in whilst keeping the cold and rain out. Look for a design with a shelf underneath as it will give you some much needed storage for your pots, plants and watering can.
2. Opt for a split lid
A design with two independently opening lids is a good option – you can let extra light and air into one side as and when needed without compromising the seedlings or plants on the other side. A lid with two height settings for the pane is a useful option for similar reasons. Always look out for a cold frame that's pressure treated to protect against rot, as this will also ensure it lasts longer, especially if it's placed directly on the ground.
3. Go lightweight for maximum flexibility
If you think you'll want to move your cold frame to different positions in the garden, for example as the sun drops to a lower level in winter, then choosing a design made from a lightweight material like aluminium is worth considering. Go for a design with polycarbonate panels instead of glass will also keep the weight down. Our top tip? A hinged lid is always worth it, even it costs you a little more as you need to be able to get your plants in and out with both hands – holding the lid with one hand and trying to pick up plants with the other is often trickier than you might think! There's plenty more ideas for small spaces in our best mini greenhouses feature.
4. Perfect for growing salads
Although original Victorian cloches were bell shaped, you can now find some that are more rectangular in style. A salad cloche does what it says on the tin; you can use it for growing herbs and salads, and some come on their own raised bed so you can place it outside the back door or even on a balcony. Cleverly designed, they feature convection ventilation which allows warm air to circulate around the inside of the cloche, then you can often remove the side glass during summer months to create a sun trap, or to allow rain to water your salad. Head over to our feature on growing lettuce in winter for the best varieties you can grow during the colder months.
5. Create protection for individual plants
The original cloche was domed and used to protect individual seedlings and young plants from light frosts and cold winds, and not forgetting pesky pests like birds, slugs and squirrels! You can still get this shape, more often in toughened plastic, glass or bamboo, and if you get different sized ones you can use them for various stages of plant growth. A top tip is to line them with fleece or straw for those fresh and frosty mornings.
Read more:
Sophie has been an interior stylist and journalist for over 20 years. She recently trained to be a florist and launched The Prettiest Posy where she curates beautiful flowers for weddings and events.