The secret to an indoor cactus collection revealed! The best bit is – you don't have to leave the house to achieve it
You can sign up for a subscription that sees you receiving a new succulent or cactus every month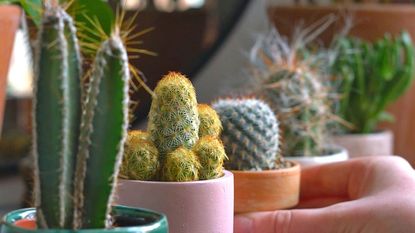 (Image credit: Barry's Cactus Club)
The trend for learning how to grow succulents and cacti shows no sign of letting up and we're right behind it. The secret to an indoor cactus garden is achievable thanks to a savvy idea. For just £15 a month, you can sign up for a subscription that sees you receiving a new variety every month.
Your new plant will come in a unique ceramic pot, with a collector's card and all the advice you need to keep your plant looking good.
So what kind of cacti/succulent are you likely to receive as your subscription? 'You receive a different one each time so it's a surprise,' say the plant obsessives at Barry's Cactus Club.
Three of the most popular varieties are The Blue Torch (Pilosocereus Azureus aka hairy torch), a stunning blue cactus from Brazil that can reach 10metres in height. It will produce a white funnel-shaped flower around 1m tall, which only bloom at night.
The Cereus (Thrixanthocereus senilis) is native to Peru and grows mainly in the valleys of Rio Maranon in extremely rocky soil 400-2700m in altitude. It grows up to 4m tall and flowers at night and in the wild is pollinated by bats.
The Monk's Hood Cactus (Astrophytum ornatum) is the largest and fastest to grow of all Astrophytums. It's spherical when young and columnar when mature, some even develop cute twists as they age. It can produce marvellous blooms when it reaches about 15cm.
The pots are designed in-house. 'Each plant comes with a unique and stylish pot which you can mix and match when you've built up a small collection,' says the team.
'Due to their size, they look especially good when grouped together to create a statement collection – at last three. You can line them up – the more varied, the better, rather than sticking to ordering by height or size. Or, place them in two rows, if you have at least five, so that you can see each plant and pot – place the taller ones at the back and the shorter ones at the front to add depth.'
They also work well lined up on a bookshelf, fireplace, on a corner of your desk, on your bedside table or in the middle of your coffee table. When grouping, do mix up the plants so you have some variation to your indoor plant ideas.
How to look after cacti and succulents
'Most cacti and succulents like bright sunny locations and light is vital for flowering so generally speaking the brighter the better,' says Barry's Cactus Club. 'If you choose a windowsill, choose one that faces south or west as this will give the plants the best light. Some species will thrive on a windowsill with occasional sun. All species need light. Do not put plants in a room with no windows!'
When it comes to watering, most cacti and succulents will tolerate long periods of drought but if you want them to grow and flower you will need to water and feed them in the growing season every 2-4 weeks (April to end of September). The safest way to water your succulents and cacti is by using the 'soak and dry' technique.
How does that work? All you have to do is to soak the soil completely and then patiently wait for it to dry before repeating the process. It's very important to ensure that your containers have drainage holes that allow water to drain properly. To see if the soil is dry, check it with your finger.
Head over to our guide on how to care for succulents for more top tips.
With over 30 years of working in journalism on women's home and lifestyle media brands, Rhoda Parry is the Editorial Director, Homes Content, at Future plc. She represents the UK's leading homes portfolio including Homes & Gardens, Country Homes & Interiors, Livingetc, Ideal Home, Woman & Home, 25 Beautiful Homes, Amateur Gardening.
She's a writer and visual creator first and foremost and, when she's not crafting and creating online and print features, you can find Rhoda pottering around her coastal garden on the Sussex coast. With a view of the sea and surrounded by shingle, her outdoor space is a wild plot planted and self-seeded with native plants, such as sea kale, poppies and rambling roses.