The best tree to grow by a swimming pool – and it's not a palm tree
If you're struggling to choose a suitable tree to grow next to your swimming pool, you should definitely consider this good-looking and easy-to-grow species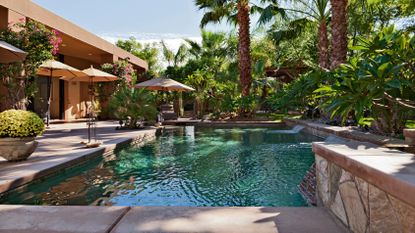 (Image credit: Getty)
If you're in the process of planting up your swimming pool area, chances are you already have a palm tree or two. However, if you are looking for something a little different a dwarf lemon tree is the tree you should be growing by your pool.
These amazing citruses are ideally suited to poolside areas. The reason they are the perfect poolside decoration is that they have compact roots that can be grown easily in containers.
See more backyard pool ideas in our gallery
Not all citrus trees are suited to planting next to swimming pools. Some have shallow root systems that may damage the pool's plumbing.
However, dwarf lemon varieties such as 'Eureka' or 'Meyer' actually have remarkably compact root systems. This makes them suitable for planting either around your swimming pool or in large containers where they will thrive and bear fruit for many years.
Best of all, you don't need to move those large, heavy terracotta pots once you've planted your trees. Contrary to popular belief, lemon trees do not need to be brought indoors during the winter – something Monty Don has explained in a recent article about growing lemon trees in pots.
Overly hot, dry winter conditions are not good for lemon trees, Monty explained: 'If you take a citrus tree into a centrally heated house over winter you will nearly always see the leaves turn yellow and curl up, with the plant looking very unhappy indeed by early spring. '
His top tip is to keep them in a sheltered spot protected from the worst winds and any frost, but to pretty much let them be during winter. 'Then they can have as much sunshine as is available all summer,' he explains.
He also advises to pick the fruit as soon as it's ripe, which will help your dwarf lemons conserve their energy, keeping them healthy: 'Removing ripe fruit also stimulates flower production which, of course, will result in more fruit'. Which means more lemonade to enjoy by the poolside.
Anna writes about interior design and gardening. Her work has appeared in Homes & Gardens, Livingetc, and many other publications. She is an experienced outdoor and indoor gardener and has a passion for growing roses and Japanese maples in her outside space.