Joe Wicks shares his stunning garden transformation on Instagram
He may be famous for his inspiring workout routines, but it turns out that Joe Wicks knows a thing or two about contemporary garden design, too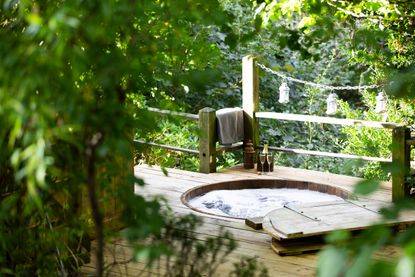 (Image credit: Canopy & Stars)
If you've seen Joe Wicks's Instagram feed lately, you're probably as mesmerised as we are by the amazing garden transformation he's recently shared.
If you're look for garden design ideas for spring, then you should definitely check out Joe's fabulous project, which took four weeks and has just been completed. It's contemporary, it's Zen, and it's just the perfect space to relax in – or to take an ice-cold bath in, if you're as hardcore about fitness as The Body Coach.
Joe gives a full video tour of the new space, and the effect is strikingly contemporary. From angled decked areas connected by a walkway to the unforgettable barrel-shaped outdoor sauna, the new design incorporates some of the best current garden trends, while keeping the overall look natural thanks to the use of oak decking boards.
The decking ideas behind the design are as much about the function of the space as it is about the look: the sauna and hot tub areas are raised and connected, which makes it possible to just walk over from one to the other and over to the outdoor shower area barefoot, without the need to dry off or wear flip flops. Now that's truly relaxing.
The design is by Esme Developments, who posted plenty of their own beautiful photos of the finished garden, drawing attention to the intricate multi-angled decking construction.
Joe has made his name partly through his amazing workout videos and podcasts, but partly through his affinity for ice baths; it is refreshing (sorry) to see that there is room for gentle home spa days involving a hot tub in the fitness guru's life. Also, the idea of an ice bath is maybe a tiny bit more appealing if it's alternated with a hot sauna.
If Joe's garden transformation has motivated you to think about something similar for your own garden, have a look at our gallery of hot tub ideas.
Anna writes about interior design and gardening. Her work has appeared in Homes & Gardens, Livingetc, and many other publications. She is an experienced outdoor and indoor gardener and has a passion for growing roses and Japanese maples in her outside space.