Mediterranean garden style is back this spring – these are the 3 top expert tips for achieving this look
These easy tweaks and additions will let you create a Mediterranean garden style (and we're not talking about planting some herbs)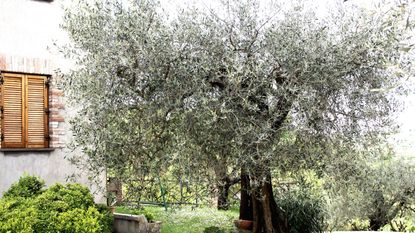 (Image credit: Getty/ebastian Kopp / EyeEm)
The Mediterranean garden style is making a big comeback this spring and summer, when we all need as many reminders of faraway places we love to go on holiday more than ever. Mediterranean gardens come in many versions – colorful or neutral, formal or relaxed – but one thing is certain: they always look and smell stunning.
Of course, you can permanently redesign your garden to resemble the traditional gardens of southern Europe, but it's much easier to incorporate these three simple expert tips into an existing garden.
1. Make friends with colorful patterned tiles
Ceramic tiles have been a feature of Mediterranean gardens for centuries, characterized by vibrant color and intricate patterns, usually representing floral motifs. Even tiling one garden wall will instantly create a strong Mediterranean look, says William Mitchell, Owner of Sutton Manor Nursery: 'Not only will they bring a pop of colour to your garden, but they are also perfect for any dull and neglected areas that are in need of some love. To add some function and character into this space, why not opt for some colourful geomatics style tiles or even efflorescent patchworks.'
If you're already a fan of our patio cover ideas and have a completely sheltered spot, you could also use a tile-effect wallpaper instead of tiles, for a similar look with less effort.
2. Add one statement Mediterranean tree
Forget about complicated planting schemes and plants that may not survive in your climate – instead, create a focal point with just one mature tree native to the Mediterranean region. In most gardens, you can't go wrong with an olive tree; William points out that it is a symbol of 'peace, wisdom, prosperity and success. Their elegant silhouettes and evergreen leaves make them a beautiful focal point in any garden, especially one with a Mediterranean theme.'
If you're lucky to live in a warm climate with dry summers, olive trees will be happy planted in the ground, but an olive tree will also do well in a large container as part of stylish patio ideas in small outdoor spaces. Potting yours in a classic pink terracotta pot will add even more of a Mediterranean vibe.
3. Accent with a mosaic bistro set
Even if you skip the first two tips, mosaic furniture will instantly add a relaxed Mediterranean look as part of your patio design. Choosing one of the best bistro sets featuring mosaic details is a great place to start. They are such a recognisable and characterful style of furniture with an unmistakable southern European feel that you may find you don't really need anything else, even if your planting scheme doesn't have Mediterranean references.
Anna writes about interior design and gardening. Her work has appeared in Homes & Gardens, Livingetc, and many other publications. She is an experienced outdoor and indoor gardener and has a passion for growing roses and Japanese maples in her outside space.