5 stunning plants for spring scent: add them to your planting list
Treat your garden (and yourself) to some heavenly scented blooms this spring. Here are our top picks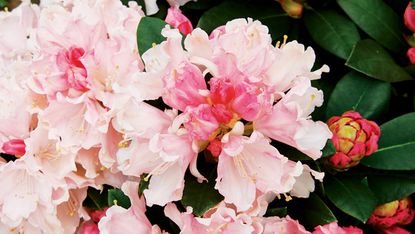 (Image credit: Future)
As one of our main senses, scent is so important to us. Adding flowers and plants to our garden that give off beautiful smells is a wonderful way to awaken the senses as the warmer weather begins to arrive.
Strongly scented flowers help to encourage wildlife into your garden too, making it even more important to add some to your garden wherever you can.
You don't need to wait until summer flowers bloom either to enjoy stunning scents in your garden. There are some fabulous varieties that smell amazing and appear in spring, so have a peek at our top five below. Plus, there's more inspiration for your planting schemes over in our guide to garden borders too.
1. Daphne
This heavy scented beauty gives you late winter and early spring flowers with pinky hues. This particular variety has been awarded the RHS Award of Garden Merit as it has become a much sought after plant to brighten up the late winter months.
It's ideal for patio containers and you can pop them in your borders too. Hardy and compact it loves partial and full sun so it is really versatile.
For other ways to brighten up your cold weather containers, check out our best plants for winter pots.
2. Wallflowers
At this time of year we all yearn for a splash of colour, and this is where wallflowers can be a very welcome addition to your garden.
Fragrant and fancy, this Sugar Rush mix consists of orange, purple, yellow, red and cream shades and they'll bloom in October and November too. You can use them in your beds and pots and they can be planted now if you buy garden-ready plugs – just give them a bit of protection from frosts until the weather warms up.
3. RHODODENDRON
Big clusters of pale pink blooms that contrast beautifully with the dark evergreen foliage that rhododendron is so known for will appear in April, just when we need to see some much needed colour and scent.
This variety has wine red undersides of each leaf (hence its name) and it is a compact bush that loves acid beds and borders. Use large containers for your patio so you can make the most of its blooming nature.
Find more container planting suggestions over in our patio gardening ideas.
4. Magnolia
Although the scent of magnolia is more subtle than that of the other plants mentioned, it is one of the most striking varieties that blooms in spring and is definitely worth investing in.
A fully hardy plant, it will flower from late March to late May. They are relatively pest free too and like soil that is slightly acidic. You can plant in containers or directly into a bed.
When they are in full flower they are striking with their large globe like flowers that bees love. You'll find more bee friendly plants in our guide.
5. Sweet William
A favourite of most gardeners, Sweet William's pretty petals are sweetly scented and full of much needed colour. They will flower in late April and keep going until August – they are a gift that keeps on giving!
The colours range from white to pink, lilac, purple and crimson. They make great cut flowers too, or keep them in your beds and borders for a fabulous splash of spring colour.
Sophie has been an interior stylist and journalist for over 20 years. She recently trained to be a florist and launched The Prettiest Posy where she curates beautiful flowers for weddings and events.