This is how much your garden is adding to your house value
A garden doesn't only make your property much more attractive to buyers – it also guarantees they will pay more for it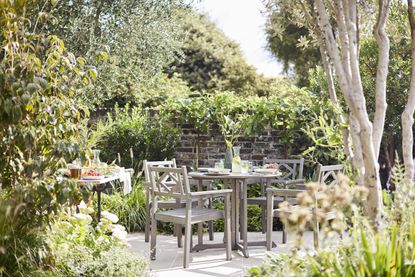 (Image credit: Dobbies)
Your garden increases your house value, according to brand-new research. Our gardens have proved to be invaluable during the pandemic: we've spent more time in our gardens than we've ever done, and it also seems like we've spent more money than ever on finally making our favourite garden design ideas reality. And now it turns out that those who have made the investment into their gardens during the Covid-19 pandemic will reap rich rewards if and when it comes to selling their home.

A study by the AA has found that having garden space on your property can lift its value by 5 per cent – a nice add-on the already increasing house values across the country. The study looked at homes with and without gardens in 30 towns and cities across the nation to see where gardens are valued the most.
The study found the average house price for places with up to three bedrooms, and how much people were charging on average for homes with gardens – to see how much of a difference there was between the two.
Overall, the average home was valued at £209,525. But the price of homes of the same size that had gardens hit an average of £220,555 – just over £11,000 more.The top locations for a price bump include: Walsall, where a house is worth 16 per cent more if it had a garden; Sunderland, where it's 15 per cent more; and Liverpool, at 11 per cent more. While those are the best places for garden value compared to the house itself, Brighton is where a garden is worth the most cash. Compared to an average house price of £379,259, a home with a garden is worth £27,297 more – a 7-per cent increase.
In the capital, however, it appears that properties are actually cheaper with a garden. This is potentially due to the rise in new-build flats and penthouses pushing the average price of all properties beyond those with gardens.
Walsall claimed first place as the location where gardens added the most to property value with the addition of a garden adding £25,555.72 to property prices. Sunderland and Liverpool followed with gardens adding around £17,000 to property value.
London ranked as the area where garden space added the least value to property prices with the addition of a garden reducing prices by £28,560.76. Glasgow placed second with gardens adding just 1 per cent to property value, Wolverhampton and Bristol were also close behind with gardens only adding 3 per cent to property value.
Gardens might be worth a bit extra on the price tag for the home, but what's important is why – and what people use theirs for. In a survey of over 1000 Brits, it has been found that 60 per cent of people had spent more on their gardens during the summer of 2020 than in 2019 - with over 40 per cent spending over £100 more. Welsh residents, in particular, spent more last year, with 1 in 5 saying they spent over £500 more in 2020 compared with the previous year.
Additionally, 1 in 5 thought that their garden would add between £10,000 and £40,000 to their property worth with those in the south east of England going even further, with 15 per cent saying they think the price increase would be between £20,000 and £40,000.
While the study shows that property prices aren't increased by nearly as much in many cities, 57 per cent of Brits stated that they would look for a house or property that had a garden after living in a house without one.
Ready to work on your garden this year? Read our advice on how to plan your garden design.
Anna writes about interior design and gardening. Her work has appeared in Homes & Gardens, Livingetc, and many other publications. She is an experienced outdoor and indoor gardener and has a passion for growing roses and Japanese maples in her outside space.