Designer Tom Massey recommends this one design tweak to bring your garden to life this year
Garden designer and star of Your Garden Made Perfect gives his top tip for a successful garden scheme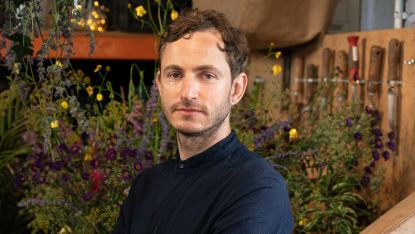 (Image credit: BBC/Remarkable TV/Gary Moyes )
Tom Massey is a new addition to the BBC show Your Garden Made Perfect, which hits our screens tonight, but he is already proving himself to be an innovative and inspiring garden designer who is set to bring moments of surprise and fresh garden design ideas to the series.
Tom's design signature is his love of personal, intimate, and non-standard garden designs – the opposite of bog standard lawns and patios. Always opting for an unexpected solution, Tom produces garden designs that really have the wow factor.
Asked what got him interested in Your Garden Made Perfect, Tom answered that 'what really appealed to me was the innovative use of VR (virtual reality) to present the designs.
'I originally trained as an animator and worked for a while as an advertising creative, so I had a good understanding of the software and the capabilities, but hadn't had the opportunity to utilise it in my own garden design work.
'The use of VR technology to help convey a design or idea is something I am really interested by and it was an exciting prospect and an opportunity to add a new elements my work.'
Tom stayed true to his reputation as a young innovator full of fresh ideas when asked for the one easy tip he would give gardeners to help them truly make the garden an extension of their home.
He said: 'Think beyond the basic layout where you have a lawn in the middle of the garden and a thin strip of planting pushed out to edge. Be bold and think about creating intimate spaces rather than just keeping it all open and flat. Why not scrap the lawn altogether and plant a wildflower meadow? It will be buzzing with butterflies and bees and full of colour and life, much more uplifting than a flat expanse of lawn or artificial grass!'
That's exactly the spirit we all need this year when many of us will be reimagining our outdoor spaces; those of us who are lucky to have gardens may as well make full creative use of the available space, and why not indeed wave the lawn goodbye if it means increasing biodiversity. Want to give it a go? You can find out how to plant a wildflower meadow in our guide.
Tom also urges to mainly work with plants, before going for an expensive redesign: 'Bring in more life and more plants! It's such a simple way to really transform a dull and lifeless space and is much less expensive than hard landscaping too.'
This approach works especially well in urban gardens or for small garden ideas where there may not even be any soil for planting: 'If you don't have any soil to plant into, for example; a paved courtyard, roof terrace, balcony or plant in pots or planters, you can think outside the box here. Look to use unusual items such as hollow concrete blocks, plastic bottles or tin cans. Social media platforms like Pinterest or Instagram are a great resource for finding creative, innovative and low-cost ideas.'
This has definitely inspired us to get gardening – and we can't wait to watch Tom on the show to see his design ideas come to life. Tune in on Thursdays at 8pm on BBC2.
Anna writes about interior design and gardening. Her work has appeared in Homes & Gardens, Livingetc, and many other publications. She is an experienced outdoor and indoor gardener and has a passion for growing roses and Japanese maples in her outside space.