The tropical garden trend that is making a big impression on Instagram
The tropical garden trend is set to inspire garden redesigns this year, with tropical plants exploding in popularity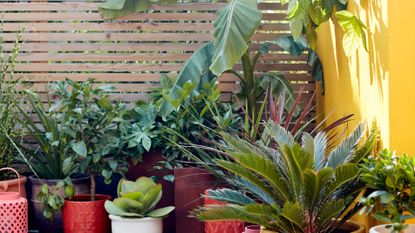 (Image credit: Dobbies)
Imagine relaxing in a luscious tropical garden, surrounded by dense, glossy foliage protecting you from midday heat... Sounds like a distant memory of holidays most of us have been unable to go on for many, many months. It's no wonder that the tropical garden trend is set to take over our gardens this year. If we can't go to the tropics, the tropics can (in a way) come to us.
Interest in tropical plants has skyrocketed in recent years, even before the pandemic, with the RHS reporting a 50 per cent increase in houseplant sales in 2018 alone. However, what is quite new is people's desire to try and create an outdoor tropical garden using plants that are typically used as houseplants in colder climates.
Tropical garden trend
Instagrammers Sam and Hannah, for example, started their own Tropical Paradise in April 2020, in the middle of the national Covid lockdown. Their Midlands garden has been completely transformed by banana palms, fan palms, and tree ferns.
Although technically not hardy, some tropical plants can do surprisingly well in colder climates if they are grown in a sheltered spot protected from harsh winds and hard frosts. This makes tropicals especially well suited to small urban gardens – courtyard gardens and secluded patios. And if you really don't think your plants will survive the winter cold, you can create a temporary container garden in the spring and summer months by just taking your houseplants outside.
Creating a tropical ambience can also be achieved with lanterns and pendants: Dobbies and Lights4fun are both offering a tropical slant on decorating outdoor spaces in the new season. Light, paper or rattan globular pendants feature strongly in the new collections for spring. These natural materials mix very well with the luscious greenery of tropical plants.
Dobbies Garden Centres Horticultural Director and resident gardening expert, Marcus Eyles, says that, 'Jungle style gardens are on the rise, with our love of big leaves and lush foliage showing no signs of slowing down.' When thinking about which plants to choose, he advises thinking about 'banana plants, Cannas and Citrus, and dense planting with pops of bright colour. Whether it is a few statement plants, or a garden filled with exotic greenery, you will be transported to an outdoor oasis.'
Lynsey Abbott, Outdoor Living Buyer at Dobbies, points out that the tropical trend will be big in 2021 because it's so versatile: 'We know that one size doesn't fit all, so we have worked hard to ensure there is something for gardens in every shape and size, from contemporary laid back functional dining sets that would look just as good inside as outside your home, to bold bright accessories to add a touch of tropical.'
Read more:
Anna writes about interior design and gardening. Her work has appeared in Homes & Gardens, Livingetc, and many other publications. She is an experienced outdoor and indoor gardener and has a passion for growing roses and Japanese maples in her outside space.