Are you planting out your sweet peas too early? Here's how to tell, according to gardening experts
How do you know when to plant out sweet peas? This is the correct way to tell if it's time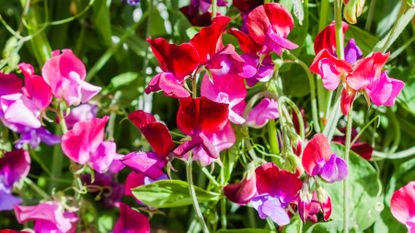 (Image credit: Getty/ Flavia Morlachetti)
Wondering when to plant out sweet peas? You're not alone. 'Are sweet peas hardy or not?' is the question that many gardeners still ask themselves, despite the fact that gardeners have been learning how to grow sweet peas for centuries. The confusion centres mainly around the precise timing of planting them out in the garden, with some people believing that they are frost hardy, while others advocate hardening them off and only planting them out once the risk of all frosts has passed.
The difference between the two can be substantial – mid-March as opposed to late April-early May, so which one is it?
Are sweet peas hardy?
Gardeners' World seem adamant that you should treat sweet peas as any other non-hardy annual: 'Plant out your sweet peas from late May, once all risk of frost has passed. Before planting, harden them off by putting them out in the day and returning them to a frost-free place at night.'
In contrast, Sarah Raven has said in the most recent episode of her podcast that 'Sweet peas are hardy and can go in the garden from the middle of March.'
Confused? So were we, until we discovered the helpful sweetpea-growing advice from the RHS (watch in the video above). Indeed, as Propagation Leader Sam Gallivan explains, 'sweet peas are very tough' and can handle frosts with 'no problem whatsoever'. What they do have a problem with is spells of cold and wet weather. If you live in a climate where early spring can bring both low temperatures just above freezing and lots of rain, that's what could kill off your young sweet pea plants.
For this reason, you can either wait and plant them out in April when the weather will be warmer, even if rainy, or keep them in a cold frame until the cold rains have passed. Generally, though, sweet peas are classed as half hardy annuals and will be fine in dry frost up to -4°C (25°F). If temperatures do drop below that, you'll need to protect them with horticultural fleece.
Can you sow sweet peas straight into the ground?
The answer is yes! While it's true that learning how to grow flowers from seeds can often involve complex timetables with criteria for how to transplant seedlings and/or hardening off, sweet peas will be perfectly happy growing where they are to flower.
However, if you choose this method of growing them, you will have to sow them much later in spring – ideally in late April or May. You will get flowers later in the summer, but, as Carol Klein puts it in her new TV show Gardening with Carol Klein 'Your flowers will be later, but who cares?'
Anna writes about interior design and gardening. Her work has appeared in Homes & Gardens, Livingetc, and many other publications. She is an experienced outdoor and indoor gardener and has a passion for growing roses and Japanese maples in her outside space.