5 low light houseplants: brighten up your home with these indoor favourites
Looking for houseplants that can survive low light levels in the winter months? Our top picks will thrive, even without the sunshine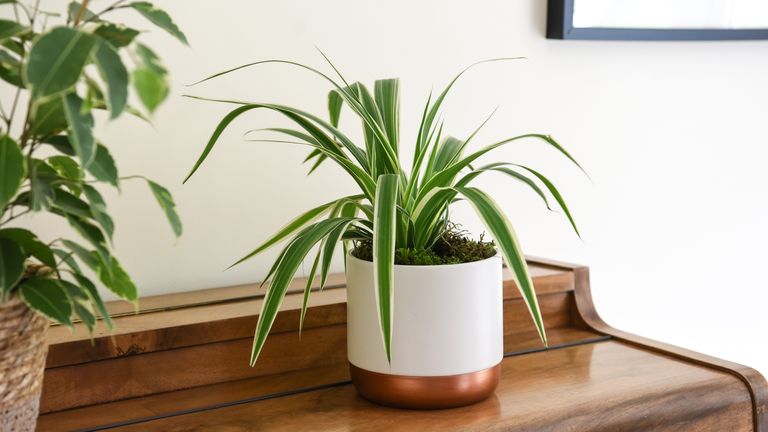 (Image credit: Thompson & Morgan)
By Sophie Warren-Smith published
Struggle to keep your indoor plants alive during the winter months? If so, choosing houseplants that can thrive in low light could be the solution to your problems. With limited daylight hours and a lack of natural light, it's no surprise that even the best indoors plants can find it difficult to flourish during winter.
The good news is that there are houseplants that can still grow well in low light, so even if you stick them on a dark windowsill you'll still have something lovely to look at when the weather is gloomy outdoors. Take your pick from our five beauties that will bloom in the darkest of rooms, then head over to our guide on caring for indoor plants in winter to ensure you keep yours looking their best.
1. Peace lily
Peace lilies do well in the shade and can also tolerate fluorescent lights, making them a good option for the office (when we can go back to work in offices that is). They will do well in your home during winter, and when the light gets better they can be popped on a windowsill, although don't let them get the full glare of the sun as it may scorch the leaves. During the spring and summer months your peace lily will produce elegant white spathes which are rather unusual for a houseplant – it's one of its selling points! Another bonus is that they are great at removing pollutants from the air, so they are definitely worth investing in.
2. SATIN POTHOS
Originating from South Africa, this little beauty loves low light and is easy to grow. The silver variegation on the leaves is unusual and as this plant grows it will start to trail down, making it a good choice for all you #shelfie fans out there. Plus, if you are prone to forgetting to water your plants, this variety only needs a weekly water and you can allow the soil to go dry too. It purifies the air but is toxic to pets and small children, so keep it up high on that shelf.
Head over to our indoor plant ideas for all the latest inspiration on how to display your plant babies.
3. CALATHEA
This is a striking plant that has beautiful shades of green, lilac, cream and purple on its leaves. It originates from the tropical rainforests of South America and is a speedy grower. A lover of diffused light rather than direct sunlight, as this will fade its distinctive leaf markings. You do need to water it frequently though as the soil needs to be moist, and it doesn't like being placed near draughts.
4. ASPIDISTRA
This plant is perfect for beginner plant lovers as it's happy with irregular watering and is comfortable with being in the shade. The leaves are lush and to prevent the tips from growing brown you can simply mist them every few days.
Another name for the aspidistra is 'cast iron plant' because they are mostly impossible to kill – this is why they are such a popular plant to start off with. They were very popular in the Victorian times as the houses were dark inside and the aspidistra were still able to grow successfully.
5. Spider plant
Another great plant for beginners, the spider plant is one of the most common houseplants you'll see. They trail really well so they are ideal for shelves or indoor hanging planters. As the plant gets older it will start to produce upward-facing stems of white star-shaped flowers. They love a shady spot as full glare will damage the variegated leaves.
Read more:
Sophie has been an interior stylist and journalist for over 20 years and has worked for many of the main interior magazines during that time, both in-house and as a freelancer. On the side, as well as being the News Editor for indie magazine, 91, she trained to be a florist last year and recently launched The Prettiest Posy where she curates beautiful flowers for weddings and events.