The 5 best indoor plants to care for within your home
These are the best indoor plants to suit your bedroom, bathroom or living space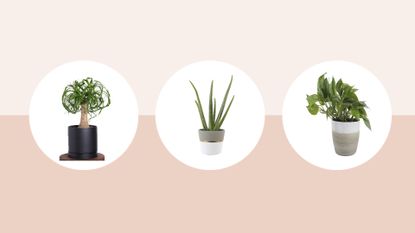 (Image credit: Future)
The best indoor plants will not only spruce up your home, bringing the gifts of nature within your walls but also have benefits that range from boosting your mood to relieving stress. There are certain plants that we would recommend when it comes to indoor living, many of which have essential features that make them standout choices. That includes being able to survive, and hopefully thrive in low light, and being a little less maintenance for those who love having a plant adorn their space, but perhaps aren't so good at remembering to look after it.
Adding a plant to your house can be enriching to your life - if done correctly - and these wonderful picks make the process of bringing your indoor garden ideas to life a little bit easier. They can also draw attention to a cherished corner or section of your home, and add an irreplaceable sense of vitality to your entire decor.
If you don't have the space for a blooming balcony or garden, these indoor plants will give you that dose of greenness you're looking for, and make your day brighter.
---
5 of the best indoor plants to incorporate into your home
Why you can trust Gardeningetc Our expert reviewers spend hours testing and comparing products and services so you can choose the best for you. Find out more about how we test.
1. Bloomscape English Ivy
Care level: Easy, no-fuss
Price: Affordable
Pet safe: No, toxic if ingested and not pet friendly

This beautiful English Ivy is the ultimate no-fuss house plant that will add so much to your home, but not your to-do list. With cool-toned colors and cream edges, it would be a wonderful subtle addition to any space, but especially bathrooms, as ivy plants appreciate a little more humidity.
Care level: Easy
Price: Affordable
Pet safe: No, toxic if ingested
This low-maintenance plant is striking in looks, and perfect to switch up your plant collection. It thrives in low humidity and sunshine, but will also get along just fine in low and artificial light.
3. The Sill Bird's Nest Fern
Care level: Easy
Price: Slightly pricey
Pet safe: Yes, pet friendly
If you want a tropical houseplant, then this fern is the easiest one to opt for. It needs to be watered every 1-2 weeks, and will thrive in bright indirect to low light. It has a vibrant look and will be the star of your plant family in no time.
4. Costa Farms Aloe, Live Indoor Plant
Care level: Easy
Price: Affordable
Pet safe: No, mildly toxic if eaten
An aloe plant is the ultimate pick for a windowsill, as it's able to withstand the strong rays of that spot. It's also an extremely stylish choice, and required watering very sparingly, so all you need to do is admire it in your bedroom.
5. Greendigs Ponytail Palm Plant
Care: Easy
Price: Affordable - Mid-Range
Pet safe: Non-toxic
Embrace a wilder look with this overflowing ponytail palm plant, which is so simple to grow and care for. With a sturdy trunk full of water, you'll only need to tend to it every two weeks. It's probably best not to place this one in a bathroom, as it's not a lover of humidity.
---
What is the optimum temperature for indoor plants?
Though the specifics will vary depending on which type of plant you're caring for, according to research from PlumbNation, the optimal room temperature for house plants, in general, is around 23.9 degrees Celsius/ 75 degrees Fahrenheit. Though certain plants need more specific temperatures, this is a good estimate for houseplants overall.
Browse more of the best indoor house plants...
Everyone has a different preference when it comes to adding the next plant to their indoor plant ideas, so it's understandable if you're still in search of your perfect plant match.
So whether you're looking for the best plants for bathrooms, the best low maintenance indoor plants or even low light indoor plants, these are our favorite retailers for browsing more houseplants.
Molly is the Ecommerce Writer for Gardeningetc and spends her time searching the internet for the next best thing for your garden. When she's not writing, she would most like to be swimming in the nearest sea/ocean or getting through her neverending pile of novels. She's a huge fan of houseplants and loves identifying new plants and trees on walks too.