10 best BBQ recipes: ideas for meat eaters, vegetarians and more
Discover the best BBQ recipes for alfresco entertaining. We've combined old classics with new ideas to keep you inspired – after all, there's more to BBQs than burnt sausages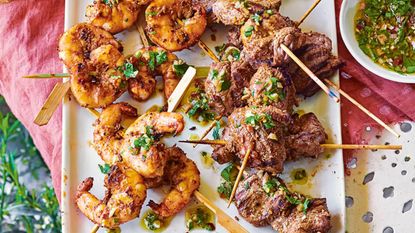 (Image credit: Tesco)
Our favourite BBQ recipes are a mix of old classics – think BBQ chicken, burgers and the like – and some slightly more original ideas that might suit flexetarians, vegetarians, and those who simply fancy trying something slightly different.
While these are obviously perfect for hot sunny days, you can enjoy these delicious dishes whatever the time of year (or weather). We hope our BBQ recipes will provide fresh inspiration and offer a tasty alternative to the slightly charred sausages that we've all had more than enough of over the years.
Want a new BBQ to cook these tasty recipes on? Check out our BBQ buying guide.
1. Make your own beef burgers
Beef burgers are a staple barbecue food in most households. But rather than reaching for pre-made burgers, why not have a go at making your own? They're just as delicious and often end up working out slightly cheaper. Not to mention the fact that they're probably better for you.
For the best results, we'd recommend combining 500g of beef mince with an egg and a few sliced spring onions. For something a little more flavourful, you can also add paprika, garlic powder and plenty of salt and pepper to the mix.
Once thoroughly combined, use your hands to form burgers – we'd recommend going for slightly thinner burgers as they're easier to cook through – and place in the fridge for up to an hour to set.
When it comes to cooking, it's generally recommended that you place your burgers at the edge of the barbecue and allow to cook gradually for 15 to 30 minutes, or until they're cooked all the way through.
2. Master BBQ chicken with this killer rub
The key to successful BBQ chicken is in the rub that you prepare.
We'd recommend combining chilli powder, paprika, garlic powder, salt, pepper, cumin, cayenne pepper and a little brown sugar. This mix should be massaged into your meat – using a little bit of olive oil – and left to marinade for up to to 24 hours in advance.
From there, place your chicken on the barbecue for 25 to 30 minutes, or until thoroughly cooked.
3. Learn how to cook halloumi on the barbecue
Grilling halloumi on the barbecue is pretty straightforward and should only take a matter of minutes. If you're halloumi lovers like we are, you'll love the slightly charred, slightly squeaky cheese this achieves.
Start by slicing your halloumi into slices, remembering that it does have a tendency to fall apart, so sometimes cutting pieces slightly thicker is the best option.
Then, you can either pop your halloumi onto a skewer – do so carefully as halloumi has a tendency to break at this point – or place on a fish slice ready to put directly on the barbecue.
It should only take around five minutes to effectively barbecue your halloumi, as long as you turn it over half way. You'll know it's ready when both sides are golden brown.
4. Meat eaters will love this BBQ steak
For many meat lovers, steak is the ultimate option when barbecuing. But did you know that something as simple as a well chosen rub can totally transform the taste experience?
We'd recommend combining paprika, garlic powder, salt, pepper and a little bit of olive oil, which should then be rubbed directly into the meat and allowed to marinade for at least 24 hours.
When it comes to barbecuing your steak, it's recommended that you aim for three to five minutes if you like your steak rare, five to seven minutes for medium and eight to ten minutes for a well done steak.
5. Up your veg intake with these tasty vegetable kebabs
A great way to mix up your barbecue – whether you're catering for vegetarians or simply fancy adding a little variety to what might otherwise be a meat feast – vegetable kebabs are easy to make and a great way to use up veg you might have hanging around in the fridge. For the best results, we'd recommend using a mixture of pepper, courgette, red onion, tomatoes and mushrooms.
All you'll need to do is chop your veg into bite-sized chunks – you could even add halloumi if you so desire – and slide onto the skewer, alternating types of veg. Then, you can brush with a little olive oil and season with salt and pepper if you so desire, and place on the barbecue for up to ten minutes, turning every couple of minutes or until your vegetables have softened and have begun to look slightly charred.
6. Try this BBQ salmon
A popular option amongst seasoned barbecuers, salmon makes for a slightly lighter alternative to barbecued meat and is delicious served with salad and couscous or new potatoes.
To prepare your salmon, we'd recommend seasoning with salt, pepper and a little lemon juice before brushing with a little olive oil to prevent it from sticking to the barbecue. We'd recommend using a fish slice as this makes it really easy to remove your fish from the barbecue. And remember to barbecue your salmon skin down for the best results.
Once your salmon is cooked all the way through – it should look a different shade of pink to when you first put it on – remove and serve immediately.
7. Chicken skewers – enjoy as they are or served in a pitta bread
Chicken skewers are an option worth considering if you're looking to prepare chicken breast on the barbecue. It's also an easier way to ensure your chicken is cooked through thoroughly and is slightly more interesting.
We'd recommend that you prep your chicken in advance, marinating in a little Greek yoghurt, garlic, cumin, paprika and turmeric for up to 24 hours in advance. Once you're ready to get cooking, place on your skewer and barbecue for ten to 15 minutes, or until golden brown on all sides.
Your chicken skewers can be enjoyed as they are. Or, remove from the skewers and pop in a toasted pitta bread with plenty of salad for a tasty alternative.
8. These BBQ prawns are packed with flavour
Another of our barbecue favourites, prawns are delicious when barbecued with just a little seasoning.
To prepare, mix your prawns – we'd recommend king prawns for maximum flavour – with a little paprika and some salt and pepper. Then place on the barbecue for a few minutes on either side and enjoy. Prawns really don't take much time to cook, so they're a quick an easy option to serve up.
9. Master BBQ corn on the cob
There's something so appealing about corn that's been cooked on the barbecue. In fact, it's one of those vegetables that kids tend to really love.
For the best results, we'd recommend putting your corn on a skewer before you begin cooking. You should also season with a little salt, pepper and paprika.
Place on the barbecue and allow to cook for 10 to 15 minutes, turning every couple of minutes until the corn looks lightly charred all over. Once ready, brush with a little butter while it's still warm and serve immediately.
Top tip: you can also add a little Boursin, or a similar garlic and herb cream cheese, to the top of your corn on the cob for some extra flavour.
10. Treat yourself to BBQ ribs
These American-style pork ribs are rich, tender and covered in a deliciously sticky sauce, which is exactly why we can't get enough of them when the barbecue season rolls around.
To prepare this super sticky sauce, you'll need to begin by skinning your ribs, before smothering them in a rub consisting of brown sugar, paprika, garlic powder, chilli flakes, salt and pepper.
But, unlike many of the recipes in this guide, BBQ ribs can't be cooked in a short amount of time. In fact, it's recommended that they're cooked low and slow on a gas barbecue to four and a half to five hours.
Once ready, cover your BBQ ribs with a sauce made up of butter, apple cider vinegar, soy sauce and hot sauce.
More ideas to try: