Pizza oven recipes: 5 ways to make the most of your pizza oven
Prepare to be impressed by our pizza oven recipes. Turns out that pizza ovens aren't just for pizzas...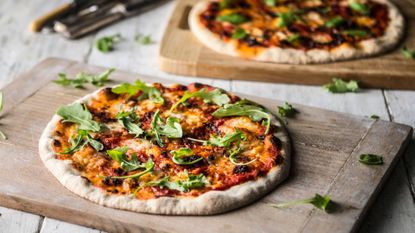 (Image credit: Miele)
You're about to discover that there's a whole world of pizza oven recipes awaiting you. We hope you're ready. While thin and crispy pizzas (mmmm) are obviously what the pizza oven does best, they also help in the preparation of naan bread, steak and much more.
Pizza ovens are becoming increasingly popular amongst those who enjoy alfresco dining, but want something slightly different to a barbecue. This is thanks partly to a significant drop in price – it's now possible to pick up a decent pizza oven for a hundred quid, which we couldn't have dreamed of a few years ago – and is likely also a direct result of the fact that we've all be spending more time in our gardens over recent months.
Check out our pizza oven recipes below whether you're new to the world of pizza ovens, or are an old hand in search of fresh inspiration.
Looking for a pizza oven for garden pizza nights? Check out our best pizza oven buying guide.
Pizza oven recipes
1. Try a classic pizza recipe...
We couldn't write a guide to the best pizza oven recipes without including a pizza recipe now, could we? This method is simple, yet effective, and promises to deliver a delicious result when cooked in a pizza oven. Here's everything you need:
'00' flour, 400g
Yeast, 7g
Lukewarm water, 300ml
A pinch of salt
A pinch of sugar
A drizzle of olive oil
Passata
Cheese
Your choice of toppings
Begin by sifting your flour into a large bowl or – if you're feeling brave – directly onto a clean surface. Create a small well in the centre.
In a measuring jug, combine the lukewarm water, yeast, olive oil, salt and pepper. Whisk gently with a fork then leave to bubble away for a few minutes, before pouring into the centre of the well.
Combine the flour with the yeast-mixture, before kneading for a good ten minutes. Then, place in a bowl and leave to prove for up to 45 minutes. When you return to your dough it should have doubled in size.
You'll need to knock out the air – that means giving it a bit of a prod – before rolling out your pizza bases. From there, spread a thin layer of pasatta and add your choice of toppings, before sprinkling a a consistent layer of cheese onto the top.
You'll want to make sure your pizza oven is pre-heated before you can think about cooking your pizza. Once it's ready, add your pizza to the oven – you should begin to see the crust bubbling and browning in the first minute. Turn your pizza around, if necessary, before removing from the oven.
2. ...or change it up with a sourdough pizza
For the ultimate homemade pizza, you need to have a go at making a sourdough pizza. Not only are they easier to digest, they're also packed full of flavour and will achieve more artisanal results. Here's everything you will need.
Strong white flour, 400g
Tepid water, 275ml
Extra virgin olive oil, one tablespoon
Sourdough starter, 30g
Sea salt, 10g
Combine the flour, 250ml of water and oil in a bowl and mix until everything is incorporated and there is no dry flour left. Cover the bowl with a tea towel and leave to one side for 30 minutes. At this stage we are not kneading, we are allowing all the flour particles to absorb the water in a process called autolyse.
Add the remaining water, starter and salt and incorporate into the dough. Knead the dough now for 5 minutes or until smooth and elastic (this step can be done by hand or if you have a food mixer, do it with the dough hook attached on a medium speed).
Transfer the dough into a bowl and cover with a damp cloth or cling film and leave at room temperature overnight or up to 18 hours (the longer that you leave the dough to ferment, the better the flavour will be).
When ready, tip the dough onto a floured surface and divide into 4 equal pieces and shape them into tight round balls. Cover with a tea towel and leave to rest for an extra two hours.
Ensure your pizza oven is pre-heated so that it will bee warm enough to cook your pizza as effectively as possible.
Dust your worktop with a little flour and flatten and stretch the dough either with your hands or with a rolling pin.
Add your tomato sauce, mozzarella and desired toppings and then transfer into the pizza oven. Bake for a few minutes – you should see the dough start to crisp up brown, then repeat with the remaining ones.
Special thanks to Miele for sharing this recipe with us
3. How to make naan bread
A pizza oven is a great place to prepare naan bread, as it resembles the tandoors – traditional clay pots – that they're traditionally prepared in. Here's everything you'll need:
Strong white bread flour, 300g
Lukewarm water, 125ml
Dried yeast, 7g
Baking powder, half a teaspoon
Caster sugar, two teaspoons
Butter, 25g
Nigella seeds, a sprinkle
You'll need to start by preparing the dough for your naan bread. This involves sifting flour into a large bowl and creating a well at the centre.
In a separate bowl, combine the lukewarm water, yeast, baking powder and sugar. Set aside and watch as it begins to bubble. After a few minutes, you can begin gradually pouring the yeast mixture into the centre of the well, combining the ingredients thoroughly.
Remove the dough from the bowl and knead for five minutes, or so, working in the nigella seeds as you do. Then, set aside and leave to prove for 15 minutes.
Roll out your naan breads – typically they're oblong in shape, but the choice is yours – before transferring to a pre-heated pizza oven. You should begin to see your naan bread bubbling and turning golden-brown in colour within a minute, or so.
4. Prepare fresh mussels in your pizza oven
That's right, it's perfectly possible to prepare freshly steamed mussels in your pizza oven, before serving with a crusty loaf of bread. Here's everything you will need:
Fresh mussels, around 150g per person
White wine, 200ml
Two garlic cloves
An onion
Butter, half a tablespoon
Plain flour, one tablespoon
Parsley
Salt and pepper, for seasoning
A wedge of lemon, for serving
Crusty bread or chips
You'll need to begin by giving your muscles a good scrub, and throwing away any that have already opened. Leave to soak in salt water for 10 minutes.
Add the butter, flour, garlic, onion and wine to a pan that's safe for use in your pizza oven. Then, add in your muscles before placing inside your pizza oven. Allow your muscles to cook for up to four minutes, or until the majority of the mussels have opened.
Serve with a wedge of lemon and plenty of crusty bread, or chips. Remember to discard any mussels that have not opened fully during cooking – they should not be eaten.
5. Prepare sticky chicken wings in your pizza oven
This sticky chicken wing recipe demonstrates just why pizza ovens are growing in popularity at such a fast rate – it's possible to prepare your favourite barbecue foods from them, as well as top notch pizzas. Here's everything you will need:
Chicken wings
Worcestershire sauce, two tablespoons
Apple cider vinegar, two tablespoons
Olive oil, three tablespoons
Honey, three tablespoons
Paprika, one teaspoon
Garlic powder, one teaspoon
Butter, 100g
You'll need to begin by combining the ingredients to make your buffalo sauce: Worcestershire sauce, apple cider vinegar, olive oil, honey, paprika, garlic powder and butter. Set aside around a quarter of the mixture.
Soak your chicken wings in the other three quarters of the mixture and allow to marinade for a minimum of 45 minutes. If possible, you should allow your wings to marinade overnight.
Add a pizza oven pan to your pizza oven and allow to preheat, before adding a small amount of olive oil, followed by your chicken wings. Allow to cook for 15 to 20 minutes, before pouring over the remainder of your buffalo sauce .
Cook in your pizza oven for another 10 to 15 minutes, or until the sauce has begun to get really sticky, and the chicken has cooked all the way through.
Try out these other great outdoor eating ideas: