10 of the best herbs to grow in your garden
Want to know the best herbs to grow? Our top picks will bring colour and fragrance to garden pots and your windowsill. Used fresh in cooking, they'll excite your tastebuds too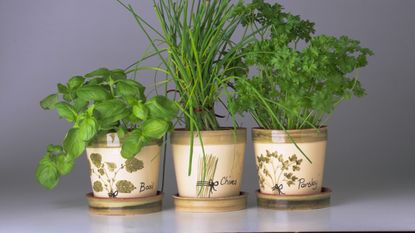 (Image credit: Future)
The best herbs to grow don't just have a great smell and fantastic flavour, many of them are also super easy to grow meaning you can simply plant them out and leave them to get on with it. Grow them near the back door so they're handy when you want to snip off a few sprigs to enhance your cooking.
When the weather starts to cool down, there are some herbs such as rosemary that thrive all year round and others like lovage that will carry on right into winter. Others can be brought in and placed on a warm windowsill to keep the supply of fresh flavours coming. Just remember the rules: keep the soil moist, make sure the herbs are potted up in well-drained compost, give each plant enough space to breathe and keep snipping them regularly for the cooking pot. It's as simple as that!
Keep reading for our top picks, then head to our how to create a herb garden guide for more expert grow your own tips.
1. Rosemary
Rosemary thrives in the garden all year round, looks good, smells great and is a versatile herb for cooking. It's so undemanding you can plant it and forget about it, and it will get by without sun during the gloomier months of the year. Use the needle-like leaves to zhuzh up your roast lamb. They can also be added to hearty soups and stews, and homemade bread. Snip off a few sprigs and add them to a bottle of olive oil or white wine vinegar for drizzling over salad leaves.
2. Tarragon
Best grown in pots of gritty compost on the patio, bring tarragon indoors before the frosts and keep the plants going on the windowsill. Divide and repot every 3-4 years to keep a supply of robust plants coming. The leaves of French tarragon have a distinctive liquorice-like scent and flavour. Tarragon can be used to add flavour to fish, meat, vegetables, eggs, salads, sauces or to flavour vinegars.
3. Chervil
One of the prettiest herbs you can grow in the garden, chervil looks good in containers on the patio and is equally happy on a kitchen windowsill if you bring the pot inside when the weather gets cooler. With a subtle flavour that's slightly aniseedy, use chervil fresh. Chop and add to omelettes, mix into creamy sauces to serve with white fish or chicken, add to salads, and use as a garnish.
4. Lovage
An attractive addition to your garden that will sit well in among your containers, you will be able to harvest right up to the middle of winter. Keep picking the leaves regularly to encourage growth. Lovage is spicy and peppery, a very aromatic herb with flavours of celery, aniseed and lemon. Snip the tenderest leaves to add to salads, or tuck under the skin of a chicken before roasting it. Add to soups, stews and mashed potatoes. Lovage also works well in scrambled eggs and omelettes.
5. Chives
Chives are easy to grow in the garden and will do well on a windowsill in bright light too. Cut back the plant every now and then to keep it healthy and tidy, and to encourage new growth. Use chives as a garnish and to add a kick to omelettes, soups and salads. They are only added to dishes at the end of the cooking time though as they are soft leaved and you won't want to compromise their flavour.
6. Parsley
Grow from seed in pots or seed trays in spring or summer in well-drained soil. Parsley can be grown indoors at any time, but keep it in a sunny or partially shaded spot. It can be moved outside in warm weather. Pick leaves when the plants reach around 8cm. It's a handy herb to have around when it comes to cooking and can be used in everything from soups, salads and sauces to pesto, stuffing, and meat and fish dishes.
7. Oregano
Sow seeds in spring, putting young plants outside when the risk of frost is over. Sunshine is essential, but it will tolerate most soils as long as it's not waterlogged in winter. At the end of summer bring in the plants and put them on a sunny windowsill. Snip stems and strip the leaves to add to tomato sauces for pasta and pizza, meat dishes, casseroles, soups and stews.
8. Basil
Basil needs well-drained soil and will grow best in containers on a sheltered patio or on a kitchen windowsill. At the end of the summer basil plants will flower and produce seeds that can be saved for sowing the following year. Basil loves heat and bright light so put it on a south-facing windowsill and avoid any draughty spots. Keep replacing regularly as it will grow woody after a few weeks. Use with tomatoes in salad, pizza and pasta dishes.
9. Thyme
Aromatic thyme likes well-drained soil and does best in a sunny spot, but suffers in cold winds and wet winters. It does best in patio pots but can thrive on a windowsill when things get chilly in the garden. Place it in a warm, sunny spot and water the surface of the soil if it dries out. Try adding thyme to the tomato sauce for a pizza base, soups and casseroles, as well as dough when making bread.
10. Mint
Mint is a vigorous grower, but watch where you plant it as it will take over flowerbeds very quickly. It's best to grow it in pots to keep it contained and will thrive on a windowsill too. Water regularly during warm weather. It has a beautiful aroma and flavour. Pour boiling water over freshly-cut leaves to make fresh mint tea. Mix chopped leaves into yogurt to make a cool dressing for curry, add to homemade soups or use in cocktails such as mojitos.
Read more:
Lifestyle journalist Sarah Wilson has been writing about gardens since 2015. She's written for Gardeningetc.com, Livingetc, Homes & Gardens, Easy Gardens and Modern Gardens magazines. Having studied introductory garden and landscape design, she is currently putting the skills learned to good use in her own space where the dream is establishing a cutting garden.