Growing vegetables in pots: everything you need to know
You don't need a huge garden to start growing vegetables in pots. Follow our top tips on how to grow a plentiful supply in small spaces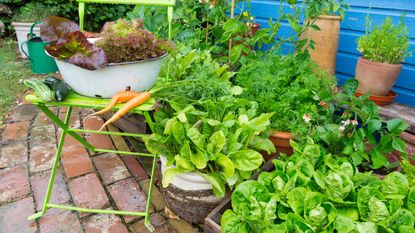 (Image credit: Alamy)
If you don't have a garden with a dedicated veg patch, growing vegetables in pots is a great alternative. Those with tiny outside spaces, paved over gardens, city balconies or even just a windowsill in the sun can turn their hopeful green thumbs towards the adventure of growing edible plants, and the way to do it is in pots.
I adore growing crops in containers because it is accessible, flexible and as satisfying as growing into soil if you know how to give your plants what they need to grow and thrive. It's a great option for those who only have little pockets of outside space, rent their homes or aren't comfortable with kneeling down and would rather garden without bending over.
Even though I've now moved to a house with a 'real' garden, I'm still growing edible plants in containers to make the best of the areas that receive the best light. It's a great way to get your grow-your-own journey started, no matter the size of your garden.
Want to give it a go? Keep reading for our expert tips, then head over to our grow your own hub for more growing advice.
The joys of growing vegetables in pots
Although it's true that not everything will grow happily in a pot, there are benefits to container gardening that make this approach to growing valuable. Your pot-dwelling crops will require more regular attention and I've found that means that I spot possible issues earlier than I do with my plants in the ground. Also when I do see an issue, like the appearance of a pest, it's easier to isolate the afflicted plant and intervene before the issue spreads.
This flexibility of moving plants around is useful in other ways too. Should your plant require a little more sunshine, or need protection from the wind or the threat of frost, or be raised up out of the shade of a swiftly growing neighbour, you simply move the pot.
Which vegetables will grow well in pots?
These are my top 10, easy-to-grow choices if you want to try growing vegetables in pots:
Salad leaves like lettuce and rocket
Annual herbs such as parsley and basil
Edible flowers like nasturtiums
Dwarf tomatoes
Chillies
Bush courgette
Potatoes
Chard
Kale
Dwarf French beans
Before you dive in, however, its imperative to get to know your space and what's possible to grow in it. If your garden gets lots of warm sunlight then you'll have plenty of options but if it spends part of the day in shade, you'll have to choose plants that don't really mind – like lettuce and leafy greens.
How much space you have will determine how many containers you can fit in. This will, in turn, affect which plants you can choose to grow as you need to select pots that are roomy enough for when your plants reach their full size. Many different crops are available as dwarf varieties and these are great for container growing because, as the name implies, they are smaller than traditional types.
What to do with your edible plants in pots
Once your plants are in place and growing away, the most important thing to remember is to water generously and feed regularly. Plants in pots will take up all the water in the compost fairly quickly – especially in hot weather – and they need you to make sure they don't wilt, wither and die.
Most multipurpose, peat-free compost contain enough nutrients for 1-2 months growth so from that point onwards, your plant will need to be fed. I use liquid seaweed as it's a natural feed that offers a wide spectrum of the minerals and nutrients that are necessary for healthy plant growth, especially if you're growing crops that flower and fruit.
Certain plants – tall ones in particular – will need additional support as they grow. Peas appreciate knobbly twigs or nets to scramble up, and tomatoes and peppers may need to be tied into a stake to prevent their stems from snapping. If your plant's becoming top heavy, which can happen when growing in containers, secure your pots at the base with bricks or stones to stop them from toppling over.
Difficulties of growing veg in pots
Of course, there are challenges to growing in containers that you need to learn to work with if you want your plants to flourish. Life in a pot means that your plants' roots won't be able to reach out deeper into the ground when they need more water and nutrients so they'll rely on you.
Some crops are simply too large for your average container garden so either they'll struggle or your spend a lot of time, energy and resources trying to support it to grow and the effort will outweigh the reward.
What to avoid when growing veg in pots
Starting plants from seed is a wonderful process but it does require the right conditions as emerging seedlings are delicate and need a balance of good light and water to get them off to a strong start. If you're finding growing from seed a challenge, consider sourcing plugs from a garden centre or online supplier as these are plants that have been started by professional growers. You can find the best places to buy plants online in our guide.
Many container gardeners are growing in small spaces and if that's you, then think carefully about what you like to eat so that you make the most of your precious space. No point giving your largest container to a courgette plant if you're ambivalent about their taste!
When it comes to where you position your pots, make sure that your consider the size and spread of your plants when they're fully grown. Large leaves create shade of their own so be sure to give all your plants access to the sunlight they need.
More grow your own advice:
Claire is an organic food grower and writer based in East Sussex. She's grown edible plants in a variety of roles from growing organic vegetables for the Ottolenghi restaurant, Rovi to delivering growing workshops throughout London to audiences including primary schools, community centres and corporate clients. Her first book, How To Grow Your Dinner Without Leaving The House, is out now.