Can't decide between a charcoal or gas BBQ? Here's how to choose
Choosing between a charcoal or gas BBQ can be tough – here's our handy guide to the pros and cons of each type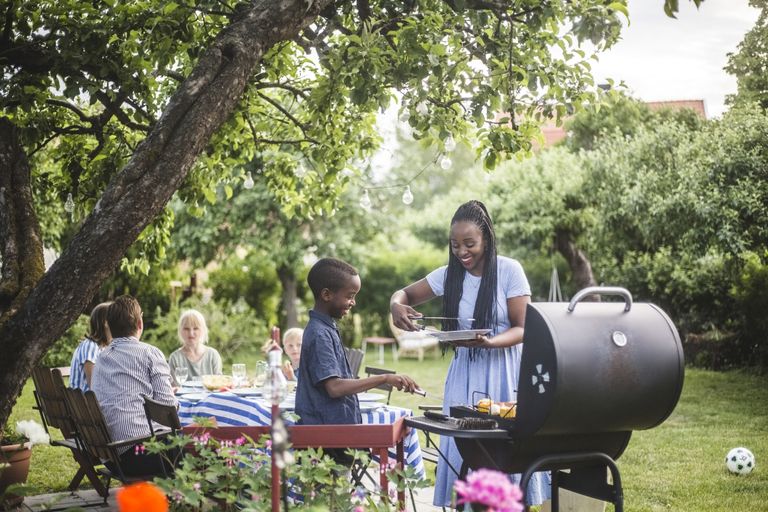 (Image credit: Getty Images)
If you're not sure whether a charcoal or gas BBQ is right for you, then you've come to the right place. It can be super confusing knowing which kind of BBQ to choose, especially with so many on the market.
The type of BBQ you decide to buy will obviously have an impact on the fuel you need to buy to keep it running – gas canisters for gas, and charcoal or briquettes and lighters for charcoal. But joining either team gas BBQ or team charcoal BBQ also makes a difference to everything from how easy your BBQ will be to clean, to the taste of your freshly grilled food.
To help you choose between a gas or charcoal BBQ, we've rounded up the pros and cons of each method. Once you've picked your tribe, take a look at our guide to the best BBQs.
And don't forget that whichever fuel you choose, you'll need to pick a BBQ that has a big enough grill to feed your family, has the storage and side tables you need, and is also a size that you can store away during the winter.
Charcoal BBQs
You can't beat the taste of food cooked over charcoal – it's smoky and chargrilled and utterly delicious. Charcoal BBQs are also cheap and it's easy to find the fuel you need. But charcoal BBQs are notoriously tricky to cook on. It's hard to adjust the temperature, they take a while to get up to temperature, and can be a hassle to clean up. Here are the main pros and cons for cooking with a charcoal BBQ:
Positives of charcoal BBQs
Smoky, chargrilled flavour to anything you cook
Reaches a higher maximum temperature than gas
Generally cheaper than gas BBQs
No need to buy or handle gas canisters
Downsides of charcoal BBQs
Can be difficult to light
Takes much longer to reach cooking temperature than gas
Less control over temperature than gas
Much harder to clean thanks to all that ash
Gas BBQs
If you like to be in control, then a gas BBQ is for you. They're easy to light, reach the right temperature for cooking quickly and you can adjust the heat whenever you need to. The best gas BBQs are also easier to clean than charcoal. However, they're more expensive and you won't get that distinctive smoky flavour. Here are the pros and cons of gas BBQs to help you choose:
Benefits of gas BBQs
Easy to light thanks to automatic ignition
Reaches optimum cooking temperature quickly
Often comes with extra features like griddles and side burners
Temperature is easy to adjust
Easier to clean
Downsides of gas BBQs
Usually more expensive that charcoal BBQs
Generally bulkier than gas BBQs and need more room to store
You'll need to source has canisters
You won't get the same smoky flavour as with charcoal
Check out our other BBQ guides
Laura has been writing about homes and gardens for 14 years. She started out as a newspaper reporter, then was editor of a regional magazine, and editorial manager for a travel company (who doesn't love a free holiday?). She started at Real Homes magazine in 2015 as Deputy Editor and then become Editor before taking on her current position, which focuses on video and events (you may have seen her presenting Real Homes TV). She loves spending time in the garden with her toddler and has a bizarre passion for moving lawns!