How to clean a BBQ
Want to know how to clean a BBQ after you've grilled up a storm? We show you how to get it sparkling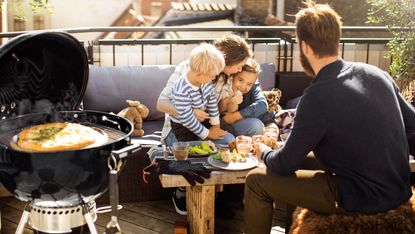 (Image credit: Weber)
If you want to know how to clean a BBQ the easy way, then you've come to the right place. Everybody knows cleaning up is the worst bit of an alfresco feast, but with a bit of expert know-how you can get your grill sparkling clean with minimal elbow grease.
The thought of dealing with congealed grease and bits of burnt food is seriously off putting, but a dirty BBQ can actually impact how well it cooks, so you need to get cleaning. Let carbon deposits build up and they can trap bits of food, harbour bacteria (yuck!) and make the grilling uneven.
We 'grilled' the BBQ experts at Weber(sorry) on the best way to clean your outdoor cooker so you'll soon have it ready for the next hot day when you want to eat out(side).
On the lookout for a new BBQ? We've got the top ones in our best BBQ buying guide.
What you'll need to clean a BBQ
Grill brushes – A true staple for cleaning a BBQ, these brushes typically have steel bristles and come in a variety of sizes.
Scraping tool – A plastic BBQ scraping tool is ideal for loosening residual grease from inside your burner.
Sponge – A two-sided sponge with a non-scratch scourer is a bonus for targeting tough stains.
Cleaning sprays – There are a variety of special cleaning sprays available for different purposes, such as for barbecue grates, enamel, and stainless steel.
Microfibre cloth – A gentle cloth for wiping and polishing the BBQ's exterior, suitable for stainless steel and enamel models.
Gloves – As grills can get greasy, it's a good idea to wear some rubber gloves before getting started
Drip pans – Use these trays as a preventative measure. Placed at the bottom of the grill they collect grease and make disposal easier.
How to clean a BBQ
You can let the BBQ do the bulk of the cleaning work itself. Just preheat on a high heat until the food residue burns off. Remnants can then be easily removed from the cooking grate when it is still hot using the grill brushes. If necessary you can give it a further scrub using grate cleaner.
How to clean charcoal barbecue grates
1. Ensure your barbecue has cooled. Spray on a grate cleaner and leave it to sit for 30 seconds.
2. Brush off the grate with a stainless-steel bristle brush and then wipe clean with a wet sponge.
3. If your barbecue grates are cast iron (this is often the case with the best gas BBQs), apply vegetable oil after cleaning to prevent rusting
Make your own DIY BBQ cleaner
Create your own cleaner with water and vinegar. Mix 500ml of water and 50ml of vinegar and put in a spray bottle. Spray the grill and interior of the BBQ. Leave it to soak for 10-15 minutes, then clean off with a damp cloth or sponge.
How to clean inside a gas BBQ
1. Start by disconnecting your BBQ's gas tank; consult your manufacturer's manual for directions on your specific model.
2. Brush the grates to remove any food debris, then spray on grate cleaner and let it settle for 30 seconds.
3. Scrub the grates with the abrasive side of the sponge, rinse with water and set aside for drying.
4. Spray the grate cleaner inside the cookbox and on the flavorizer bars and let it settle for 30 seconds.
5. Scrape the grease and debris off with a plastic scraper, set the flavouriser bars aside and clean with a sponge.
6. Wipe down the cookbox, drip tray and bottom tray: use a brush when needed. Dispose of the debris. Be careful not to splash water onto the burner tubes while washing.
7. Make sure your barbecue dries thoroughly before reassembling it. Finish your grates with a non-stick spray.
How to clean the outside of your BBQ
1. Spray enamel or stainless-steel cleaner onto the outside of your barbecue.
2. Wipe off with a microfibre cloth. If you're cleaning stainless steel, wipe in the direction of the grain to avoid scratching.
3. Rinse the frames/panels with lukewarm soap water and a sponge. Dry with a microfibre cloth.
4. Use a spider brush to clean the burner tube air intake on a gas BBQ.
Check out our other outdoor cleaning advice:
Alison is Assistant Editor on Real Homes magazine. She previously worked on national newspapers, in later years as a film critic and has also written on property, fashion and lifestyle. Having recently purchased a Victorian property in severe need of some updating, she is currently chipping away at a back garden covered in crazy paving, ready to landscape it with a lawn and fruit and veg patch to sow and grow her own.