Garden table upcycling project with paint and planters
Take on this DIY challenge and jazz up old furniture in no time with this garden table upcycling project, using paint and a window box planter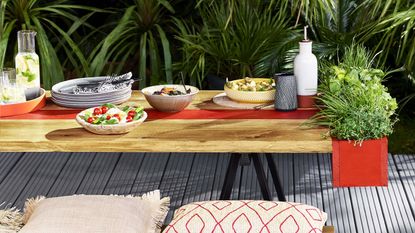 (Image credit: Cuprinol)
Looking for a fun upcycling project to try this weekend? What about this garden table upcycling project? Because who needs to shell out on a shiny and new outdoor table when all you need is a little paint and imagination?
If you're after something a bit different for your garden table ideas, it's great to give the upcycling trend a go. Not only is it better for the environment, meaning less waste for landfill, it's also a great way to get your creative juices flowing. Time spent on this practical paint project gets you out in the fresh air and will give you a real sense of achievement when you can sit back and admire your handiwork.
This table planter has been updated with a bold stripe of red paint down the centre, but of course you can plan your own masterpiece. If you're attempting a design which is bit more complicated we recommend marking it out in pencil first. Or if you're not confident in your brush skills you can buy or make a stencil for neat and graphic shapes.
Here's everything you need to try your hand at this outdoor paint project.
Garden table upcycling project – what you will need
Wooden garden table
Exterior wood paint in a color of your choice – we used Cuprinol Garden Shades paint
Window box (same width as table)
3 fixing brackets and screws
Screwdriver
Selection of herb plants
Garden table upcycling project – step by step
1. Prepare your garden table for painting
Start by preparing the surface of your existing wooden table so it will have the best possible finish when you've done with the paintwork.
If your garden table has previously been painted or varnished, remove any old flakes by rubbing down with sandpaper, then wipe with a damp cloth. Treat with a coat of primer, if desired, and leave it to dry.
There's tips on how to clean outdoor furniture in our guide.
2. Paint your table
The bold strip of paint down your table will give an instant lift. If the table is old and past its best, this bold paint stripe will distract from all of that. Mask off a strip down the centre of the table.
Paint in the central panel with a small paint roller and tray using your choice of the best exterior wood paint. Go as bold as you like! Add a second coat once dry.
3. Prepare your window box planter
Sand and treat your wooden window box in the same way as the table
to protect the wood against weather damage. Focus on any rough edges to prevent splinters.
Next, prettify the box with several coats of the same garden paint and leave to dry in a well-ventilated area. Then attach the brackets equal distance apart on one side of the box.
Using a screwdriver, fix the container to the underside of the table at one end.
4. Plant with herbs
Once in position, fill your box with soil and plant with a selection of fragrant herbs.
You can also add your favourite plants or flowers to introduce even more colour.
The beauty of this garden table upcycling project is that the look of the table can be ever-changing as you replace plants throughout the year with seasonal additions.
Now you'll always have fresh herbs an arm's length away for whatever dish 
is on the menu!
Not sure what herbs to grow in your planter? Head over to our guide on how to create a herb garden for inspiration.
Stephanie Durrant is the Deputy Editor of Style at Home magazine. She's is an experienced journalist with more than 12 years under her belt working across the UK's leading home magazines. She enjoys gardening and enthusiastically stroll around garden centers. She usually sticks to potted alpine varieties in her own small garden, such as sea thrift and succulents that can deal with some neglect! However, one day she dreams of having a large outdoor space with colorful wild flowers, billowing cherry blossoms and sweet-scented honeysuckle and jasmine filling the air.