How to apply sunscreen
Learn how to apply sunscreen properly to stay safe in the sun when you're outside enjoying your garden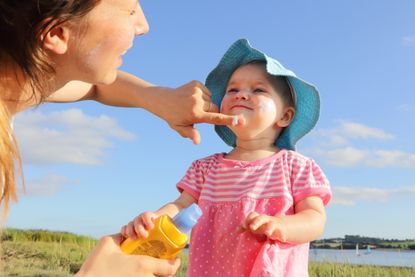 (Image credit: Getty Images)
Do you know how to apply sunscreen properly? We hate to break it to you, but chances are you aren't quite getting it right. In fact, studies by the British Association of Dermatologists have shown that most of us apply less than half the amount needed to get the level of protection printed on our sunscreen's packaging. The back of our necks, ears and top of our heads are areas that are most commonly missed.
To help you protect yourself from the sun's harmful rays while you're outside enjoying your garden, we've pulled together this handy guide to explain how to apply sunscreen properly. Now, all you need is a Magnum and for the rain to stay away while you hit the hot tub/paddling pool.
If you're running low on sunscreen after a sunny summer in lockdown, check out our buying guide to the best sunscreens on the market right now. And if you want more expert advice on the best products for outdoor living, head to our dedicated buying guide hub.
How much sunscreen to apply
There are lots of different lotions and sprays on the market these days, but the general rule is that you should be applying at least six full teaspoons of product to your skin with each application. Take a look at our guide to where to apply it (disclaimer: you will need a helper to do your back properly).
How to apply sunscreen
If you usually slather on sunscreen for the first time when you're already outside, then you need to rethink your routine. You should actually apply your first layer of sunscreen 15 to 30 minutes before you go outside to allow it to dry and offer maximum protection for your skin.
Apply one teaspoon of sunscreen to the front of your torso and ask a friendly helper to apply the same amount to your back.
Use one teaspoon of sunscreen for each of your legs, making sure to cover the tops and bottoms of your feet.
Apply half a teaspoon of sunscreen to each arm.
Apply half a teaspoon of sunscreen to your face and neck, making sure to cover the tips of your ears and back of your neck.
If you have thin hair, apply half a teaspoon to any exposed areas. Wearing a hat is the best option for everyone when it's very sunny.
How often to reapply sunscreen
You can't just coat yourself in sunscreen in the morning and forget about it. You should reapply the same amount of sunscreen every two hours that you're outside, and reapply straight away if you've been in the water. Even sunscreens that claim to last all day or be water resistant can be rubbed off by towel drying, so it's safest to reapply.
Applying sunscreen to children
Children's skin is more sensitive that adults' skin, so take extra care and use a formula designed especially for young skin.
Babies under six months should be kept out of direct sunlight at all times, but you still need to use a sunscreen designed for their age group, even if they're in the shade. A pop-up beach tent is the best option for keeping them cool while the rest of the family enjoys the sun.
You should aim to apply a shot glass-sized amount of sunscreen to children, making sure to cover their whole body, and rub it in thoroughly. If in doubt, it's always better to apply too much than too little.
SPF swimsuits are a great idea for children of all ages (although you still need to apply sunscreen) and always make sure they wear a hat and sunglasses, too.
Tips for staying safe in the sun
Even if you've slathered on the sunscreen correctly, the NHS still advises taking the following steps to protect yourself on hot days and reduce your risk of skin cancer:
Spend time in the shade when the sun is at its strongest
Use at least SPF30 sunscreen
Make sure your sunscreen has at least 4-star UVA protection
Check your sunscreen is in date. Most brands have a shelf life of less than two years
Never let your skin burn
Cover up and wear sunglasses and hats when the sun is strongest
Take extra care with children
Make the most of your time outdoors:
Laura has been writing about homes and gardens for 14 years. She started out as a newspaper reporter, then was editor of a regional magazine, and editorial manager for a travel company. She started at Real Homes magazine in 2015 as Deputy Editor and then become Editor before taking on her current position, which focuses on video and events.