How to grow cauliflowers
Discover how to grow cauliflowers in your vegetable patch with our step-by-step guide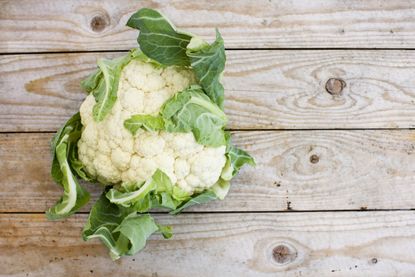 (Image credit: Getty Images)
Once you know how to grow cauliflowers in your garden, you'll never be short of this versatile veg. As well as the classic cauliflower cheese, cauliflowers can also be grilled like a steak, blitzed up into cauliflower rice or even turned into a healthy pizza crust.
You might be used to seeing creamy white cauliflowers in the shops but they also come in purple, green and yellow varieties. This isn't a veg you can grow in a small garden, though, cauliflowers need lots of rich, deep soil and plenty of watering, especially during summer.
There are varieties of cauliflower that are ready to harvest throughout the year, so if you time your seed sowing well, you'll never be short of fresh veg.
Keep reading for our step-by-step guide to growing cauliflowers at home. And if you fancy growing more winter veg, take a look at our guides to growing sprouts and pumpkins.
Step-by-step guide to growing cauliflowers
Method:
1. Cauliflower seeds are normally sown in late March, late May or early June. For the best chance of success, place one of two seeds in each cell of a seed module tray, making sure they're about 2cm deep.
2. Place the seed trays in your greenhouse, poly tunnel, coldframe or on a windowsill to germinate. Thin the plants as they grow and move into trays with rows at least 15cm apart, They should be ready to plant out in about four weeks.
3. Cauliflowers love fertile soil, so, before planting out, dig through plenty of well-rotted manure and rake through a general purpose fertiliser.
4. You'll need to harden your plants off before moving them outdoors. Take out during the daytime for a week, bringing in at night, and then leave outside for day and night for a few days before planting.
5. Water plants well before transplanting and dig holes in advance, filling them with water.
6. Plant summer and autumn cropping varieties 60cm apart and winter varieties 75cm apart. If you space them closer together you'll get smaller cauliflowers. Check your seed packet to see which variety you've bought.
7. Water your cauliflowers well in dry weather. Once the plants are growing well, add high-nitrogen fertiliser.
The best places to buy cauliflower seeds online
When are cauliflowers ready to harvest?
You can cut your cauliflower heads once they're firm. If the florets start to separate, you've left it too late. Once the main head has been cut out, smaller heads will be produced.
Varieties of cauliflower to try
Clapton – produces large cauliflower with white heads
Graffiti AGM – has striking purple heads
Cheddar AGM – no built-in cheese, sadly, but an orange-yellow head
Common problems when growing cauliflower
Club root, where roots become swollen and distorted, is the biggest problem. Leaves become pale and wilt easily and plants can die. To avoid club root, ensure good drainage and add lime to make the soil less acidic.
Birds are another threat so cover with netting to protect your cauliflower crop.
More grow your own ideas:
Laura has been writing about homes and gardens for 17 years. She joined Real Homes magazine in 2015 as Deputy Editor and then become Editor before taking on her current position as Content Director for brands including Country Homes & Interiors, 25 Beautiful Homes, Period Living and Style at Home. She's currently redesigning the garden of her 1960s home in Worcestershire and will eventually reinstate the swimming pool that's currently filled with mud! Outside of homes, she's a TV presenter for QVC.