How to grow fuchsias: make them the centrepiece of your borders, pots and hanging baskets
Follow our expert tips on how to grow fuchsias and fill your garden with flamboyant summer colour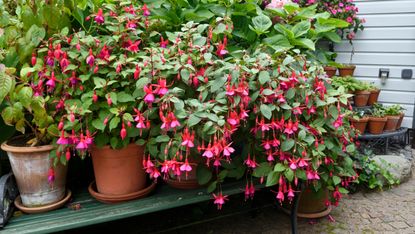 (Image credit: Alamy)
Here's the lowdown on how to grow fuchsias. We've pulled together all the info you need to make sure your plants flower for longer and look stunning right through summer and into autumn.
Annual fuchsias are feted as stars of the summer show in hanging baskets, tubs and window boxes, while the shrubby bush version rises to the occasion by romping away in beds and borders to produce a mass of arching stems covered with blooms. Some of these reach colossal heights to create a real focal point.
Fuchsias bring a touch of glam to your garden with their layers of delicate petals and tassel-like stamens. The frilly lantern-shaped flowers come in every shade of pink and purple, and look just like ballerina tutus, so naturally they're a big hit on Instagram.
They're easy to grow too and with a little regular maintenance will stay looking good for months. Keep reading for everything you need to know, then check out our guide to garden borders for more planting inspiration.
How to grow fuchsias
Follow these key pointers on how to grow fuchsias to get the best out of your plants.
Fuchsia are happy in sun or partial shade.
If the weather is scorching they need protection during the hottest part of the day.
Grow fuchsias in a sheltered spot, as they like to be protected from cold winds.
Fuchsias can cope with any type of soil as long as it's moist and well-drained.
Feed regularly with a liquid fertiliser throughout summer to encourage more flowers.
Deadhead regularly to prolong the flowering season.
They flower from early summer right through to autumn.
They are relatively easy to grow.
WHAT TYPE OF FUCHSIA SHOULD YOU GROW?
Known for their extravagant purple, pink and mauve flowers and layers of delicate petals, there are many different types of fuchsia to choose from. The most popular fuchsia types tend to be those for hanging baskets and patio pots, which are half-hardy varieties.
Trailing fuchsias
These are good for window box ideas, hanging basket ideas and for spilling over the edges of containers. They are half-hardy perennials so need overwintering under cover if you want them to bloom again next year.
Upright fuchsias
This type can also be planted in containers but are a bushy rather than trailing variety. They are also half-hardy perennials so the same rules apply about overwintering.
Hardy fuchsias
These are the bigger shrubby varieties and are a permanent long-flowering year-round feature in the garden. But their degree of hardiness does depend on where you live, and if you live in a colder part of the country they may suffer in harsh winters. The flowers of hardy fuchsias tend to more elongated in shape than the usual variety, and are often a single colour rather than a mix.
WHEN TO PLANT FUCHSIAS
If you buy fuchsia plug plants early in the year they should be potted up using a good quality, well-drained compost and grown undercover until all risk of frost has passed.
Trailing fuchsia plug plants can be planted directly into baskets, window boxes and containers if you have a greenhouse where you can put them until it gets warmer. Once well-established they can be transferred outside but make sure you acclimatise them gradually.
Half-hardy varieties bought as sturdy plants can be planted out in May (as long as there is no risk of late frosts) or June. They're the perfect choice for adding some colour to your patio gardening ideas.
HOW TO PLANT FUCHSIAS IN CONTAINERS
Use a non-peaty compost like John Innes No 2 when planting up your fuchsias in a container or hanging basket. Don't try to crowd in too many plants as they need good drainage to thrive so won't want to compete for space.
Remember to put a good layer of crocks in the bottom of the container. Water your new plants in well and give them a measure of high potash liquid feed to get them off to a good start.
HOW DO YOU CARE FOR POTTED FUCHSIAS?
Water potted fuchsias regularly, especially in summer, to keep the compost moist but don't let it become waterlogged and don't let the plants sit in saucers of water. In hot weather hanging baskets should be watered at least once a day. Find the best garden hose for the job in our guide.
Feed them every couple of weeks during summer with a liquid feed to encourage more flowers. Deadheading the plants frequently will also help to prolong the flowering period.
At the end of summer prepare your plants for winter. First tidy them up by removing all old growth, and cut them back to keep them compact. Then transfer to pots just big enough to accommodate their roots and some extra potting compost around the outside. Place in a cool greenhouse, conservatory or indoors.
Half-hardy fuchsias tend to be grown as annuals in many UK gardens, but they can be easily overwintered in a dry, frost-free greenhouse during the coldest months.
Standard fuchsias grown into a lollipop shape will need to be moved to a frost-free position in winter to protect their stem from frost damage. You can find out how to protect plants from winter in our guide.
HOW TO PLANT HARDY FUCHSIAS
Hardy varieties can be planted in spring or early summer. When planting them make sure the base of the stem is below the soil surface. This helps to protect the plant during winter.
Dig a good-sized planting hole, big enough to easily accommodate the root ball. Add a layer of organic compost and fork it in well.
Place the rootball in the planting hole and make sure 3-5cm of the base of the stem is below soil level.
Fill in the planting hole, mixing in some more organic compost as you go. Water well, then add a good layer of mulch around the plant. Want to know more about mulching? We've got tons of useful tips in our guide.
HOW TO CARE FOR HARDY FUCHSIAS
Feed hardy fuchsias each spring and again in summer with a liquid plant feed.
Hardy fuchsias can be kept in the garden over winter, but may need some protection to make sure they get through it, particularly in cold regions or the weather is particularly harsh.
To protect the roots and crown add a deep mulch of bark chips, leaf mould or straw in late autumn.
Don't cut down the stems until spring, when new growth starts to show.
Hardy fuchsias growing in containers may be prone to frost damage even if it's a mild winter, so protect the container to prevent the compost freezing. Our guide on how to protect plants from frost has some useful advice on how to do this.
DO FUCHSIAS LIKE SUN OR SHADE?
Fuchsias will grow perfectly well in either full sun or partial shade, as long as they are sheltered from cold winds. They will appreciate some shade at the hottest part of the day during very hot summer weather.
To flower profusely, they need a fertile, moist but well-drained soil too, so if the spot where they are is particularly sunny keep an eye on the compost to check it doesn't dry out and water as necessary.
There's inspiration for the shadier spots in your plot in our shade garden ideas.
HOW DO I GET MORE FLOWERS?
Deadhead your plants regularly to remove any faded flowers. As well as looking unsightly they will slow down any new flowers coming through. To promote bushier growth and more flowers, pinch out the growing tips of young plants. Feeding regularly with a liquid fertiliser during the growing season will also help.
HOW DO I KEEP MY FUCHSIA PLANTS HEALTHY?
It's worth checking your plants over for pests every now and then. The gall mite is one to look out for as it's been on the increase for the last ten years. You don't need to use chemicals to deal with it though. Simply check over your plant, and remove any damaged bits, especially if they appear to be a yellow-green colour.
HOW TO PRUNE FUCHSIAS
Fuchsias grown in pots don't need pruning during the growing season. At the end of summer if you decide you're going to over winter them you will need to trim off any dead stems and tidy up the plants before repotting them to transfer to the greenhouse. Get the right tools for the job with our best secateurs guide.
Hardy fuchsia shrubs in the garden should be trimmed back into a nice compact shape. The stems of hardy fuchsias should be cut down to just above ground level in late spring when the new growth comes through.
WHERE TO BUY FUCHSIAS
Plants are widely available from garden centres and online during spring and early summer. Plug plants are also available in spring. But you will need a space where you can nurture these young plants until any chance of late frost has passed and they are well established.
Shop our quicklinks below to buy fuchsias, or keep scrolling for four of our top varieties to try in your garden.
Where to buy fuchsias in the UK:
Where to buy fuchsias in the US:
4 fuchsia varieties to try in your garden
With so many wonderful colours and varieties to choose from you're spoiled for choice. Here's a round-up of some of our favourite fuchsia varieties.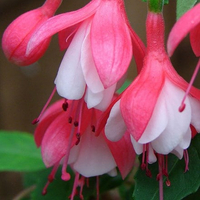 Fuchsia 'Lady Thumb' from Crocus
This forms a neat plant laden with tutu-like pink and white flowers from June to October. If you want something that will put on a good show for months on end this is perfect. You can use it in pots to jazz up the patio, or to add colour to a mixed border, and as it's one of the hardier varieties, it can be left outside in milder areas in winter.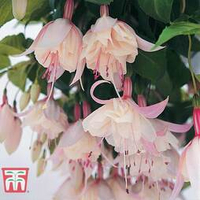 Fuchsia 'Happy Wedding Day' from Thompson & Morgan
Double blooms drape from cascading stems, with layer upon layer of ruffled white petals like satin bridal skirts. Sugar pink sepals and deeper pink anthers make a beautiful contrast. Throughout the summer fuchsia 'Happy Wedding Day' creates an elegant display in baskets, window boxes and containers.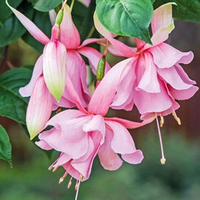 Fuchsia 'Pink Elephant' from Suttons
Double flowers unfurl from long, roselike buds to reveal layer upon layer of pale pink ruffles. With a gentle cascading habit, this lovely half-hardy fuchsia makes a spectacular summer display in hanging baskets, window boxes and containers.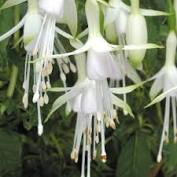 Fuchsia 'Hawkshead' from Waitrose Garden
One of the hardier fuchsias, this will survive outside in sheltered gardens throughout the year, especially if tucked in with a generous layer of mulch in autumn. It is a bushy, upright, deciduous shrub, which produces slender, green-tipped, white flowers throughout summer and autumn.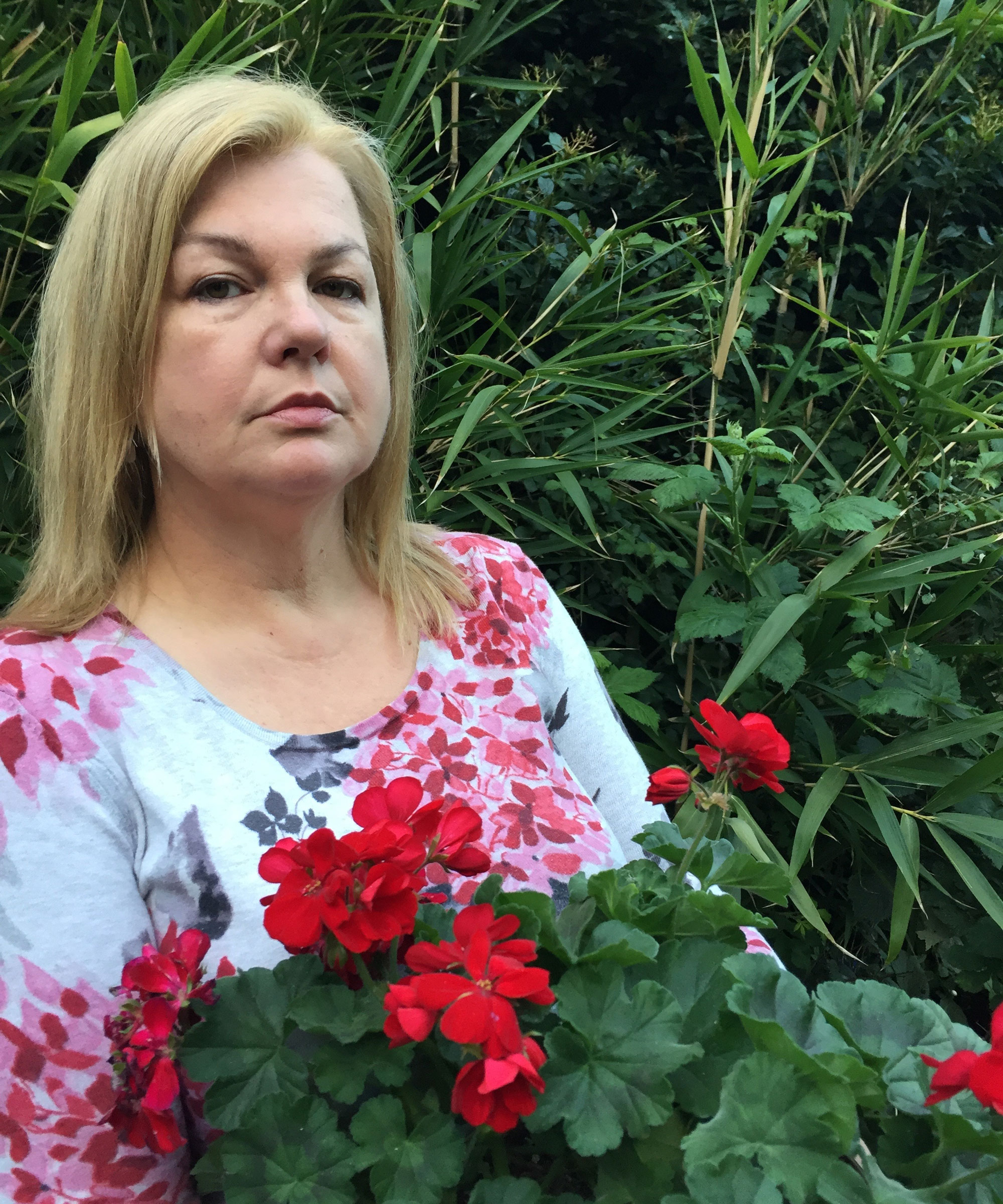 Lifestyle journalist Sarah Wilson has been writing about gardens since 2015. She's written for Gardeningetc.com, Livingetc, Homes & Gardens, Easy Gardens and Modern Gardens magazines. Having studied introductory garden and landscape design, she is currently putting the skills learned to good use in her own space where the dream is establishing a cutting garden.