Window box ideas: 16 ways to make a stunning display full of flowers and foliage
Discover our window box ideas and transform even the most humble space into a show-stopping scene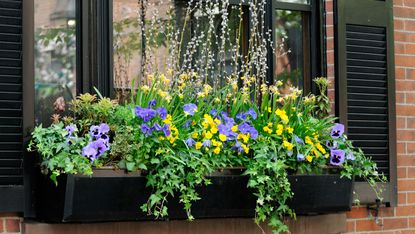 (Image credit: jorgeantonio/Getty Images)
Are your windows looking a little bare? Then these window box ideas are just what you need. From simple and chic designs to cascading florals, they will instantly lift your space to the next level.
One of the best things about window boxes is they are enjoyed by everyone. For instance, if you place them at the front of your home, not only will they offer a warm welcome to you, they will be admired by passers-by too. They also enhance the view from inside the house – who doesn't love a vista framed with pretty florals and leaves? And, if you go for brightly-coloured blooms, you'll attract buzzy bees and butterflies.
What's more, window boxes provide an opportunity to get really creative and make a display that beautifully complements your home, individual style, and other garden design ideas. And if you don't have an outside plot of your own, then there's even more reason to include them, to satisfy those green-fingered urges!
So keep scrolling to discover our favourite picks, then why not give it a go yourself?
1. Play with height
To create a stunning scene full of interest, then choose plants of multiple heights. Using tall plants will offer a subtle screen too, perfect for a touch of privacy, or to enhance an otherwise lacklustre view.
White gaura, otherwise known as bee blossom, provides upright yet delicate stems topped with pretty pink-white blooms and makes a lovely centre point. Bright purple Verbena bonariensis makes another good tall-plant choice. Salivas also add height and can be found in a multitude of colours – try 'Hot Lips' or 'Lady in Red' for vivid, red-toned alternatives to the deep indigo hues of 'Caradonna'.
Surround with plenty of trailing plants for maximum impact – we love this cascading plum-coloured petunia.
2. Match your flowers to your frame
Sometimes a simple choice can create all the impact you need! So why not pick one plant in the same colour as your window frame and fill a container en masse?
This smart planter adorned with daisies is a gorgeous yet pared-back display. They're bound to make everyone smile and look beautifully balanced with the white, wooden surroundings. We love the picket detailing too – reminiscent of cottage garden ideas.
If you're after an all-white scheme too, then try Cosmos 'Purity', Ox-eye daisies, or Osteospermum.
3. Mix bright blooms with black
To make your windows stand out from the crowd, pair vibrant blooms with black shutters. Not only will it offer an on-trend look, but the distinct contrast will create a showstopping view.
Here, a mass of purple pansies, trailing ivy, and sunny daffodils make a sumptuous selection that sings against the dark backdrop. Pussy willow is a brilliant way to add further texture (we love its fluffy catkins!) and creates height to draw the eye.
If you're ready to revamp your windows, start by taking a look at our best exterior wood paint.
4. Let tulips steal the show
Tulips are one of our favourites. Once valued at extortionate prices for singular bulbs (during the 'Tulip Mania' of the early 1600s) it's easy to see why these beauties remain well-loved today.
This smart set-up offers a beautifully-balanced backdrop of cool grey and green, allowing the scarlet blooms to take centre stage. Rosemary provides a reliable evergreen display for when the flowers fade.
Need a helping hand getting started? Check out our advice on how to plant tulips.
5. Turn heads with a tree
Even a small windowsill such as this can be transformed with a bold statement. A niwaki style tree (pruned carefully to appear miniature) adds a forest feel to this urban scene.
Planted in a stylish galvanised pot, it's a fuss-free approach which still looks spectacular. You could try other ornamental trees too – why not learn how to grow acers for year round interest in your garden? Or, a small olive tree adds a wonderful touch of Mediterranean flair – you could even don it with fairy lights for added ambience.
6. Decorate your she shed
Window boxes aren't just for houses! If you've recently revamped your shed after perusing our stunning she shed ideas then this idea is for you.
This super-sweet window box adds a touch of charm to this pretty window. We love the red and patterned details against the pale blue, whilst the bunting adds a sense of vintage chic.
The addition of a windmill adds to the playful vibe whilst pulling the colour scheme together beautifully.
7. Opt for trailing beauties
Make the most of the space beneath your window. Try using leafy trailers and you can enjoy their wonderfully natural structure as they fall.
English ivy, ornamental sweet potato vine with its lime-green leaves, or even trailing varieties of Heucherella are all good choices. Top with a sunny show of flowers to complete the scene.
8. Complement grey hues with pink
Grey is totally in this year (check out our garden trends to see for yourself). It instantly revitalises a space with a sophisticated yet pared-back air.
If your walls are painted in this cool hue, then why not use your window boxes to provide a focal point? Here, vivid pink Pelargoniums sit aside jewel-toned Lobelias to create a lovely, yet contemporary look.
For more modern garden ideas, check out our advice.
9. Go simple and smart
If you're not so keen on showy floral displays, why not opt for a simple, evergreen scheme?
These zinc-plated steel planters are super stylish yet subdued – perfect for a contemporary home. The three miniature plants add structure and a refreshing dose of green all year round – so a great low-maintenance option.
Try small varieties of European cypress or Arborvitae 'Emerald Green'. If you're after more low maintenance garden ideas, then head on over to our guide.
10. Create a spring theme
Transform your windowsill into a spring scene that will bring joy to both adults and children alike. All you need is a few small pots in pretty pastel tones, then load them up with a selection of your favourite violas. A wooden support built into the frame ensures they won't topple off if the wind picks up.
For a real Easter theme, dot a few miniature eggs around the base of each plant – the kids will love to spot them!
11. Up the romance with a relaxed style
If you love cottage gardens, then it's simple to extend the style to your windows. Go for masses of flowers full of scent and colour for a relaxed yet abundant vibe.
Petunias are a great choice – they come in an array of colours, smell lovely, and attract pollinators – but take a look at our best cottage garden plants to discover alternatives.
12. Grow edible greens
If you're pining for a raised bed but haven't got the space, then now's the time to put your window boxes to good use. 'You can grow edibles on your kitchen windowsill – herbs and dwarf vegetable varieties,' says gardener and florist Jessica Smith of Flower and Land.
Jessica also suggests trying trailing tomatoes to conserve space. 'You can buy windowsill glasshouses or glass boxes too,' she adds. Jessica also suggests to try companion planting. For example, she explains how basil, when grown alongside tomatoes, will help to ward off pests.
Micro greens such as Mizuna or 'Red Russian' kale make great choices. You could also plant a herb garden just outside your window for easy access. Just take a look at our best herbs to grow in your garden for inspiration.
13. Be bold with colour
If you really want to make a statement, then go big and bold on colour. This bright fuchsia setting makes the perfect backdrop for a sea of pretty petunias.
If you've got the space, use the rule of three when it comes to lining up pots – it's easy on the eye. We love the fun design of the pot higher up, too – it finishes the display with an extra boost of playfulness.
Why not get creative with your own pots for a quick and budget-friendly update? Just take a look at our advice to revamp and revitalise your terracotta pots in 5 simple steps.
14. Use cyclamen for winter interest
Cyclamen are a wonderful choice for a reliable winter bloomer. If you love a vibrant look, opt for varieties in bright pinks or purples. However, you can never go wrong with the snow-white kinds for an elegant display.
Their hardy nature means they're an easy choice for window boxes. And, you'll be sure to love the lift they'll give to your space throughout the colder months.
For more ideas, check out our best plants for winter pots.
15. Fill extra long planters
For wider windows, opt for extra long planters. That way, you can really make the most of the space to create a view you will love.
This chic white container looks stunning loaded up with a mixture of textural and colourful plants, with that indigo-hued Lobelia taking the spotlight. It ties together with the rest of the white window frame perfectly.
We also love the dark creep foliage that creeps up the wall behind, creating another layer or interest. Opt for Virginia creeper to recreate the look – it has the bonus of turning a blazing red come autumn.
16. Create a miniature jungle
A window box is the perfect place to let your creativity run wild. Just check out this beauty for example!
Tons of colourful foliage have been gathered to create a jungle-like vibe, for a magnificent view, as we're sure you'll agree. Recreate this look and your window boxes will be the talk of the town in no time.
What do you put in the bottom of a window box?
There are a few things to put in the bottom of your window box to help create a well-prepared home for your plants.
Start with a clean slate – if you're replanting an old window box, it's best to remove everything, even the soil, first. This gives your new plants the best chance at thriving.
To improve drainage, add a few handfuls of gravel, small stones, or terracotta crocks to the bottom of your window box.
Opt for potting soil rather than heavy loam, to increase drainage further and allow roots to grow freely.
If your window box is in a very sunny spot, consider adding water crystals to the soil mix to reduce your plants from drying out.
Do window boxes need drainage?
Yes, window boxes definitely need drainage! Make sure your container has plenty of holes in the bottom. This will avoid your plants sitting in damp soil after watering or heavy rainfall, which can cause them to rot.
Most commercially bought window boxes will come with holes included, but if yours doesn't, you may want to consider carefully creating your own, using a drill.
Be sure to check for passers-by before watering, if your window boxes are up high. No-one wants to be soaked by surprise!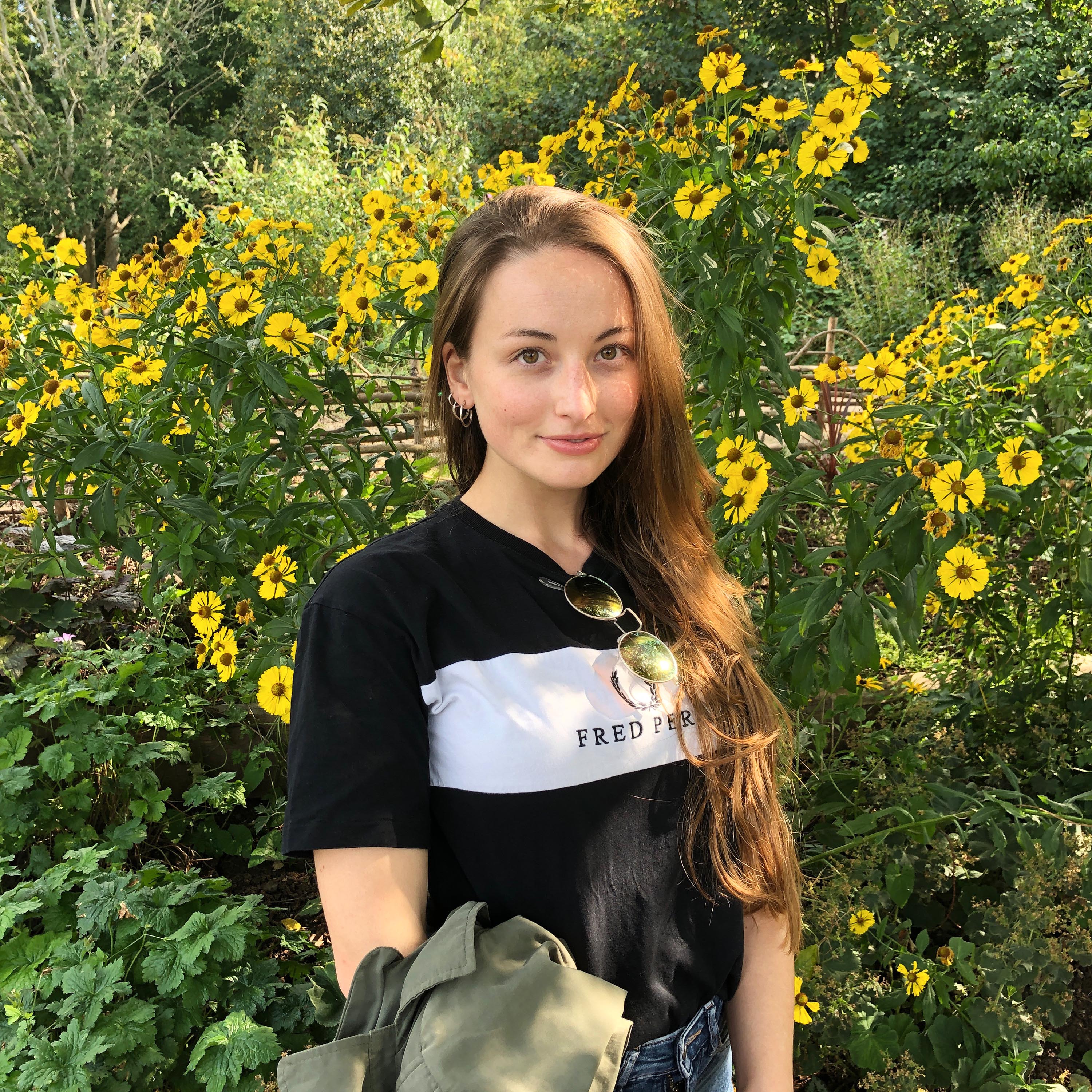 The garden was always a big part of Holly's life growing up, as was the surrounding New Forest where she lived. Her appreciation for the great outdoors has only grown since then. She's been an allotment keeper, a professional gardener, and a botanical illustrator – plants are her passion.