How to protect plants from frost: ensure your pots and plants survive the winter
Follow our tips on how to protect plants from frost and give your pots and plants a head start to see them through the worst of the winter weather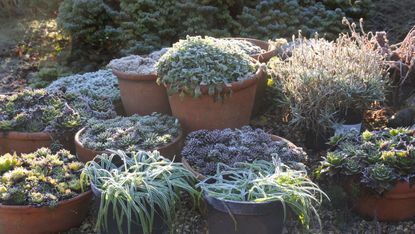 (Image credit: Alamy)
Gardening Etc Newsletter
The Home Of Outdoor Living
Thank you for signing up to . You will receive a verification email shortly.
There was a problem. Please refresh the page and try again.
Now's the time to start thinking about how to protect plants from frost to ensure you don't lost any of your treasured plants or pots when it gets frosty or snowy. Even if you don't have a greenhouse it's possible to protect perennials like pelargoniums and fuchsias from harsh weather and they'll be bigger, stronger plants when the weather warms up next year. Being prepared with our easy tips means that come spring you can avoid expensive replacements of both pots and plants.
Even hardy plants grown in pots are susceptible to cold. If the roots freeze or become waterlogged for long periods, most plants will die. To get these plants through winter, start by trimming off any dead bits and removing old foliage, moss and weeds in the compost. Prune back any leggy bits so the plant is evenly shaped. Check underneath the pot, remove pests and clear the drain hole. Insulate large pots with a layer of bubble wrap taped around the outside to help prevent the compost and plant roots from freezing.
Keep reading for more advice on how to layer on the love for your pots and plants this winter and see them safely through it, then check out our winter garden ideas for ways to add colour and interest to your outside space during the colder months.
How to protect your summer bulbs over winter
Take the bulbs, rhizomes and tubers of cold-sensitive plants such as dahlias and cannas out of their pots once the greenery has died down. Clean them of any old compost, then dry and store, covering them loosely in fresh, dry compost in a shed or garage. In prolonged periods of cold, it may be useful to cover the boxes with an old blanket or fleece for extra insulation, but generally they'll get through winter safely for replanting in spring.
Like the ideas of having dahlias in your garden for colourful summer blooms? Head over to our guide on how to grow dahlias for our expert tips.
Place your plants and pots in a warm spot over winter
If you have a cold frame or mini greenhouse stand pots inside. If you don't, think about getting one as they don't take up much space yet are invaluable. The base of each pot should be off the ground, so in a cold frame you might need to use pot feet to raise them. If there isn't enough space lay them on their sides. It's important that the compost dries out and remains largely dry throughout the cold period, so avoid watering until March.
On warmer days ventilate your cold frame or greenhouse but close up before dark. On nights when the temperature is set to drop below freezing, cover a small cold frame with an old blanket or tuck some fleece around the plants in a grow house. Check out our greenhouse ideas for more ways to make the most of your garden glasshouse.
Shelter unprotected pots from the cold
If you don't have a cold frame or grow house, arrange all your pots together against a sheltered wall of your house. The heating inside warms the exterior wall just a little, plus the wall offers support on windy days. The pots should be on pot feet or lifted off the ground a little to ensure good drainage. Wrap the pots of particularly vulnerable plants in bubble wrap, and the heads or stems of larger plants with fleece. Covering a group of pots loosely with a clear plastic sheet is also helpful in keeping the compost dry and adding a little insulation against the cold. Tie string around the top to stop it flapping in the wind.
Plants that need extra care in winter
If you're a fan of tropical garden ideas, your exotic plants such as tree ferns, banana palms and cordylines will struggle in cold weather and may need extra protection from frost. Wrap them in a fleece jacket packed with straw. Tree ferns have a vulnerable crown that will need a protective layer, while the leaves of cordylines should be wrapped together to prevent water collecting at the base and causing rot. Succulents need to go under cover too, unless you're lucky enough to have a slightly milder climate.
You can also apply a thick mulch of leaves or compost to the roots of exotics to protect them – our ultimate guide to mulching explains everything you need to know.
4 top tips to protect plants from frost damage
1. Lift bulbs, rhizomes and tubers, brush off compost, leave to dry and then store in well-ventilated boxes in a dark, frost-free place. Pot up again in spring
2. Shake off compost from the roots of geraniums and hang them upside down, or put them in a well-ventilated box in a cool (min 45˚F/7˚C) dark place.
3. For other plants, trim leggy bits, remove weeds, moss and debris from compost surface. Check for pests, clear the drain hole, then store in a cold frame on their side if necessary or grow house on pot feet.
4. To store a plant outside, wrap the pot in bubble wrap and cover the top with fleece. Stand against a house wall on pot feet and cover with clear plastic sheeting.
The do's and don'ts of overwintering pots
Do
✓ Trim off leggy stems to make the plants easier to store in a cold frame or grow house.
✓ Lift plants such as bulbs and tubers out of the compost as they will be much easier to store frost-free.
✓ Take advantage of the warmth of your house by storing bulbs or bare roots in a dark cool place indoors, or standing pots against a sheltered outside wall.
Don't
✗ Water pot plants overwintering outside unless there is a clear indication that they need it.
✗ Leave pots standing on the ground. Set them on pot feet so that water can drain freely from the holes in the base.
✗ Neglect plants overwintering outside. Check them regularly, remove pests and snip off any dead or mouldy bits.
Read more:
Lifestyle journalist Sarah Wilson has been writing about gardens since 2015. She's written for Gardeningetc.com, Livingetc, Homes & Gardens, Easy Gardens and Modern Gardens magazines. Having studied introductory garden and landscape design, she is currently putting the skills learned to good use in her own space where the dream is establishing a cutting garden.