Planting bulbs: follow our top tips on how to get great results with your spring bulbs
Get all the advice you need on how and when to start planting bulbs and you'll be able to enjoy beautiful blooms from January and beyond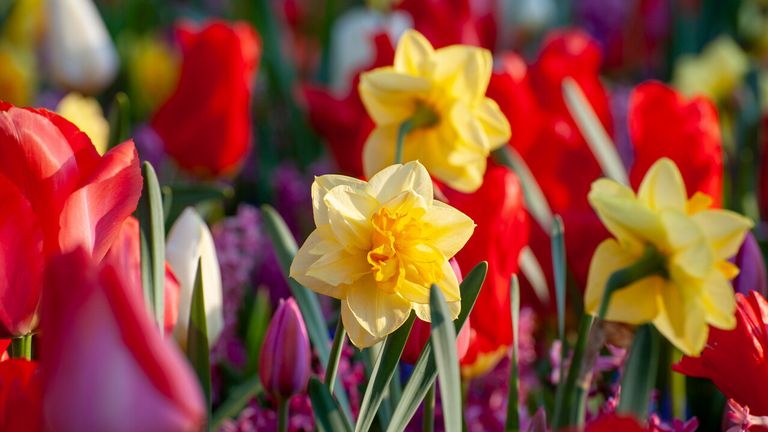 (Image credit: Wouter Koppen/iBulb)
By Sarah Wilson
Planting bulbs for spring is a great way for even inexperienced gardeners to plan for a colourful garden next year. Easy to grow and care for, they're also inexpensive, come in a range of beautiful colours and are very versatile. You can grow them in a wide range of ways, including in beds and borders, containers, window boxes and even hanging baskets. 
Now is the perfect time to start thinking about planting bulbs in your garden if you want to be guaranteed a blast of spring colour early next year. It's important to get bulbs in the ground or containers before the first frosts arrive, so it's a good idea to start planning your spring display as soon as you can.  
Want to up your bulb planting game and create stunning displays that will give you lots of joy next spring? Keep reading for more expert tips on how to get the best results, plus take your pick from some of our favourite bulbs to try in your own garden. Already thinking of planting tulip bulbs too? You can find out how to plant tulips in our easy guide.  
Top tips for planting bulbs
Plant bulbs at the right depth and they are more or less guaranteed to pop up a few months later. Always choose bulbs that are plump and firm. No need to feed them or prep the soil beforehand, as the bulb itself is packed with all the nutrients it needs to thrive. You don't have to water them either, so it really is a case of plant them and forget about them.
Don't scrimp on your bulbs 
One of the key things to remember when it comes to planting bulbs is not to scrimp on the number of bulbs you plant. If you want to create impact you can never have enough bulbs. If you were thinking of planting 10 bulbs in a pot the trick is to double it. As long as they're not touching it will be fine. The same rule applies to the garden. If you want a drift of daffodils in a border, buy twice as many as you think you need. 
Most bulbs like to be planted two to three times their own height
It can vary though so always check the instructions on the packet. All you have to do is make a deep hole (a specialised tool called a bulb planter is handy for this, see below) then pop in the bulb with the roots facing down and the pointy tip facing up, then fill in the hole with soil.
Try the scatter approach
If you're planting in the garden and want your bulbs to look natural, simply throw a handful on the ground and plant them where they land. If you prefer a more structured look, try planting them in clumps closer together.
Get a bulb planter
It's a simple tool that works like an apple corer and makes planting bulbs a breeze. It removes a plug of soil so you can drop in the bulb easily, then releases it when you push a button so the soil plug can be used to refill the hole. 
Create waves of continual colour 
A good bulb planting trick is to try to make sure you have waves of continual colour weaving through your garden from January right through to May with successional planting. This means that as one set of bulbs have their final flourish ideally the next display should be unfurling their petals. Start the year with snowdrops in January followed by crocus in February. Then the narcissus, hyacinths and daffodils take centre stage, followed by tulips. 
Bulb planting ideas to try in your garden
Whether you're stuck in a bulb planting rut or simply don't know where to start when it comes to planting bulbs in your garden, try these ideas for creating spring bulb displays with a difference. 
Planting bulbs in containers
If you want to plant bulbs in pots, pack in as many as you can fit in. Use multi-purpose compost and add a little horticultural grit to improve drainage as you will need to keep the compost moist. If you're opting for a mix of bulbs, put the biggest bulbs at the bottom and the smallest ones on top, layering them up with plenty of soil in between. You can also use bulbs to underplant shrubs in containers. 
Squirrels love to forage for bulbs in containers. Place some chicken wire or other mesh cover over the pot once you've planted it up to stop them digging. As soon as the bulbs start to peak through you can remove it.
Plant bulbs in lawns
Planting spring bulbs in lawns is a great way of brightening up large areas of grass or difficult to plant areas such as steep banks. Choose naturalising bulbs such as snowdrops, daffodils, Scilla siberica, Fritillaria meleagris (Snakes Head Fritillaries) or Crocus tomasinianus that will multiply naturally on their own, increasing in number year after year.
To create a natural look, scatter the bulbs on the grass and plant them where they fall. Use a bulb planter for large bulbs such as narcissus or tulips. Small bulbs can be planted in holes made by a garden fork or sharp stick, or several can be planted in a large hole. Remove the turf plug and carefully insert the bulb. Use the soil from the plug to gently firm in and replace the turf plug on top. 
For large numbers of bulbs the turf can be cut using a spade. Simply cut the turf in the shape of a letter 'H' to a depth 3 times the height of the bulb, carefully peel back the turf, lightly fork the soil underneath to break up any that's compacted, scatter the bulbs then replace the turf flaps, firm in and water well to ensure the turf keeps growing.
Go for mass planting
Planting en masse can create a stunning visual effect in beds and borders as well as lawns. This effect can also be achieved on a smaller scale by grouping several pots or containers together. Try planting a single colour, choosing two or three complementary colours, or underplanting with other spring flowers such as Primulas, violas or forget-me-nots. The size of the planting area will determine how many bulbs are needed, but generally, 25-50 bulbs should be enough to make an impressive show.
Use quirky containers as planters 
With garden upcycling ideas proving more popular than ever, now is the perfect time to get creative with containers for planting. Spring bulbs are ideal for planting in containers and there are many day-to-day objects that make great planters. Old tyres, wheelbarrows, old cooking pots, colanders, old sinks, bathtubs, drawers or hollowed out logs all make good containers. It's a cost-effective, environmentally friendly, fun and unique way of brightening up the garden. Once they have finished flowering, deadhead flowers to prevent the plant from going to seed and allow foliage to die back naturally (this usually takes 6-8 weeks) to ensure all the energy goes back into the bulb. 
Plant bulbs to add interest to small spaces
One of the benefits to growing bulbs in containers is that you don't need a huge garden to create beautiful displays. Dwarf varieties such as Iris reticulata, Crocus, Species Tulips such as Tulipa Tarda or Tulipa Coerulea oculata, Narcissus Tete a Tete or Narcissus canaliculatus are ideal for growing in small pots on patios or balconies, in window boxes or even hanging baskets. Keep containers in a sheltered spot to protect from hard frosts, and you can use chicken wire over the top of them to prevent squirrels, mice or voles from digging them up. Head over to our patio gardening ideas for more inspiration. 
Try a bulb lasagne
A bulb lasagne is a way of layering spring bulbs that creates a lovely display which lasts for months. They are easy and fun to put together, providing an opportunity to get the creative juices flowing by experimenting with colours and textures. They are also good if space is limited as you get several species in one container.
Simply cover the bottom of a good-sized container with gravel or broken pots for drainage, add a layer of compost and then add the first layer of bulbs. Plant the largest and latest flowering bulbs first and cover with a layer of compost. Repeat the process layering the bulbs at their required depth moving to the smallest and earliest flowering bulbs in the top layer. Cover with a final layer of compost, water in and leave in a sheltered spot to protect from hard frosts. The key to successful bulb lasagne is to choose bulbs with consecutive flowering periods to give a long lasting display. 
The best spring bulbs to plant in your garden
To help you create the best combination of spring flowers, we've rounded up nine of our favourite spring bulbs for you to try. We've put them in order according to which blooms first and so on, which will help with your spring bulb planning.
1. Snowdrop 'Flore Pleno'
2. Iris danfordiae
Iris danfordiae at Thompson & Morgan
The bright canary yellow of these pretty flowers adds a splash of colour as early as January. Although small they add impact. Plant them up in pots and position them near the house to make the most of the fragrance.View Deal
3. Crocus 'Snow Bunting'
Crocus 'Snow Bunting' at Crocus
White flowers with a delicate purple flush on the outside of the petals add a luminous touch to the winter garden in February and March. They look pretty in pots or planted in drifts in the garden, plus they have an exquisite scent.View Deal
4. Narcissus 'Rip van Winkle'
Narcissus 'Rip Van Winkle' at Thompson & Morgan
With their unusual star shaped fragrant blooms etched with green these are unlike any other daffodils. Flowering in March and April, they add a splash of sunshine to the garden and are perfect for both containers and borders. They also make a great cut flower.View Deal
5. Hyacinth 'Woodstock'
Hyacinth 'Woodstock' at Suttons
Vibrant deep red-purple flowers bloom from March to April and their rich and heady fragrance will flood the spring air. They work equally well in pots or at the front of borders.View Deal
6. Grape hyacinth 'Ocean Magic'
7. Narcissus 'Silver Chimes'
Narcissus 'Silver Chimes' at Waitrose Garden
Choose this variety and you can cut them to fill vases indoors too as they have up to 10 pretty white scented blooms per stem. Flowering from April onwards, their nodding heads add a delicate touch to the garden.View Deal
8. Tulip 'Margarita'
This showy tulip is a rich shade of magenta with large bowl-shaped blooms. These flower in late April and are one of the best varieties for window boxes and pots, with the bonus of a sweet scent.View Deal
9. Tulip 'Avignon Parrot'
Read more: