Types of tulips: 21 stunning varieties to plant in your plot
Discover the perfect types of tulips for your borders and containers with these beautiful options for amazing spring color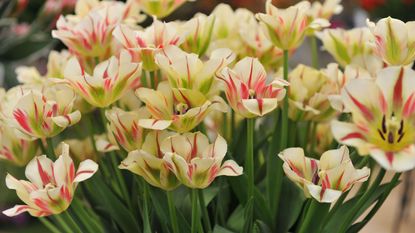 (Image credit: Sergey Kalyakin/Alamy Stock Photo)
There are so many different types of tulips that you are truly spoiled for choice when it comes to picking the perfect variety for your flowerbeds and containers.
Making sure you have the right variety to suit your plot is just as important as learning when and how to plant tulip bulbs to ensure you create the best possible show of blooms. While digging their planting holes, imagine next spring when satiny petals will open wide in the sun and close at night.
Tulips originate from an area from Turkey eastwards towards China through Azerbaijan, Turkmenistan, and Uzbekistan, growing in regions where springs are warm and moist, summers baking hot and winters cold. Their cultivation as garden flowers probably began in Turkey, where long, elegant blooms flaring to points at the tips were favoured. They became the official flower of the Turkish Court and during the 1700s lavish tulip festivals were held.
From singles, to peonies, viridifloras, lily flowered and more, there are so may different types of tulips. There are varieties that will flower as early as March, to others that bloom well into May in thousands of different color variations. They work really well in pots in large and small gardens to welcome the new growing season with a great fanfare of carnival colours.
The popularity of these eye-catching blooms continues to endure, and there's plenty to inspire you to start planting bulbs in our edit of the best types of tulips for your plot.
Add spring color with our favorite types of tulips
Whether you're looking for a classic tulip with an old-fashioned look or a variety that's ideal for cutting, you'll find what you need in our round-up of the best types of tulips for every plot.
1. 'Black Hero'
A luscious, satin-petalled, dark double-flowered tulip with a long-lasting season from April. Good for deep garden planters, it looks great with bright orange tulips and is also good for cutting and bringing indoors. Height: 18in (45cm).
2. 'Ballerina'
As tall and graceful as its name, this is a bold orange tulip of the fluted lily-flowered type. It also has the added bonus of a lovely scent. Well deserving of its RHS AGM status. Height: 23in (60cm).
3. 'La Belle Epoque'
A double peony tulip in an unusual combination of golden, dusky rose and salmon pink shades with petals that deepen in color as the flower matures. Long stems make it very popular as one of the best cutting garden flowers. Height: 20in (50cm).
4. 'Hermitage'
This fragrant sport of well-known 'Prinses Irene' bears large cup-shaped blooms of warm vermilion-orange with dramatic purplish flames seeping up from the base. Flowers open in April and May and are great for cutting. Height: 18in (45cm).
5. 'Olympic Flame'
Darwin hybrids are characterised by large flowers and clear colors and this tulip features red flames over a yellow base. Long-lasting blooms held on sturdy stems from late April into May make a bold statement. Height: 22in (55cm).
6. 'Rems Favourite'
White cup-shaped flowers are lit by glowing blackcurrant flames roaring up from the base. Like other Triumph tulips, blooms open from mid-April on strong stems able to stand difficult weather and performs well in a vase. Height: 20in (50cm).
7. 'Fly Away'
The lily flowered brilliant red and yellow petals bring drama. This looks good planted with darker, single colors. A good alternative to the more delicate acuminata species which shares the same colors. Tall stems add to its elegance and make it good for cutting. Height: 20in (50cm).
8. 'Ballade'
Shapely lily-flowered tulips are reminiscent of the elegant slim-wasted, pointed flowers favoured by the Ottoman Turks and used for tile designs dating back to the 1500s. This one bears mauve petals with white edges. Height: 22in (55cm).
9. 'Florijn Chic'
Fresh lemon yellow petals with white running up the centers terminate in points and form goblet-shaped flowers opening in May. These are versatile tulips perfect for garden borders, containers or cutting. Height: 18in (45cm).
10. 'Marianne'
Warm fruity tones of peach and mango light up lily-shaped blooms opening in April and May. Closed they are a shapely flute but coaxed apart by sunshine, the petals curve. Good for borders and cutting. Height: 20in (50cm).
11. 'Angelique'
A graceful, ruffled peony type, in boudoir pink, that is slightly shorter, so great for smaller pots and containers on windowsills. Flowering from late April, this makes a good cut flower too and has an RHS AGM. Height: 16in (40cm).
12. 'Artist'
Viridiflora types of tulips have a quantity of green in the petals, in this case joined by apricot flushed with deeper purplish salmon tones. A useful, short tulip great for windy sites and container gardening ideas. Height: 12in (30cm).
13. 'Florosa'
Mid to late season flowers are shapely and distinctive, with flared petals. Classic green 'Viridiflora' stripes decorate the middle of each over creamy-white at the base, and suffused with warm pink towards the tips. Height: 14in (35cm).
14. 'Flaming Spring Green'
The extravagantly marked flowers bear petals with strong green flames and flashes of purple red, especially on the inside. Blooms look great in a vase and open in late April and May. Height: 20in (50cm).
15. 'Black Parrot'
Among the most characterful and sumptuous types of tulips, the parrots bear large flowers of waved and crested petals. This old cultivar flowering mid to late May resembles glossy purple and black silk. Height: 20in (50cm).
You'll find plenty more suggestions for the best black plants in our dedicated guide.
16. 'Comet'
Crimped and pleated petals in warm, coppery tones of red, yellow and orange with the odd green flash create large, full blooms contrasting well with other spring flowers and foliage. Great for cutting too. Height: 20in (50cm).
Add these to your bulb lasagne ideas to guarantee a colorful spring display.
17. 'Estella Rijnveld'
Bright and eye-catching, the mid to late May blooms bear fringed, irregular petals of satiny white, with raspberry red markings and odd splashes of green. Plant 6in (15cm) apart so blooms have plenty of space to show off. Height: 20in (50cm).
18. 'Carnaval de Rio'
All types of tulips are a great option for cutting, but some lend themselves especially well to vases. This tall, fragrant single late tulip has a truly festive air, with warm tongues of flame licking white petals. Height: 20in (50cm).
19. 'Libretto Parrot'
A favorite with florists for its large flowers, the creamy white, pink and green blooms tend to turn pinker as they mature from late April. Height: 16in (40cm).
20. 'Orange Princess'
This double, fragrant peony-flowered tulip will charm everyone with petals of warm orange, shaded with yellow and featherings of red and green. Dropping a 2p coin in the water is said to help keep stems straight. Height: 12in (30cm).
21. 'Danceline'
When fully open in April and May the double, fragrant peony-like flowers have the voluptuousness of almost-spent tulips in old Dutch paintings. Blooms are white with here and there small touches of raspberry and green. These make a great addition to any patio gardening ideas. Height: 16in (40cm).
How do you choose the right types of tulips?
The key thing that will make your containers really sing is to go for a garden color scheme. Whether bold and bright or pale and elegant, don't skimp on quantity and don't forget to give your bulbs some contrasting companion plants to grow through.
For impact, choose a single, bright color en masse, or a mix of three richly colored varieties – for example dark purple, burgundy and orange. For a more understated elegance, go for the paler whites and pinks. If you're mixing varieties, choose them to flower in succession, so as one fades, the next one comes into bloom. Many suppliers now offer styled collections, which are great if you are feeling overwhelmed by the choice – these tried and tested combinations are guaranteed to put on a great show.
Think about your pots and containers too – shorter tulips work well in low bowls or window box ideas. While the taller, bolder cultivars suit larger tubs and dolly-type barrels. Also think about contrasting shape, form and height of tulips – parrots, frillies and peony types work well when contrasted with a smooth single bloom. While taller varieties look good emerging from an understory of shorter tulips or companion plants.
When choosing companions, think either about complementary colors or a froth of contrast for the tulips to emerge from. Spring flowering forget-me-nots and colorful wallflowers will finish off your pots perfectly.
Learning how to plant a bulb lasagne is a brilliant way to combine several different types of spring flowering bulbs in the same pot for a longer display of blooms.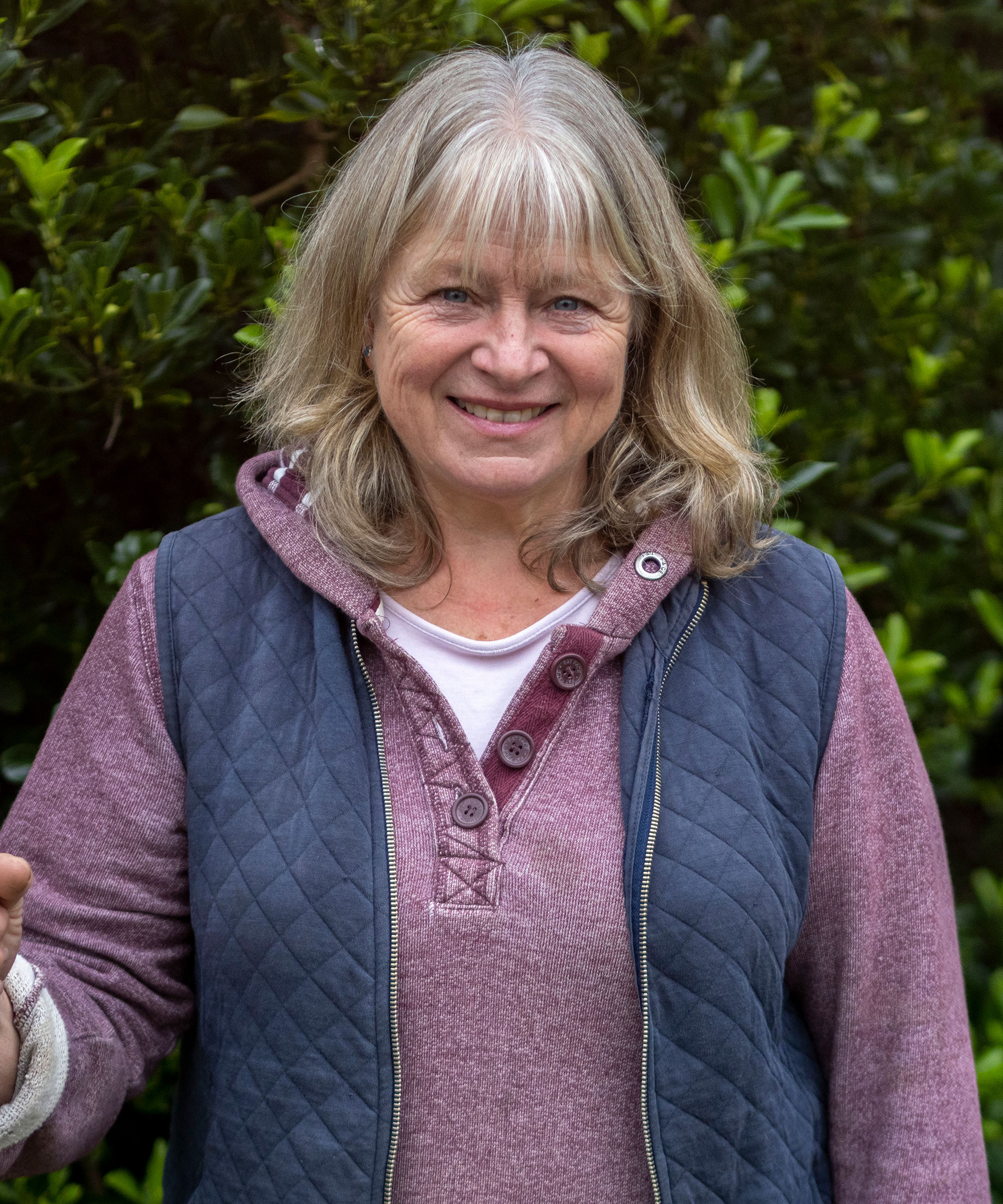 Having trained at Kew Gardens in London, worked in parks department nurseries and as Glasshouse Supervisor at RHS Wisley, Anne has been a freelance horticulturist since 1986. Anne writes for Amateur Gardening and has been a regular panelist on BBC Radio 4's Gardeners' Question Time for 27 years. A large plot full of wildlife habitats, edible and ornamental plants is Anne's workshop and inspiration.