The best black plants: introduce dark and dramatic colours to your space
Choosing black plants is a great way to add drama and give your garden a contemporary look. Here's how to do it...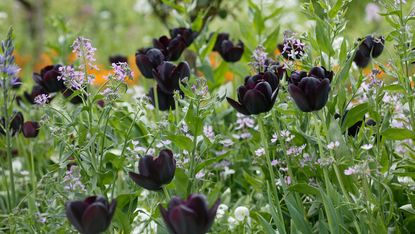 (Image credit: Leontine Trijber/iBulb)
There is something fascinating about black plants. Exotic, edgy and a little bit mysterious, they make a dramatic statement in the garden. Whether it is through velvety dark flowers or inky splashes of foliage, dark hues add depth and richness to borders and containers, and they are guaranteed to create a talking point. To be absolutely accurate, very few plants are a true black. Most are dark purple or burgundy, though some do come very close.
There are some key design rules to using black plants effectively. Number one is that shadowy corners and shady plots are best avoided when planning a dark themed area. Unless they grow in a sunny site, even the most beautiful black plants risk being swallowed up into background shadows.
Just like classic basics in a wardrobe, black plants really will work with everything, so keep reading for our pick of the crop and expert tips if you are planning to dabble with the dark side. You'll find more inspiration for stunning flowerbeds in our guide to garden borders too.
What style of gardens will suit black plants?
Contemporary gardens
Black plants lend themselves perfectly to modern gardens. A pale stone path lined with black mondo grass (Ophiopogon planiscapus) offers striking yet pared-back style, and a black elder (Sambucus nigra) grown in a zinc tub can look sculptural and dramatic. Aeoniums, shapely succulents which can come in shades of purple-black, have a similarly streamlined impact, while black bamboo with its slender, shiny canes can create a stylish monotone screen against a light wall.
Petunia 'Black Velvet' has flowers which offer one of the truest shades, and it is an easy-to-grow bedding plant with dark petals which are soft and tactile. Dahlias offer a good choice of moody hues: 'Black Touch,' 'Chat Noir,' 'Black Fire' and 'Fidalgo Blacky' all deliver on drama. Other good choices include scabious, with small pincushion flowers on tall stems. Try 'Black Knight' and 'Black Pom Pom.' For a no-stress plant which will self-seed, snapdragon 'Black Prince' comes in a deep burgundy.
Tropical gardens
For tropical gardens and a truly exotic appeal, lilies work well, and there are a few dark toned varieties to choose from. Although they can look almost unreal in their perfection, they are not tricky to grow. A day lily, such as Hemerocallis 'Black Magic' is a winter hardy perennial, which means that it is a tough plant. When it flowers from the end of June, each waxy bloom lasts for just one day, but it will keep producing until the first frosts.
Cottage gardens
Finally, fans of frothy flower borders should not write off deep tones. Adding dark pops of colour with tulips, dahlias, scabious or snapdragons can bring depth and contrast to a more traditional cottage-style scheme. You'll find more ideas for creating a romantic planting scheme in our cottage garden ideas.
What other colours work with black plants?
Even when they are grown in a bright spot, black plants en masse can merge into a blob. The way to showcase their colour and shape is to combine them with complementary colours. Those which work particularly well are lime green, blue-green or silver toned foliage plants, or, for a really flamboyant combination, pair with purple, orange, bright pink or red flowers.
Our pick of the best black plants for your garden
Love the idea of adding some drama to your outside space? We've rounded up our favourites for you to try below. Which ones will you choose?
1. Tulip 'Queen of Night'
The silky sheen of this tulip's petals create the illusion that its dark maroon petals are actually a dramatic ink black. Flowering from April to May, it will thrive in borders or containers in direct or partial sunlight. Pair it with an orange tulip to make it sing: 'Bestseller' or 'Ballerina' are perfect partners. Tulips are best planted in gritty soil in November.
2. Sambucus Nigra 'Black Beauty'
Also known as black elder, this is an eye-catching statement plant which will grow up to 3m tall. It has feathery, burgundy-black foliage on dark stems, and it is smothered in pale flowers in early summer, which creates a striking contrast. Grow in full sun, or the leaves may fade to a less impressive green/bronze shade. It benefits from being cut back to the ground in winter. Apply a thick mulch after pruning to ensure healthy new growth. Not sure how to do this? Our guide to mulching has all the info you need.
3. Black Mondo grass
This spiky, strappy perennial grass is a garden designers' favourite, thanks to its brooding colour and hardy nature. It's an evergreen, a slow grower which forms low tufts of foliage that make it a perfect companion to other grasses. Grow it alongside blue fescue grass for a modern look, or for something less formal, pair it with swishy, zesty green Hakonechloa Macra 'Aureola,' another ornamental grass. It also works well with foliage plant heuchera 'Lime Marmalade' or 'Plum Pudding,' and pretty silvery green calocephalus. For a stylish monochrome winter container, team it with pure white snowdrops. You can find out how to grow ornamental grasses in our guide.
4. Viola 'Molly Sanderson'
Satiny black petals and a tiny yellow 'eye' make these a great choice for containers or a front of the border position. They have evergreen foliage and will flower from May to October and possibly beyond (keep deadheading to ensure the flowers keep coming). They prefer moist, well-drained soil in partial sun, but as plants go, these are fool-proof.
5. Phyllostachys Nigra
It's the slender, polished canes which are the black part of this bamboo. Its fresh green leaves create contrast. The plant will create a stylish natural screen for bins, ugly fencing or garden walls, but it does spread, so surrounding the roots with a non-perishable barrier is advisable. Plant in moist soil, in full sun or part shade, and water regularly until it is established. After that, there will be no stopping it.
6. Aeonium Arboreum 'Schwarzkopf'
An architectural succulent, this variety has rosettes of fleshy dark purple/black leaves on top of branching stems. They need a sunny spot to maintain the dark colour, and they prefer gritty, well drained soil. As tender perennials, aeoniums do not tolerate freezing temperatures, so they are best grown in a container and moved inside for the winter months. A kitchen window ledge or a conservatory is ideal.
7. Gladiolus
Elegant and classic, these tall blooms can grow up to 1m, with clusters of luxurious, velvety flowers from July to October. Dark varieties include 'Espresso,' 'Plumtart' and 'Black Surprise,' which range from dark burgundy to reddish black. They look best grown in clumps in borders and beds. They may need staking to stop them falling over. Plant the corms 10-16cm deep and around 10cm apart. Lift them after the first frosts, store inside, and replant in May.
8. Calla Lily 'Memories'
Folded trumpets of silk with a black stem and flower on green foliage, the calla lily looks almost too exotic to survive cool UK summers. But it will thrive, given the correct treatment. Plant the rhizomes in containers, under a shallow layer of loam-based compost (such as John Innes No 2), with the 'eyes' facing upwards. Water them well, and feed with a general fertiliser every couple of weeks. These lilies are tender, so it's best to bring them inside over winter, lifting them if they have been planted in the ground.
More plant advice: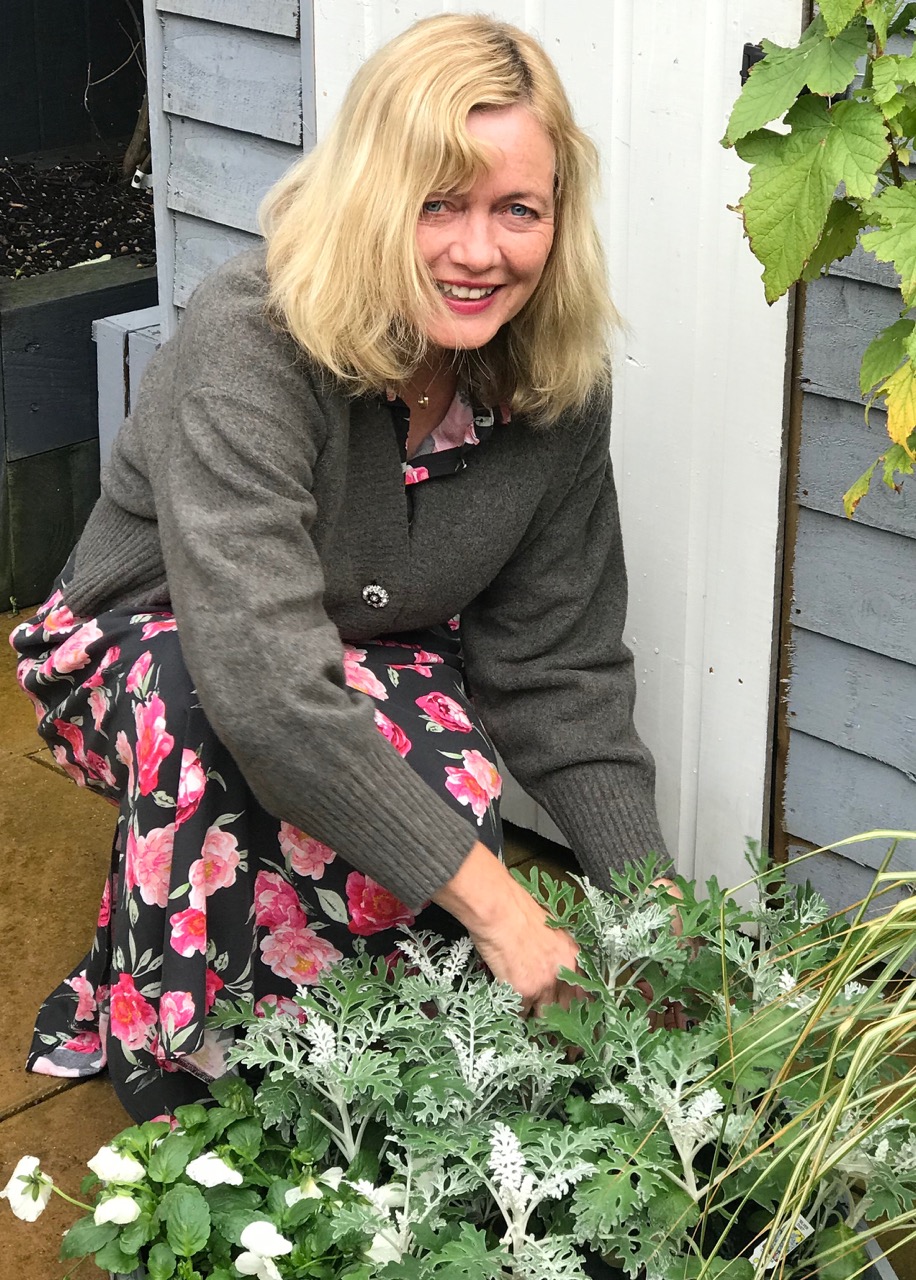 An experienced freelance journalist, editor and columnist writing for national magazines and websites, Fiona now specialises in gardens. She enjoys finding and writing about all kinds, from the tiniest town plots to impressively designed ones in grand country houses.