How to plant a bulb lasagne for layers of spring colour
Follow our step-by-step guide on planting a bulb lasagne and you will get months of colour next spring from a dazzling mix of spring bulbs blooming one after the other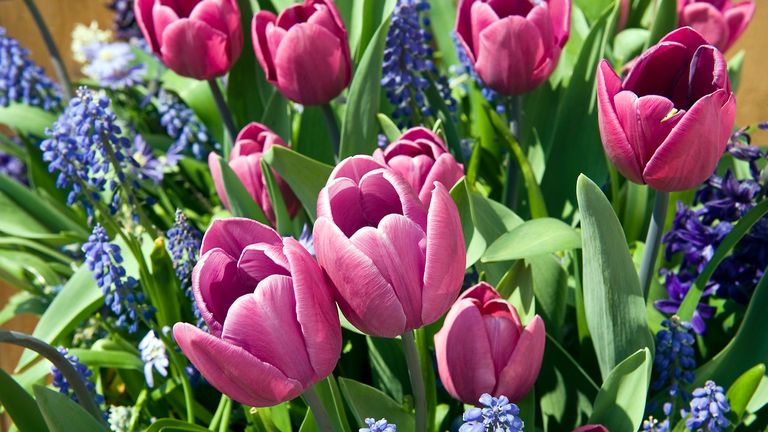 (Image credit: Wouter Koppen/iBulb)
If you haven't heard of a bulb lasagne before, we're here to let you in on one of the best ways to use your spring bulbs to great effect. A favourite of gardening guru Monty Don, who uses the planting method in his own garden pots, it's all about layering different varieties of bulb on top of each other in a pot or container so that you will be rewarded with months of colour in your garden.
Just like a lasagne (hence the name), you build up the contents of your pot in layers. The biggest bulbs (and last to flower) go in deepest, moving through to the smallest ones on top (earliest to flower). This will give you a continuous spring colour pop, with the earliest bulbs at the top flowering in February, and the lower layers in April/May. Keep scrolling for how to create your bulb lasagne, then head over to our guide to planting bulbs for more ideas.
How to make a bulb lasagne
If you're new to this, start with two layers at first, for example using crocus or miniature irises on top and tulips beneath. Go for three layers if you're feeling more confident and you've got a large enough pot – crocuses on top, hyacinths in the middle and tulips at the bottom, as in our more detailed example below. You could, however, go for any combination of spring bulbs that you prefer, including varieties such as snowdrops, daffodils and muscari too. Simply check the details on the bulb packet for information on when they flower and how deep they need to be planted to ensure you get the perfect combination of bulbs.
What you need to plant a bulb lasgane
12-15 late-season tulip bulbs
10 hyacinth bulbs
15 crocus or iris reticulata bulbs
Alternatively, go for your chosen combination of spring bulbs
Planting your bulb lasagne
Step one: fill your pot with compost
Put a layer of crocks and gravel in the bottom of the pot to cover the drainage hole. Add the multipurpose compost to a depth of about 5cm above the crocks.
Step two: plant the bulbs
Place the tulip bulbs on the compost with the pointed tip facing up, a bulb's width apart and not touching the sides of the pot. Cover with a layer of compost. To create the next layer add the hyacinths. Cover with compost again until you're 8cm below the finished soil level. Add the top layer of crocus or iris reticulata bulbs. Cover with compost so the soil is just below the top of the pot. Water well.
Step three: find the right spot for your pot
Top with a layer of decorative grit or gravel and leave in a sheltered spot, for example against the house wall. If squirrels or mice are a problem, cover the pot with wire mesh. When green shoots appear in spring, move the pot into the open and keep it watered in dry weather.
Step four: what to do when your bulb lasagne has finished flowering
Your bulb lasagne should flower year after year, but the bulbs will benefit from a feed after a couple of seasons. If you'd rather not leave the bulbs in their container, dig them up once the foliage has died back and dry them out, then store them.
Read more:
Sarah Wilson has been a lifestyle journalist for many years, writing about gardens since 2015. She's written for Gardeningetc.com, Livingetc, Homes & Gardens, as well as Country Homes & Interiors and Modern Gardens magazines.
Her own (small urban) garden is a work in progress - so many ideas, not enough space to cram them in. Hero plants include her ever growing collection of ornamental grasses, black bamboo and ferns, and the perennials like salvias and penstemons that come back reliably year after year. All very restrained though when in fact she'd love to pack her garden with gaudy dahlias and giant cannas, so these are top of her wish list for what to grow next.