Winter garden ideas: get inspired to plant, landscape and tidy over the colder months
Discover our winter garden ideas for adding beauty and interest throughout the coldest season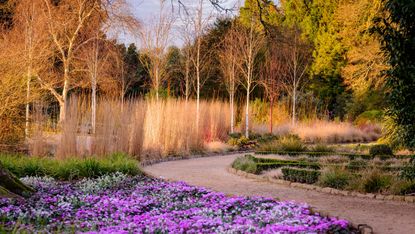 (Image credit: Winter Garden, Wakehurst / Jim Holden / RBG Kew)
The days might be shorter, but there's plenty of stunning winter garden ideas to feel inspired by even when the weather is frostier. We often think of winter as a quieter time for the garden, which in some ways is true. But, there's plenty of reasons not to abandon your plot once the late-summer flowers have had their day.
Early bulbs and hellebores are just some examples of winter blooms – whilst grasses and sculptural branches provide striking structure. Winter is also a great time to encourage wildlife, with the addition of stylish bird feeders. There's plenty to admire when it comes to seasonal garden design ideas, even if it's mostly seen through the kitchen window!
With the help of horticultural experts and members of the Society of Garden Designers, we've collected our favourite tips to share with you. So grab a cuppa, keep scrolling and get ready to create your own wintery wonderland.
1. Stunning snowdrops
Ah, the snowdrop. A true sign of hope, even on the coldest of mornings. There are lots of varieties to explore – try single, double, or even scented blooms such as the honey-fragranced 'S. Arnott'. Or, if you're looking for something a bit different, check out this striking 'Russian Snowdrop' variety. Whichever type you choose, they are bound to bring optimism to any winter scene.
Just dot a few plants in leaf around edges of borders, or in wilder areas of your garden, and they are likely to return year after year. They naturally multiple over time, too.
Snowdrops also look stunning amongst other planting, as shared by Francis Annette, designer of Wakehurst's winter garden. 'When the snowdrops flower underneath the trees in mid-February they will create a lovely colour contrast with purple Begonias,' he says.
2. Beautiful bird feeders
It's lovely to welcome birds into the garden throughout winter – even more so for their cheerful song. Bird tables and hanging feeders can be found in all sorts of styles to suit your garden, providing respite for robins and the like when food is harder to find. You can even learn how to make bird feeders, using our simple guide.

Don't forget about water, too. 'Unfrozen water for drinking and bathing may be hard for birds to find when there's been a frost, but with a simple trick you can help to keep a patch of water ice-free,' says the RSPB team. This can be by 'floating a small ball, such as a ping-pong ball, on the surface of the water. Even the lightest breeze will keep it moving and stop an area of the water freezing,' they explain.
3. Vibrant stems
You don't have to rely on flowers for vivid winter colour. 'If you have the space, there's nothing more heart-warming on a dull winter's day than a border of dogwoods,' says garden designer Debbie Roberts of Acres Wild. Try this 'Midwinter Fire' variety for blazing red hues, for example.
'Punctuated with the white stems of birch trees and evergreen mounds of rhododendron, they can create a spectacular winter display,' says the Society of Garden Designers.
Garden designer Lisa Cox from Lisa Cox Garden Designs is a fan of the 'Griseum' acer, with its rich, copper-toned bark. 'Plant them in a spot where they'll catch the sun they can play an even bigger role,' she says. Head over to our guide on how to grow acers for more expert tips.
4. Hooray for hellebores
Hellebores, with their clumps of foliage and gracefully bowing blooms, are a must-have for any winter garden. And, there are many varieties of these perennials to choose from, for different shades of colour. Try Helleborus x 'Ruse Black' for inky shades of deep purple. Helleborus x sternii 'Silver Shadow' will also turn heads with its pastel hues of peach and green.
'Helleborus niger', otherwise known as the 'Christmas rose', also makes a lovely, pale-petalled addition for winter interest, as suggested by the RHS. Take a look at our top tips for how to grow hellebores, to help you get started.
5. Winter blooms
There are a surprising amount of flowers to choose from when creating a winter garden. Winter irises and aconites are just two of many options.
Garden designer Cheryl Cummings, designer of Cheryl Cummings Garden Design, says, 'concentrate the effects of flower colour, by gathering winter flowering species such as Helleborus and Crocus close together.'
'Doing so within view of a window, or by a path will bring an uplifting splash of colour,' she suggests. 'Underplant with early Narcissus and Galanthus for extra flower power.'
Chris Wood, Horticulture Expert at Waitrose also suggests Viburnum tinus, Chaenomeles, and Camellia for winter blooms.
6. Experiment with light
'The low winter sunlight can create magical effects in the garden, silhouetting leafless trees and backlighting tall plants and grasses, especially on frosty mornings,' says the Society of Garden Designers.
'Positioning plants to make the most of it will add another dimension to the winter garden,' says Debbie Roberts, garden designer of Acres Wild.
See if you can find walled spots in the garden where sunlight hits – and then consider arranging containers or sculptures in front of it, to create interesting shadow displays.
7. Stylish patio heaters
True, it's a few degrees chillier out. But investing in the best patio heaters is a great way to keep things cosy when admiring your winter garden. From freestanding and pendant to lantern styles, there are lots of options to choose from.
They make a lovely feature in themselves, too, even when not in use. Try copper versions for a touch of urban chic, and move your evening entertainment outdoors in style.
8. Colourful containers
Colourful plant containers add pops of vibrancy to a winter garden. Fill a jumble of your favourite styles with the likes of winter pansies and heather for a picture-perfect scene. It's a quick and enjoyable job for a crisp and sunny day.
'I encourage my clients to bring a table close to a window,' says garden designer Louisa Bell of The Lovely Garden, 'and to keep a succession of pots filled with bulbs, ivy, cyclamen and auricula. They provide a wonderful splash of colour and form close to the house, whilst everything behind has died back.'
Head over to see our suggestions for the best plants for winter pots.
9. Structural planting
Louisa Bell, garden designer of The Lovely Garden, suggests a framework of fan-trained figs or skeletal trees for eye-catching structure through winter. Evergreens can also play an important role. 'Buxus, Taxus and Ilex create great structure in the winter garden, giving form to borders and creating a foil to emerging bulbs,' she says.
Spikes of mahonia, 'Phyllostachys nigra' (black bamboo), and the leftover seed heads from teasels will all add to the textural mix. Heads of hydrangea flowers can also be left to dry on the stems, before deadheading in spring.
Francis Annette, designer of the Wakehurst Winter Garden, also suggests experimenting with different heights. 'Vary the shapes and use the tiered planting approach: ground cover, bulbs, low shrubs, medium shrubs, small trees.'
10. Ornamental grasses
'On sparkling cold days in the depths of winter the best and longest lasting grasses can transform gardens into Narnia,' says Cheryl Cummings of Cheryl Cummings Garden Design. 'Their fine lines and elegant shapes are coated in hoarfrost.'
'Mixing grasses with evergreen plants is also a good idea,' says garden designer Lisa Cox of Lisa Cox Garden Designs, 'the movement and softness creating a different dimension against the solid structure of evergreens.'
Miscanthus 'Morning Light' and Calamagrostis 'Karl Foerster' are just two beautiful options to try, as suggested by the Society of Garden Designers. We've got plenty more suggestions in our guide on how to grow ornamental grasses.
11. Winter foliage
Interesting foliage is a lovely addition to winter gardens. Garden designer Lorenzo Soprani Volpini of LSV Gardens uses 'Arbutus unedo' for its dark green leathery leaves and 'Euphorbia x martini' for texture.
Variegated types of holly or ivy also look particularly striking, especially when bejewelled with berries. Try the 'Handsworth New Silver' holly for emerald leaves with a distinct pale edge. If you're after something a little more unusual, the ornamental 'Ophiopogon planiscapus' makes an interesting addition to borders, with its elegant black leaves.
12. Beautiful scent
For stunning winter fragrance, the RHS recommends sarcococca – a winter-flowering, evergreen shrub with delicate pale blooms.
Mahonia, with its spiky leaves and jolly yellow flowers, will also delight with its gentle lily-of-the-valley-like fragrance. Viburnum 'Deben', is another plant to consider – with long-lasting, pinkish-white blossoms that are sweetly scented. Plant them near the doorway, and you'll be rewarded every time you brave the cold!
13. Spruced-up sheds
Speaking of sheds, now's a perfect time to have a spruce. It's 'not just a building for tools, but a laid-back space for doing the things you love,' says the team at Cuprinol. 'Unlock the full potential of your garden as a place to think, dream and create with clever use of colour and zoning.'
So, with less weeding to be getting on with, why not get creative and give your shed a lick of paint and a good sort out? It's a great weekend job during a clear winter spell. Add some cosy outdoor rugs and useful hooks and storage solutions too, to maximise its potential.
Check out our she shed ideas for more inspiration on turning your shed into a sanctuary.
14. Showstopping veg
It's easy to make ornamental winter vegetables the star of the show in your garden. Try the eye-catching 'Bright Lights' variety of Swiss chard for its vibrant stems of yellows, oranges and pinks. Cook it similarly to spinach – just steam with a little butter and seasoning – for a delicious side.
The hardy 'Redbor' kale with its dense purple frills and bright violet stems is a stunning alternative choice. It's full of health-boosting vitamins too!
15. Focal-point fire pits
'Our outdoor spaces are rapidly becoming an important extra room as we spend more time at home. A fire pit not only provides much needed warmth, allowing us to make the most of the fresh air on colder days and long into the night, they also create the perfect focal point for an outdoor lounge area,' says Dani Taylor of Cox & Cox.
'Furthermore, they are fun for the whole family – the act of gathering the wood and setting the fire, and then toasting marshmallows – it is welcome together time in lockdown that isn't in front of a screen!'
From sleek and bowl-shaped to intricately decorative, there are lots of options to choose from. A chiminea is another lovely way to keep your garden warm, whilst keeping flames more contained.
Check out our best fire pits selection for our favourite picks. Or, if you're feeling creative, why not build your own fire pit!
16. Plan for the year
It's great to get out and enjoy the fresh air on clear winter days. However, less-favourable weather offers opportunity to plan your garden design, from the warmth of indoors.
Browse seed catalogues, invest in a garden journal, and enjoy a peaceful ponder over what to grow for the new year. It's also a good time to plan your vegetable crop rotations, as suggested by the RHS.
There are other jobs to crack on with, to make sure you're all set when the warmer seasons arrive. 'Now is the time to catch up on those garden repairs and maintenance jobs that have been piling up during the year,' suggests Chris Wood, Horticulture Expert at Waitrose. You can also 'clean pots and greenhouses ready for spring,' says the RHS.
17. Wonderful witch hazel
With its ribbon-like petals, sculptural branches and glorious scent, the witch hazel is a wondrous addition for colder months.
Its clustered blooms are most often found in tones of sunny yellow. However, the variety 'Diane' is particularly lovely, with its petals of bright red. It makes 'a stunning companion to the striking red and orange stems of Cornus 'Midwinter Fire'
'The colours are almost luminous above a carpet of snow,' says the team at GardeningExpress.com.
18. Add a statue or two
Cheryl Cummings, garden designer of Cheryl Cummings Garden Design, suggests using sculptures to 'add focus and charm, whatever the weather.'
Position them to peek out from the foliage of a border, for eager eyes to spot. Or, allow them to take the spotlight – a focal point at the end of a path, for example. From giant urns and traditional stone figures – or perhaps contemporary, bronze models are more your theme – pick a style to suit you and see how it instantly elevates your garden.
19. Pruning
Winter is a good time to don your shears and prune back dormant plants. It's much easier to see what you're working with once all the leaves have gone!
Snipping off lower or unruly branches of trees and shrubs is a quick and easy way to keep them looking tidy. 'Remove any stems that rub against each other, and aim to create an open-centred canopy that allows air to circulate freely,' suggests the team at Gardeners' World.
There's also a chance to open up space beneath trees for extra bulbs, such as crocuses or snowdrops. And if your garden tools are looking a little rusty, check out our best secateurs guide for our top replacements!
20. Blocks of colour
Plant in blocks of the same variety, or colour for an easy way to make a big statement in the garden.
The Winter Garden at Wakehurst – Kew's wild botanic garden – is a beautiful example of this technique in use. 'There are actually only 46 different varieties, planted en masse so the garden feels more emotionally arresting,' says Francis Annette, the garden's designer. 'It is visually more stunning when there are lots of the same plant, rather than having lots of different plants shouting for attention.'
It's a perfect opportunity to pick your very favourite blooms. How about clustering groups of cyclamen, hellebores or winter primroses for a show-stopping scene?
What plants can stay outside in winter?
Many flowers, such as potted geraniums and pelargoniums, need to be brought inside when the weather turns. However, there are a good few which are hardy enough for you to leave. These include violas and pansies, heathers, primroses, heucheras, lily-of-the-valley, hostas, and winter greens such as kale and cabbage.
Can you start a garden in the winter?
Winter is a great time to start planning a new garden, as there are fewer weeds and general growth to deal with!
Start by planning – make lists of the things you'd like to grow, and where. Now is the time to plant seeds indoors, for planting out when it gets warmer.
When it comes to venturing outdoors, wrap up warm and get busy clearing any unwanted plants, or cutting back shrubs. Digging new beds can also be a job for dry days, if the ground isn't frozen hard.
Should I cover my raised beds in winter?
When autumn crops are finished, there are a few things to do to get raised beds ready for winter. Spend a short while clearing any leftover debris, rake over the soil, and apply a good layer of mulch or leaf mould. You can also use a cover crop, such as clover. The added nutrients will improve the soil's quality, ready for new plants in the spring.
'Preparing the veg plot, by digging and adding in organic matter ready for transporting seedlings into later is a great task to tick off during winter,' says Chris Wood, Horticulture Expert at Waitrose. 'You can also start to think about sowing veg indoors such as lettuce, spinach, and salad onions'.
Winter crops, such as cabbages or kale, will survive most cold snaps. But, if temperatures dip really low, you may find that a protective fleece cover or even a cold frame is worth investing in.
The garden was always a big part of Holly's life growing up, as was the surrounding New Forest where she lived. Her appreciation for the great outdoors has only grown since then. She's been an allotment keeper, a professional gardener, and a botanical illustrator – plants are her passion.