How to grow Hellebores for beautiful winter blooms
Learn how to grow Hellebores and they will provide flowers even in the snowy depths of winter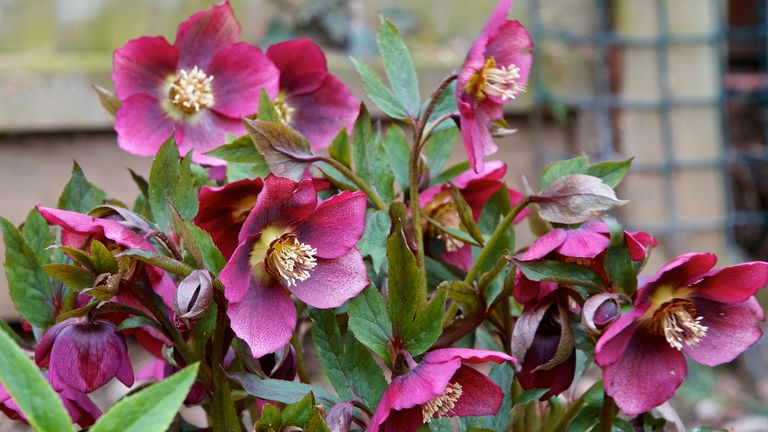 (Image credit: Alamy)
As one of the few perennials that bloom in the cold season, learn how to grow hellebores and you'll have colour in your garden throughout winter. The clumps of pretty downward-facing flowers almost glow in the low winter sunshine. Species flower from December to March in the UK and produce seed very easily. 
Hellebores are well loved – and is it any wonder? As they are easy to grow in borders and pots, and the flowers last for ages. They also suit most  soils and tolerate tricky shady areas beneath trees.  
For more winter blooms, take a look at our guide to how to grow camellias.
WHEN TO PLANT HELLEBORES
Hellebores plants can go in the ground at any time of year. However, you will find them in garden centres more often in winter and spring. Plant in sun or semi-shade, into well-drained soil enriched with well-rotted garden compost.
If you want to save money, it is possible to grow them from seed but it is a long process and flowers will not usually appear until two years after germination. Sow in July or August, thinly, on a tray of compost (or in a pot), and cover with fine grit or perlite. 
Leave outdoors, but keep moist and cover with netting or chicken wire to prevent mice eating the seeds. Germination takes place in winter. In the new year, once two leaves have appeared and they are large enough to handle, prick out your seedlings into small pots.
DIFFERENT TYPES OF HELLEBORES
The flowers come in three main types – single, semi-double and double. Double-flowered hellebores tend to be slightly shorter in stature, so they are well-suited to pots. But undoubtedly, the most popular hellebores for garden use are forms of H. orientalis. They have spawned many colourful hybrids that flower in early spring.
HOW TO GROW HELLEBORES
The best garden position for your hellebores is between deciduous trees and shrubs, where plants are lightly shaded but not short of water. They are also happy in sun where soil is moist. 
Plant into well-drained soil conditioned with well-rotted garden compost and mulch annually in spring. Give each plant plenty of space. Use gaps in between for winter aconites, snowdrops or Iris reticulata, and for later, primroses.
HOW TO CARE FOR HELLEBORES
It is fine to remove the old leaves at any point during late winter and early spring. In fact, doing so will make way for the flowers and new leaves to come through. If you look closely at your hellebores, you should be able to distinguish between the old leaves left from last year and the new leaves that have grown this year. The old leaves will be coarser, darker green and probably blotched and a bit tatty.  
Remove damaged or disfigured leaves in autumn and just before flowering to help avoid viral and fungal diseases. Hellebores will flourish in containers of 50:50 John Innes No2 and soilless compost with 20% added grit and leafmould. 
HOW TO PROPAGATE HELLEBORES
Another great thing about Hellebores is that you can get a lot more from one plant by propagating. Once you have good plants, you can lift and divide them. September or October is a good time to do this, and all your new plants will be identical to their parent. Use a sharp knife to cut the dense clump into sections, each holding several leaves and new growths.
You can also propagate by seed, which is best sown in summer, as soon as it's ripe. Use a soil-based seed compost, keep the pots in the shade and protect them from mice and slugs. Seed should germinate by Christmas. Or simply dig up self-sown seedlings and plant them  in a quiet part of the garden to grow on to flower, selecting the best to keep.
Hellebores are prolific self-seeders, so if one you particularly like is surrounded by its seedlings, pot them up and grow them on before planting elsewhere in the garden. 
PROBLEMS TO LOOK OUT FOR 
Leaf spot is a fungal problem that spreads when raindrops splash up onto the leaves from the soil, carrying spores. Symptoms are brown patches of dead material on the leaves that can fall through, leaving the leaves in holes. Stems can also be infected, causing plants to collapse and tiny black fungal structures may be seen.
Halt the spread by removing and disposing of all dead and infected material (do not compost) or by using fungicide. Regular mulching also keeps spores buried so they are less likely to be splashed up onto plants.
BEAUTIFUL HELLEBORES FOR YOUR GARDEN
These creamy-green flowers have purple-tinted petals and they'll appear in February lasting through until May. Plant it in a sunny border with plenty of well-rotted leaf mould.View Deal
Helleborus × hybridus Harvington red
This deep pink variety will add drama to your winter border. When colour might be scarce, this Lenton rose will bloom from February to April. Plant them so they can be seen from a window as you'll want to enjoy them even when it's too cold to be outside.View Deal
Helleborus × hybridus Harvington black
Go gothic with a striking black flower. These won't fail to be a talking point for your friends and neighbours. They are frost hardy but they might need a little protection in winter so apply a layer of mulch to the base of the plant.View Deal
Read more:
I was part of a team which launched Easy Gardens magazine two years ago and I continue to edit it today. I am also the Gardens Editor on Homes & Gardens, Country Homes & Interiors, Ideal Home and Style At Home so I am lucky enough to see and write about gardening across all sizes, budgets and abilities. What I am most passionate about when it comes to gardening are the positive effects it has on our mental health to grow and care for plants. Keeping our patches alive with greenery is great for the environment too and help provide food and shelter for wildlife. Finally, I find it to be such a wonderful opportunity to tap into my creative side and I love the feeling that I am crafting a space which has a life of its own. Audrey Hepburn summed gardening up perfectly when she said - "To plant a garden is to believe in tomorrow".