How to grow winter iris for pretty displays during the colder months
Choose the right species of winter iris and you will have unbeatable petal power from November until March – both indoors and out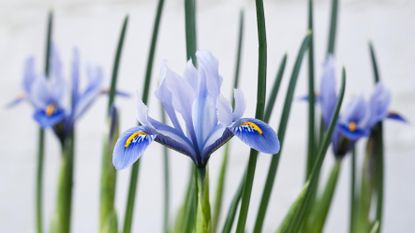 (Image credit: Alamy)
Irises are much loved as a flamboyant summer flower, but did you know there are also winter iris that bloom during cooler periods? There are in fact irises that flower from November through to March – and there are even ones with bright berries!
In November and December (and beyond) we have 
Iris unguicularis, the fragrant Algerian iris. A short plant 
for hot and sunny places, its blooms come in blues, purples and white. It makes steadily spreading clumps about 30-40cm high, with slender leaves and a long succession of colourful flowers. There 
are a number of varieties, 
but they can be difficult to find in nurseries.
Finally, there's a whole range of winter and spring varieties of iris, mainly derived from Iris reticulata, which grow from small bulbs. Available in an increasing choice of colours and bicolours, these are easy to grow. And while November onwards is a little late to plant bulbs, it's worth a try if you see some on sale – you'll find container plants, in bud, in garden centres.
Keep reading for our advice on how to grow these stunning flowers, then for more ways to add interest to your garden during the colder months, make sure you check out our best plants for winter pots feature.
WHEN TO PLANT WINTER IRIS
There are irises for almost every month of the year: some are robust, hardy, herbaceous perennials; others are evergreen; some flower in winter; others are variegated and some even develop berries.
In the many varieties of Iris sibirica, the sun-loving Siberian irises, we have tough hardy perennials that combine some of the most beautifully patterned summer flowers of all with dark and slender foliage. Making tight clumps, they're usually self-supporting, too, and look good after the faded flowers have been removed. Autumn planting is ideal.
DIFFERENT TYPES OF WINTER IRIS
There are 
two species, 
Iris lazica and the more familiar Iris unguicularis. The main difference between the two 
is that Iris unguicularis likes the sun and well-drained soil, while Iris lazica prefers shadier situations and soil that is less parched. At 40cm in flower, Iris unguicularis is usually more statuesque and has longer, floppier foliage than the 25cm Iris lazica.
HOW TO GROW WINTER IRIS
Choose a sunny, warm, sheltered site. No soil is too dry or well drained, so the foot of a sunny wall, perhaps where builders have left rubble in the soil, is ideal. Plant 20cm apart and keep your Iris unguicularis moist until they're established, then they'll be fine. Iris lazica likes more shade.
If you're planting in pots always choose containers that are labelled 'frost-proof'. In particular, avoid urn-shaped terracotta 
pots where the top is narrower than the middle 
of the pot. These are the most likely to crack during the colder weather.
Good drainage is vital. 
Use fresh John Innes-based compost, and stand your container on pot feet so 
any excess moisture can easily drain away. If you 
use multi-purpose compost, make sure you firm it gently. And window boxes can be placed on top of low wooden blocks. Making your own compost? Head over to our guide on how to compost for expert tips.
HOW TO CARE FOR WINTER IRIS
The iris leaves will start to look ragged in autumn, but although removing all the foliage will allow the flowers to show themselves off, it will also weaken the plants and leave them overexposed to winter winds. Your best bet is to groom your winter iris in autumn carefully (at the same time it's a good idea to apply a few organic slug pellets as a precaution). Then, simply repeat this process after flowering.
Our guide to autumn pruning has lots of expert tips on how to get your garden in shape at this time of year.
BEAUTIFUL IRIS FOR YOUR GARDEN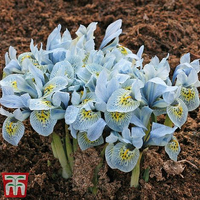 Iris 'Katharine Hodgkin' at Thompson & Morgan
Splashed with yellow, the regal pale blue-green flowers of this dwarf iris are a true delight in the depths of winter. They love good drainage, so mix plenty of grit into the compost when planting. Plant in full sun. H: 5in (12cm).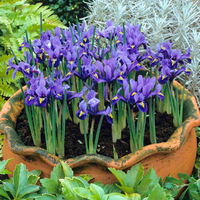 Iris reticulata 'Harmony' at Suttons
Plant bulbs of this dwarf iris in autumn, for flowering in the new year. This lovely variety is dark blue. Or buy in flower after Christmas, to slot into any gaps. H: 1ft (30cm).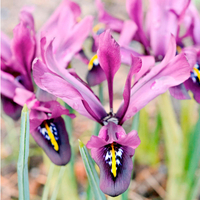 Iris histroides 'George' at Suttons
Plant these bulbs in autumn in pots and place in a sunny spot. They will bloom in your garden from February the following year. They will grow to heights between 10 and 20cm. Their gorgeous pinky purple colour will really pop.
Read more:
Teresa has worked as an Editor on a number of gardening magazines for three years now. So she is lucky enough to see and write about gardening across all sizes, budgets and abilities. She recently moved into her first home and the garden is a real project! Currently she is relishing planning her own design and planting schemes. What she is most passionate about when it comes to gardening are the positive effects it has on our mental health to grow and care for plants, as well as being great for the environment too and help provide food and shelter for wildlife.