Best plants for winter colour: our favourite picks for creating seasonal interest
Add our top plants for winter colour to your garden for a space that's packed with interest throughout the colder months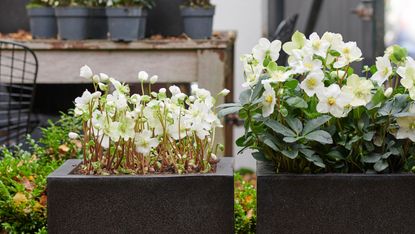 (Image credit: The Joy Of Plants)
If you want your garden to look good all year, including the best plants for winter colour is vital to ensure there's still plenty for you to enjoy during the colder months. As the fiery colours of autumn begin to fade away over the coming weeks and foliage dies back, gardens can quickly start to look one dimensional and, quite frankly, a little dull.
The good news, however, is that there are plenty of plants which come into their own during the winter, with stunning foliage, flowers or bark in a range of vibrant and uplifting colours. Keep reading for some of our favourite choices, then head over to our winter garden ideas for more uplifting ways to add interest to your space as the temperatures drop.
1. Heuchera
These foliage plants pack a real punch during the winter months, with prettily shaped leaves in shades of plum, lime green and orange. Heuchera is an easy-to-grow evergreen perennial plant, and it provides excellent ground cover, perfect for lining a garden path or softening hard edges.
The plants will also grow in window boxes and containers and they are shade tolerant. Try 'Lime Marmalade' for a zesty green which really pops, 'Palace Purple' for a rich tone, and 'Paprika' for an orange/red leaf. Mix and match the colours together to create a splash.
2. Hamamelis
Scented, spidery-shaped flowers which glow like burning embers on bare branches make this shrub, also known as witch hazel, a boon for winter borders. Although it is a deciduous plant, which loses its leaves in the autumn, the flowers appear before the new spring foliage in late winter.
'Advent' is the earliest to flower, with bright yellow blooms, while 'Jelena' has exotic coppery orange coloured petals. Height and spread will be around 4m and the larger they get, the more prolifically they will flower.
Hamamelis prefer moist but well drained soil, and they will do well in a sheltered spot in a woodland garden. An extra bonus is the amazingly sweet scent of the flowers, always a major plus in the bleaker months.
3. Phormium
Although they look exotic and tender, with their pointed, strappy leaves, phormiums are evergreen and they will provide colour and structure through the winter. Choose a variety such as 'Jester' for a rich purple red, or phormium tenax variegata which has grey green leaves with warm gold edges.
A few measures are needed to keep them healthy. Plant in a sunny, sheltered spot, ideally in the spring, so they can get established before the cold weather comes. Dig some compost into the planting hole. The base needs protecting with mulch in winter if you live in colder parts of the country. Our guide to mulching has all the info you'll need.
In the spring, keep them looking smart by removing any withered leaves. Chop as close to the base as possible. If they grow too large – and they can hit 1.5m – they can be lifted and divided.
4. Sedum
Although it finishes flowering in October, the fading flat-topped pink flowers and upright stems of the sedum add subtle washes of welcome colour to beds and borders.
Recently officially renamed as hylotelephium spectabile, these easy-care herbaceous perennials are tough customers, although they do prefer to grow in full sun and well-drained soil. Try 'Autumn Joy' where the flowers change from green to dusky pink as the season progresses. 'Brilliant' has deep pink flowers and 'Matrona' is a dustier tone. In the summer, sedums are drought-tolerant, making them a really good all-season all-rounder.
5. Japanese Forest Grass
Ornamental grasses are always a good choice, as a rippling fountain of zingy green-gold grass is always a welcome addition to the garden when everything else is turning brown and withering away.
This grass, also called Hakonechloa macra is one for early winter colour, and it will grow well in sun or shady spots. It forms thick, well-shaped clumps, and will thrive in containers or borders. Use it to light up a gloomy area. Height will be around 35cm and spread 40cm. Try 'All Gold' for a fresh green, or 'Nicolas' for red foliage.
If your local garden centre does not stock it, try a specialist mail order nursery. Expect the grass to die back completely in mid-winter, but it will soon return with bright shoots in the spring.
6. Cornus (dogwood)
The magic really happens in winter for the dogwood, when this shrub loses it leaves to reveal stunning whippy orange and red stems which create a splash of colour and texture against winter landscapes. Try 'Winter Flame' for slender bars of orange, red and gold, 'Anny's Winter Orange' for fiery coloured ones, or 'Golden Twig' for a pop of yellowy green.
Dogwoods are easy to grow. They are not fussy about soil conditions, and will tolerate damp, but prefer sun or partial shade. Prune in early spring to keep the stems bright. You can either cut them right down to ground level, or remove about a third of the oldest growth and any dead or diseased twigs.
Height and spread is around 2.5 metres, but check the plant label before you buy as this can vary between varieties.
There's more ideas for plants with attractive winter bark in our feature.
7. Viburnum 'Charles Lamont'
Colour and scent is the Holy Grail for winter interest, and viburnum delivers both. This useful shrub has gorgeous clusters of sweetly fragranced flowers on bare stems from November to March. 'Charles Lamont's' pretty, pink flushed flowers will light up dark days.
Viburnum needs rich, moist soil and a sheltered spot. After it has flowered, prune the old, weak branches right back to the base, and add a thick mulch, around 7cm deep. Avoid mounding up the mulch like a volcano around the plant as this can increase the risk of infections.
Height will be around 2.5m and spread is 1.5m. This is delightful planted near a front garden path, to gain the full benefit of the fragrant flowers.
8. Hebe
These compact evergreen shrubs will boost a wintry plot. Low maintenance and very hardy, the foliage comes into its own during the coldest season. Try 'Rhubarb and Custard' for neat pink and green leaves on purple stems. The colour intensifies in the winter months.
'Heartbreaker' is another choice which flushes pink as the weather turns. For subtle grey green leaves with white edges, 'Tricolor' is recommended.
They will grow to about 60-80cm, and owing to their compact size, hebes are perfect in pots, or you can mix them with other evergreens to create a textural border which won't fade away.
9. Hellebores
Masses of flowers in January sounds too good to be true, but hellebores or Christmas roses will deliver the goods in gorgeous shades of burgundy, damson, apricot, blush pink, and almost black.
These beautiful open blooms continue to flower for weeks, and they will come back every year. You can underplant trees and shrubs with these obliging florals, too, as they won't mind a shady or awkward spot.
Planting is straightforward: just dig a hole as large as the plant in its pot, add a handful of multipurpose compost and that's really all they need to thrive. Try 'Anna's Red' for muted cerise petals, 'Spotted Pink' for tiny freckled spots, and 'Double Ellen Purple' for a dramatic almost-black.
You can find more advice on how to grow hellebores in our guide.
Read more: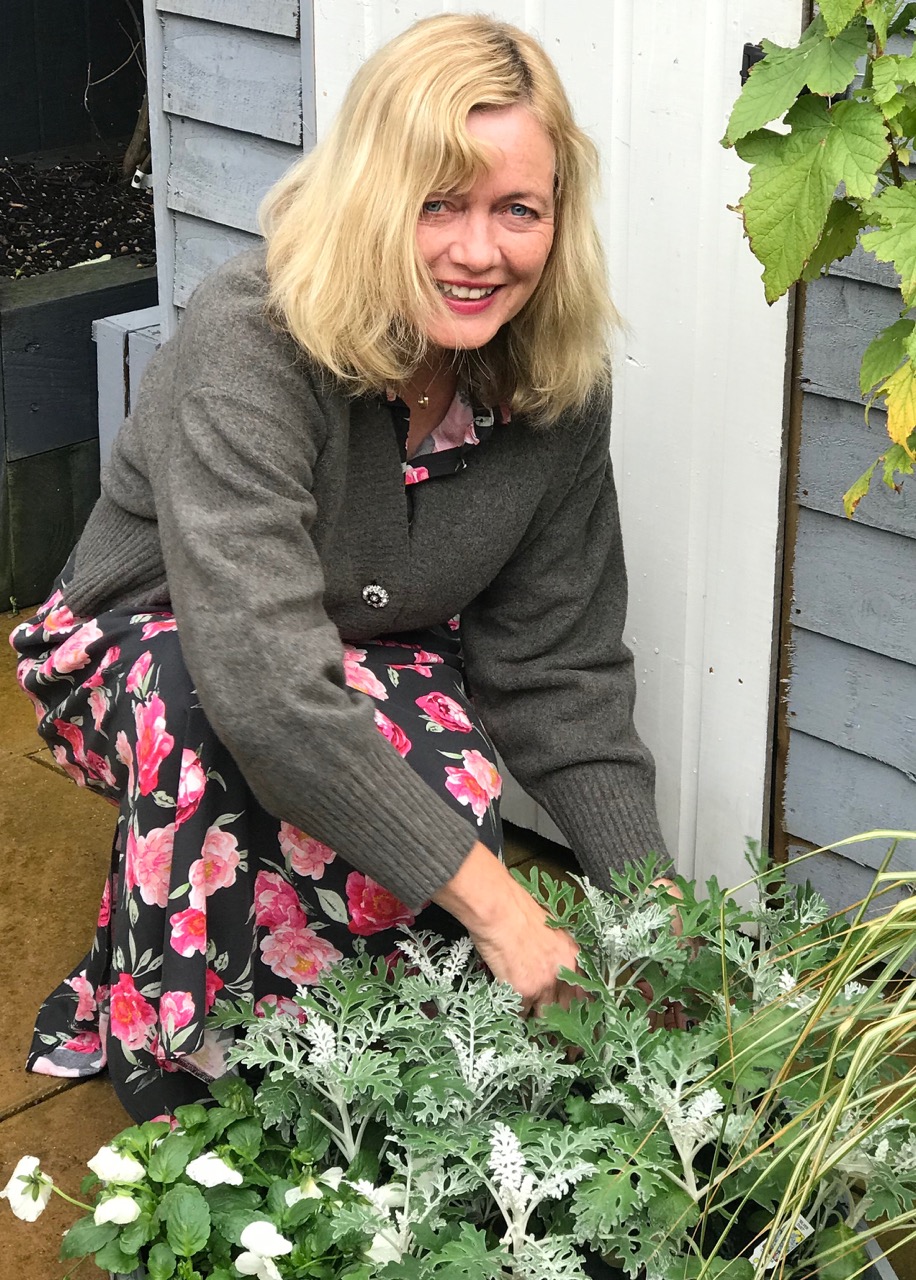 An experienced freelance journalist, editor and columnist writing for national magazines and websites, Fiona now specialises in gardens. She enjoys finding and writing about all kinds, from the tiniest town plots to impressively designed ones in grand country houses.