25 front garden ideas to smarten up your home's exterior
These inspiring front garden ideas are guaranteed to instantly improve your home's kerb appeal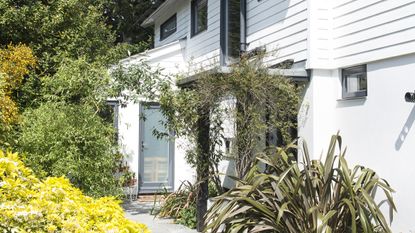 (Image credit: Colin Poole)
Sprucing up your home to boost its kerb appeal? Our front garden ideas will give you all the inspiration you need to transform your outside space. As the first thing we see when we come home, our front garden sets the tone for our house, as well as creating that all-important first impression for family and friends when they come to visit.
What's more, if you're thinking of selling your home, you'll want to make sure the exterior of your property is looking its best. After all, there's no point the interior of your home looking amazing if potential buyers are already put off by the time they've reached the front door.
When it comes to the size of your space, even the smallest of front gardens can be transformed with some clever design tricks, turning a bland and uninspiring garden into somewhere that looks stylish and well-cared-for.
So whether you've got loads of space to play with, or no room to swing a cat, scroll down for some great front garden ideas to update your space. Looking to update your back garden too? You'll find plenty of inspiration in our garden design ideas gallery.
1. Trail a climber around the door
Give your front door a lush frame with a climber such as wisteria, which will overflow with those much-adored fragrant lilac blooms in spring.
To trail around the door, provide support in the form of wires or trellis, and make sure to keep on top of pruning to keep this vigorous climber under control or your may end up with a Secret Garden-esque hidden door! Prune twice a year in July/August and January/February.
You can find out more top tips on how to grow wisteria in our guide.
2. Repaint your front door
One of the best ways to give the front of your home a brand new look is to repaint your front door. Swapping a neutral tone or plain wood finish for a colourful, on-trend shade will make your exterior stand out from the crowd. For best results painting wooden front doors, thoroughly clean the door first to remove any dirt, dust or grease, then scrape off any loose paint and lightly sand the door to create a good surface for the new paint to adhere to. Apply two coats of your chosen best exterior wood paint and you're photo ready. We're loving the subtle lilac tones of this door, painted in Lavender Quartz by Dulux.
3. Build a brick pathway
Create a pathway through a graveled front garden using bricks, arranged in a repeating pattern. Your path can be straight or curved, but a winding pathway will make it feel like a more interesting journey to the front door. Try to source old bricks for an aged, timeless look and pop blooms in pots along the route for interest. Head to our landscaping ideas for more inspiration.
4. Use bold architectural plants
Make a statement with large architectural plants next to your pathway. The bold shapes of these plants work well with more contemporary homes and will help to break up and soften the effect of strong architectural lines, anthracite-coloured window frames and sleek grey paving. Go for evergreen varieties and you'll have a splash of colour to lift the front of your home, whatever the time of year.
5. Play with angles
A great solution for your garden path ideas is to set a paved path at a diagonal for an informal feel, and go for different planting options on either side. A zigzag of box topiary balls feels looser than a straight line, then choose country-style planting on the opposite side of the path for contrast, and let it spill over to soften the straight edge.
6. Create a country-cottage inspired front garden
Tall, lush planting either side of the pathway up to your front door will recreate the mood of a romantic countryside setting. Combine small trees and shrubs with ferns and wildflowers such as foxgloves, and use cobbles or flagstones for the path for the perfect country idyll. Head to our cottage garden ideas for more inspiration.
7. DIY a doorstep door number
Make your mark with a DIY pebble mosaic of your door number either right on your doorstep, or by the front gate. A fun DIY project, use pebbles or cobbles for a natural look, or if you're in the mood for something with a bit more impact, embrace colour or pattern by swapping pebbles for pieces of broken crockery (make sure to avoid sharp edges poking up), bright mosaic tiles or colourful glass pebbles.
8. Tile your garden path
Jump on the geo trend with a pathway tiled smartly with outdoor tiles that feature a simple geometric design in muted colours. This classic pattern recalls classic Victorian style floors (try Topps Tiles for similar designs), but is given a modern makeover thanks to the simple shapes and pared-back palette. Pair with a bold colour for your door and gate such as mid blue/teal – for similar try Stone Blue by Farrow & Ball.
9. Look out for creative lighting
Get two for the price of one with a practical lighting solution for your front garden, combined with a planter to add some blooms for a bright pop of colour. For similar, try the solar lamp post planter from Studio. Whether you prefer a modern or traditional look, you'll find the right style for your space with our best outdoor lights.
10. Build a coastal-inspired pathway
Transport yourself to your favourite sandy beach every time you arrive or leave home by recreating a classic boardwalk. You don't have to build it from scratch if your DIY skills aren't up to it (though by all means go for it if you're game) – you can buy a roll up wooden path or slatted tiles that slot together to get the look. Remove some slats to create extra spaces between boards, and fill with pebbles or cobbles for an authentic feel.
11. Hide the bins
There are so many bins outside our homes these days, with general waste, recycling, garden waste and more and these definitely don't fall into the 'attractive' category when it comes to kerb appeal. Screen those eyesores from sight using our favourite garden fence ideas, trellis or bamboo screening. Take it even further by trailing climbers up the screen to help it blend into the rest of the garden.
12. Use symmetry
An arrangement of topiary pots turns the front door into an eye-catching feature. Mirror the same positioning of matching pots either side of the door to create a pleasing sense of symmetry for an elegant welcome. Box balls, cones and spirals have year round classic appeal. Look out for interesting planters at salvage yards and antiques fairs, but remember to buy in pairs if you want to stick to a strict symmetrical display.
13. Pretty up window ledges
Filling your windowsills with blooms means the display can be enjoyed from inside and out – a double win! Traditional window boxes are great, but for an even simpler solution, pop some pots on the ledge and fill with plants that suit the window's orientation, whether it's shade loving plants or sun-thrivers. Pick a pot style that reflects your look – concrete-effect planters are great for an urban vibe, or go for traditional designs for a more formal feel.
14. Create a vertical garden
Use wall space between windows or on a side wall to add a vertical garden to your home's exterior. Horizontal fence panels can be used to create a living wall from which to hang small plant pots and baskets. Extra style points for painting the fence panel a striking shade – black makes green foliage really pop, but you can pick any shade or even change it up every year when you fancy something new. This Äpplarö outdoor wall panel is from Ikea.
15. Group succulents in pots
For low-maintenance garden ideas that'll provide a striking display next to your front door year round, opt for sempervivums, hardy alpine succulents which come in a whole rainbow of colours.
These love a sunny spot, and you don't even need to remember to water them as they can survive without watering for months over the summer. Most sempervivums are frost hardy so they can stay in their spot all winter, too. Our guide on how to grow succulents has all the advice you'll need to introduce these on-trend plants into your garden.
16. Pull up a pew
Invite guests to settle down for a good natter (cuppa or G&T optional), by adding one of the best garden benches in your front garden. Make it bright and welcoming, with seat cushions in bold fabrics and surround it with pots and hanging baskets full of flowers in coordinating colours for a pulled-together look.
17. Choose an oversized planter
Add interest to your front door with a new planter. Opt for a single oversized design for a statement look or group several together for a more eclectic effect. Fill with strong smelling plants such as lavender for a lovely scent every time you brush past the planter, or opt for low-maintenance ornamental grasses for year-round colour and interest. The minimal design of this Rodborough planter from Garden Trading would suit a contemporary front garden, and the dark colour lets the vibrant greenery of your plants really stand out.
18. Knock up a water feature
Add interest to a dull corner with easy DIY water feature ideas. It doesn't need to be fancy to attract wildlife. Fill an old galvanised trough or bucket half full with water, add some pond plants, then top with white pebbles and extra water if needed. You could also include a solar water pump so your feature enjoys a little water fountain when the sun's shining.
19. Use potted plants as house number
Transform simple terracotta pots into a fun and welcoming house number. Paint on your numbers using chalk paint – get the kids involved for some family fun over the holidays. Keep the rest of the pot plain or go all out and cover it with colourful patterns. Plant the posts up generously with cheerful favourites such as daisies for a display that'll put a smile on your face whenever you get home.
20. Set up a spot for dining
If your front garden gets all the sun, then make the most of it with one of the best bistro sets out there so you still enjoy sunny meals alfresco. If privacy is an issue, put up some willow screening or trellis to create a little dining nook. A well-positioned potted tree would also work to make your spot feel a little more secluded.
21. Decorate with hanging baskets
Hanging basket ideas are a great solution for even the smallest of front gardens – pop up one or two by your front door to immediately make the space look more welcoming. Bright and colourful is the key, and popular plants include petunia, begonia, geranium and fuchsia. For trailing plants you can't go wrong with verbena, ivy or bacopa. Don't be mean with watering, as hanging baskets dry out very quickly – make watering a regular habit and you'll be rewarded with a colourful display whenever you step out of the front door.
22. Get happy with paint
Treat your garden gate ideas (or other woodwork such as fencing) like you would your front door, and paint it in your favourite shade to add make-you-smile style to your outside space. Pick a shade that makes you happy, whether you're drawn to calm, muted tones, pretty pastels or vibrant brights so you can express your personality on your home's exterior as well as in the rooms inside. This garden gate is painted in Orange Aurora by Little Greene.
23. Nail country-style with a climbing rose
A climbing rose ticks all the boxes for creating a charming, chocolate-box country cottage look. Trail up a wall, or position one either side of the front door to add character and turn your entryway into a focal point. If you're renting, plant roses into a planter with trellis and position next to a wall instead.
24. Give front paths a good clean...
Ok, we admit it's not the most glamorous of makeover jobs, but cleaning the front path or driveway will instantly smarten up the front of your home. If you're lucky enough to have beautiful designs like these Victorian flooring Osterley Terracotta tiles from Topps Tiles, you want to make sure they're looking their best. Choose one of the best pressure washers to make light work of the cleaning, and your path or driveway will be as good as new before you know it.
25. ...and don't forget to upgrade your doormat
Even the smallest of details can make a big difference to your front garden. Swapping an old doormat for a new one like this coir design from Garden Trading is a quick and budget-friendly way to update your space. You never know, it might even encourage the kids to wipe their shoes after school before they traipse through the house, but we can't guarantee it...