How to grow poppies: top tips on growing and caring for these stunning blooms
Find out how to grow poppies to fill your garden with brilliant blooms that add colour and a touch of flouncy detail to borders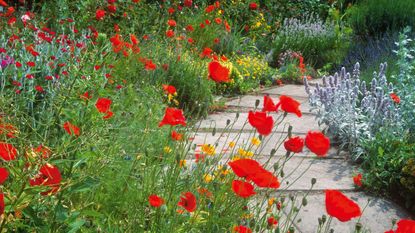 (Image credit: Future)
There are lots of tips on how to grow poppies to get bigger, better and brighter blooms, as well as how to get more of them. They're such feelgood flowers. When their fat buds burst open to reveal layers of crunched up frilly petals it means summer's finally here.
From crimson, cerise and dusky plum to apricot, gold and yellow, often with velvety black splodges at their heart, these fantastic blooms come in an array of sumptuous paintbox colours. As well as neon brights there are pastel shades in the softest creams, pinks and peaches if you want to create a more subtle look.
In addition to the light and gauzy petals of the traditional pillar-box red variety you can get fancy ruffled and crinkled ones that look like layers of crepe paper. When it comes to size there's everything from dainty to giant to choose from. That's not all. After the main show you've always got the stunning seed heads to look forward to. They add an architectural note to the autumn garden and work well in the dried arrangements that pop up in shots of the coolest interiors.
Poppies are versatile, tough, easy-to-grow plants that fit into both modern and traditional gardens. Keep reading for everything you need to know, then check out our guide to garden borders for more planting inspiration.
HOW TO GROW POPPIES
Follow these key pointers on how to grow poppies and help your plants to thrive.


Poppies are easy to grow from seed.
The most popular variety to grow in the garden is the oriental poppy.
Most poppies thrive in moist but well-drained soil in full sun.
Deadhead faded blooms to prolong flowering.
The seed heads are a beautiful feature in themselves and the seeds can be harvested so you can grow them and add to your collection of flowers next year.
Once annual poppies have gone to seed, pull up the plants and compost.
Cut back biennials and perennials to ground level in autumn.
Poppies are rarely planted in containers and perform much better in the garden.
WHAT TYPE OF POPPIES SHOULD YOU GROW?
There is plenty of choice with over 70 different varieties including annual, biennial and perennial varieties. It's this versatility that makes them such a popular garden flower plus their show stopping qualities.
Oriental poppy This variety has large, vibrant blooms and is the most popular to grow if you like bold flowers. Some have splodgy detailing on the flouncy petals that looks like paint splashes. Tall and strong stemmed, it will create a real focal point in your garden in early summer. While people typically grow oriental poppies for their magnificent blooms, their feathery foliage is pretty too.
Field poppy This is also known as the Flanders poppy (it's associated with remembrance) and it's the easiest to grow. It's an annual, bee-friendly variety that's ideal if you've been thinking about how to plant a wildflower meadow in your garden.
Californian poppy Known for its vibrant flowers in shades of tangerine, canary yellow and crimson. It's drought tolerant and the star of wildflower gardens, where it will self-seed freely after a long growing season.
Opium poppy This variety has striking pink, red, purple or white flowers and distinctive grey-green foliage. It's taller than most other poppy varieties.
Icelandic poppy Not as easy to grow as the oriental poppy. It's a short-lived perennial usually grown as an annual. Iceland poppy cultivars are available in bright yellow, orange and pink flowers.
Himalayan poppy This is the toughest one to grow. An unusual sky blue, the seeds can be hard to germinate, the plants require constant moisture, and will only thrive in exactly the right temperature. So avoid this one unless you like a challenge!
ARE POPPIES EASY TO GROW FROM SEED?
You can sow annual and biennial poppy seeds directly in the ground if the soil is well-prepared. Check the seed packet for info on how specific varieties should be sown.
Sow seeds in spring or early summer, staggering your sowing to get a continuous show of poppies. Some people prefer to scatter them in borders without covering with soil and just leave them to get on with it. Flowers will open in the summer (from June to August in the UK) depending on the variety and conditions.
There's more advice on how to grow flowers from seed in our guide.
How to grow poppies from seed: a step-by-step guide
Choose a sunny spot with good drainage. First weed the area and rake the ground to a fine tilth and make sure it's level.
Shake out some poppy seeds into your hand. Add about a teaspoon of sand. Poppy seeds are tiny, and the sand or sugar will make it easier to plant the seeds evenly.
Sprinkle the seed mix thinly over the soil at random to create natural looking drifts. Cover with a thin layer of soil but don't bury them too deep otherwise they won't germinate.
Allow up to a month for them to germinate, depending on the variety and weather. Keep the soil moist.
If your seedlings look crowded once they're large enough to handle, thin them by pulling out the weakest seedlings when the plants reach around 5cm tall.
Water the area regularly (find the best garden hose for the job in our guide), especially during dry spells.
HOW TO PLANT POPPY PLANTS
You can also buy poppies as bare root and potted plants. Spring is the best time to plant them. Dig a hole that is deeper than the pot in some well-prepared soil and add some organic matter. Put the plant in the hole, backfill with soil and firm. Water well, then following up regularly depending on how warm or wet it is.
WHERE IS THE BEST PLACE TO PLANT POPPIES?
Undemanding poppies will flourish in most soils but for the best results grow them in well-drained soil in full sun. They work particularly well as part of our favourite cottage garden ideas.
Oriental poppies are good for adding colour and interest to borders. Taller varieties should be grown at the back.
Annual poppies are often planted as part of a wildflower mix, which is a great option for wildlife garden ideas as it will help to attract pollinators to your plot. Annual poppies can become a nuisance so think about turning a corner into a wildflower patch so they can get on with reseeding themselves every year in their own space.
Purple poppies do best in light shade as their colour can fade if exposed to too much sunlight. Purple flowered 'Patty's Plum' is an example of a poppy that will hold its colour better when planted out of direct sunlight. There's more ideas for shade loving plants in our guide.
Poppies are usually grown directly in the ground but they can also be grown in pots as part of your container gardening ideas. They have long tap roots so choose deep containers and stand them on pot feet so the soil can drain freely.
HOW DO YOU GROW POPPIES SUCCESSFULLY?
Poppies are undemanding and easy to grow. They will do well in deep, fertile soil that's well drained. If your soil is on the heavy side try improving it by digging in some horticultural grit.
They prefer a sunny position so think carefully before choosing your planting spot.
Annual poppies are the easiest to care for, especially if you grow them in a wildflower patch where they can romp away and self-seed freely. There's no need to stake or deadhead them, and they only need watering during very hot spells.
Taller oriental poppies and Himalayan poppies need staking to look their best as they're prone to flopping.
Cut back oriental poppies to ground level after flowering to stimulate growth, and you might get a second flush of flowers. Mulching and feeding will help to encourage this.
It's a good idea to prevent oriental poppies from going to seed. This boosts the chance of more flowers as the plant's energy isn't diverted into the seed heads.
DO POPPIES COME BACK YEAR AFTER YEAR?
This depends on which type of poppy you choose, as there are annual, biennial and perennial varieties. Some plants are pulled up after flowering while others are cut back and will flower again the following year. As poppies self-seed so freely they all tend to come back one way or another, but not necessarily where you want them to!
WHAT PROBLEMS AFFECT POPPIES?
Poppies are generally pest and disease free. However, some varieties can by affected by mildew. Pale or yellow spots or angular blotches appear on the surface of leaves, while underneath a light grey or purplish downy growth appears. Affected leaves and stems become misshapen, and you won't get any flowers. It's most common when the weather is warm and rainy.
If you spot the signs clear away any decaying leaves and stems. It may also be necessary to cut back the plant to ground level.
HOW TO COLLECT POPPY SEEDS
Replenish your poppy stock from their seed heads every year and you can keep your own collection going strong. In late summer check your garden regularly to see what seed heads look ready. If you shake the dried poppy heads and hear the seeds rattling inside this means they're ready to harvest. Snip off the seed head with a little of the stem intact to hold it and keep it upright so you don't lose any of the seeds. Then simply shake out the seeds into a paper bag, label and store in a dry place.
HOW TO PROPAGATE POPPIES
Take root cuttings from oriental poppies in autumn to increase your stock. Take care when dividing plants to propagate new ones. Poppies grow from long carrot-like 'tap' roots, so you will need to dig deeply around the root ball so you don't damage it. Lift out your plant and trim off a section of root.
Cut into 5cm lengths and push each one vertically into a pot of cutting compost with the thickest end at the top. It's a good idea to do a few in case any don't take.
Cover the pot with a thin layer of grit, and water well. Transfer to a greenhouse, cold frame or other sheltered place.
There's more advice on how to take cuttings from plants in our guide.
WHERE TO BUY POPPIES
Different types of poppy are widely available as seeds, bare roots and potted plants.
Buy poppies in the UK:
Buy poppies in the US:
4 VARIETIES TO TRY IN YOUR GARDEN
With so many wonderful colours and varieties to choose from you're spoiled for choice. Here's a round-up of some of our favourite poppy varieties.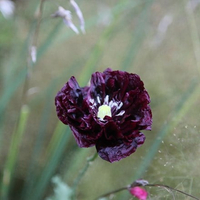 Opium poppy 'Black Paeony' from Crocus
Huge flowerheads are packed with dark plum (almost black), crumpled petals, which give the flower a frilly effect. The blooms appear from June to August. As the petals fall, attractive seed heads remain, which will add interest to the border for several months.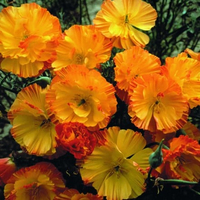 Californian poppy 'Mission Bells' from Waitrose Garden
Californian poppies are easy to grow and even flourish in very poor soil. They put on a dazzling performance all summer long. This mix contains a brightly coloured blend of white, red, yellow and pink shades, which are perfect for cottage gardens, and bees love them.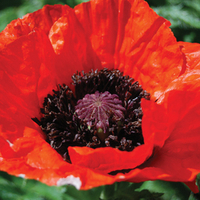 Oriental poppy 'Beauty of Livermere' from Thompson & Morgan
Bright red blooms with inky black centre markings create an eye catching display. Although the flowers are relatively short-lived, this hardy oriental poppy brings late summer interest to borders with its large pepper pot seedheads. It's a must have for cottage gardens.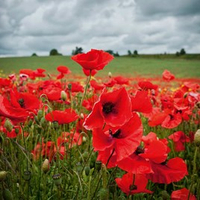 Field poppies from Suttons
Bees and pollinators love this variety. The beautiful and iconic Flanders poppy is so easy to grow. Sow direct in the soil outside in spring and you will be rewarded with a mass of flowers from June to August. Try the seeds sprinkled on bread, cakes and biscuits.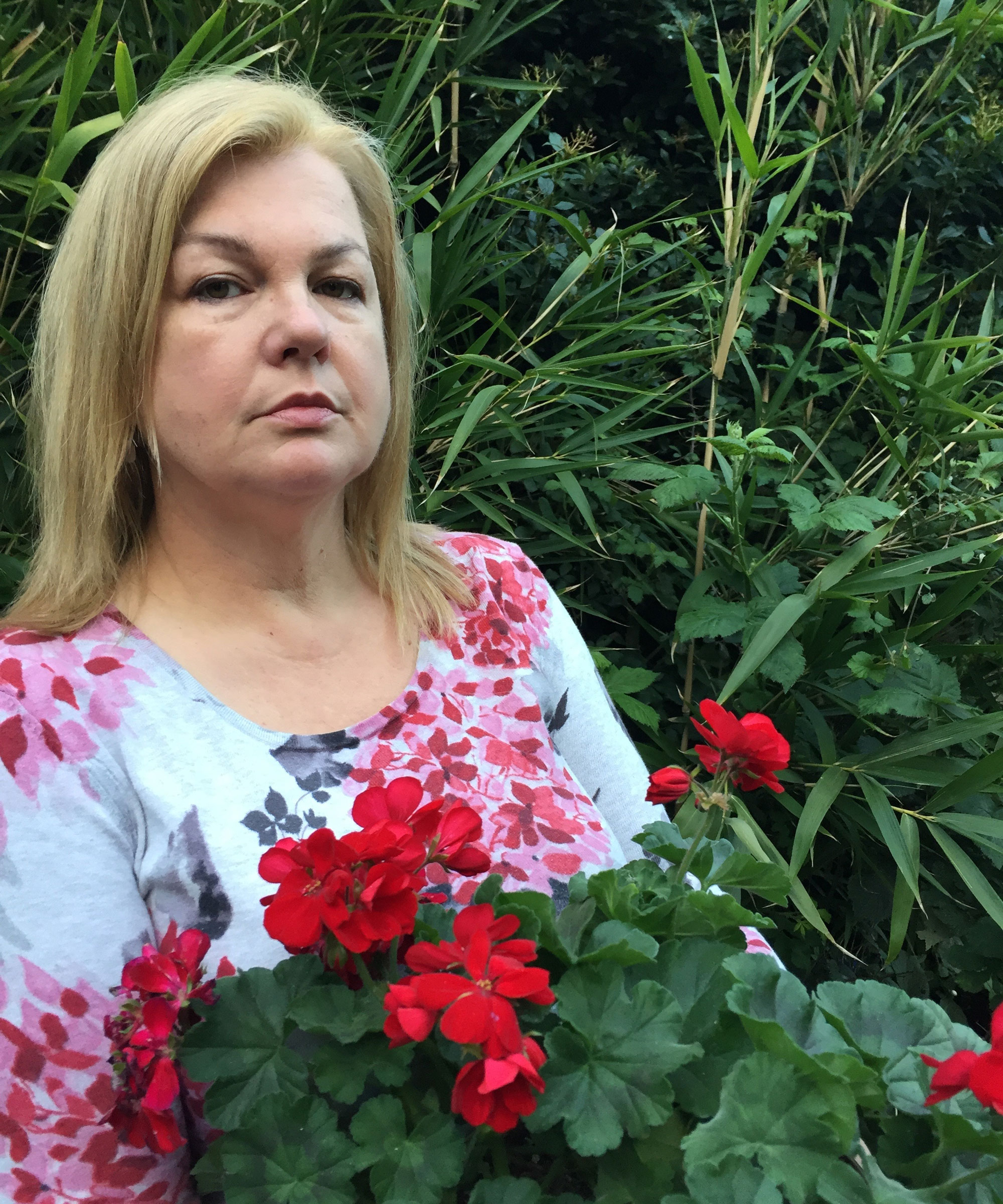 Lifestyle journalist Sarah Wilson has been writing about gardens since 2015. She's written for Gardeningetc.com, Livingetc, Homes & Gardens, Easy Gardens and Modern Gardens magazines. Having studied introductory garden and landscape design, she is currently putting the skills learned to good use in her own space where the dream is establishing a cutting garden.