Top 10 Nerf game ideas for an action-packed summer of fun
Looking for some new Nerf game ideas? From games you can buy to some nifty (and thrifty) homemade ideas, here's our favourites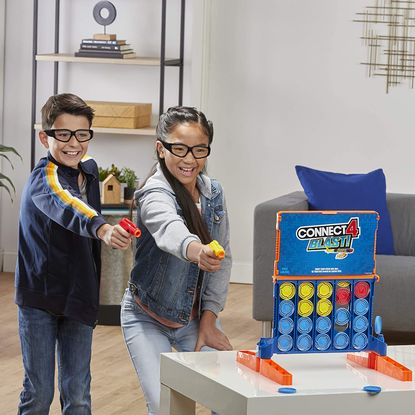 (Image credit: Nerf)
There are plenty of brilliant nerf game ideas to offer fun for all the family – from the youngest kids in the family to the biggest kids out there (we're looking at your grandparents!).
Homemade Nerf gun games are a great idea – not only will they save you money, but they are also a great way to fuel the imagination and get crafty at the same time. But, if you haven't the time or inclination to make your own Nerf games, there are plenty of ready-made games you can buy too.
Before the games commence, have a chat with the children who will be playing with them about safety – a bullet (even a foam one) in the eye is definitely no fun. Set some rules, including one that covers avoiding shots to the face.
Yet to arm the family with Nerf guns? Check out our round up of the best Nerf guns currently on the market.
Homemade Nerf gun game ideas
It's time to get creative and use what you have in the house to transform your garden into the best Nerf gun playground. No budget required!
1. Tin can alley
(opens in new tab)
It might be an oldie, but it's still a goodie! Save your empty cans, bottles, packets or pretty much anything else (non glass) before setting them up on a table or bench to be knocked down. Vary the distance and size of the targets depending on the age of the shooters.
To up the stakes a little, you could colour coordinate the targets, with each colour representing a number of points.
2. Nerf gun tag
A bit like paintballing, but much less painful. The 'tagger' has to shoot the other players. If a player is hit by a bullet, they are out. The game continues until all players are out and the first to go out becomes the new tagger.
Alternatively, play freeze tag. In this game, players are split into teams and all have a gun. If you get shot, you must freeze, and can only be unfrozen if another player from your team hits you with a bullet — the aim is to freeze all members of the other team.
3. Burst the balloon
Fill balloons with water and tie them to various objects around the garden. You could up the stakes by writing a score on each one, corresponding to how difficult it will be to hit. Each player gets a turn to accumulate points and can keep going until they miss, at which point they are out until their next turn.
For older children, create moving targets by throwing the water balloons up in the air – a bit like clay pigeon shooting, but wetter!
4. Run the nerf gauntlet
Set up an obstacle course around the garden using your imagination to create balance beams from planks of wood or stepping stones from cut out cardboard or upturned buckets and the like. The shooter stands in the middle of the course and tries to hit the person running the 'gauntlet'. A stopwatch adds to the excitement.
5. Charge!
A less brutal form of the old playground game 'British Bulldog'. Set up a 'pitch' with two lines at either end. A lone shooter stands in front of the other players, who are lined up at one end of the pitch.
On the shooter's orders, the players attempt to run to the opposite side of the pitch, without being hit by the shooter's bullets.
If a player is hit, they get a Nerf gun and join the shooter in the middle. Play continues until there are just two players running two and fro, trying to avoid a hailstorm of bullets by all the players who are now shooters. The winner is the last one remaining.
Ready-made Nerf game ideas
No time to organise a Nerf game yourself? Fear not, there are some brilliant Nerf gun games you can buy, meaning all the fun with none of the legwork.
6. Hovering target game
Want to make sure you never miss your target again? Well here is the Nerf game for you.
The Nerf Elite Hovering Target game (opens in new tab) can be used as a solo game or with friends. Four foam balls hover above fan-powered air jets, whilst control knobs allow you to adjust the height of the balls to create different levels of difficulty.
With a handy ball storage compartment, a back net to catch the balls and a compact size, this game is ideal for rainy indoor days.
7. Digital target game
You've got the Nerf guns, now make sure you are on target every time with the Nerf NER0156 Elite Digital Target game. (opens in new tab)
Allowing both solo and team play, the target can be wall or table-mounted and featuring three built-in games designed to hone your shooting skills, whilst the interactive lights and sounds liven things up.
The target is compatible with most Nerf blasters and the digital scoreboard makes it easy to keep track of your progress.
8. Soft foam target cans
Ready made Nerf gun targets meaning there is no need to wait for the recycling to build up before you have some target shooting fun.
The 12 Vorcool soft target cans (opens in new tab) have soft rubber bases so that they can be placed on any surface without causing damage. Each target has a score meaning they are great for drumming up a bit of friendly competition when used for team games.
9. Precision target game
The Nerf N-Strike Elite Precision Target Set (opens in new tab) contains everything kids could want for some serious Nerf target practice. The kit features two Firestrike blasters, a target and 16 Nerf darts in two colours.
The target can be hung up or table-mounted whilst the light beam given off by the blaster can reach the target from an impressive 15 feet away.
Play alone or play with a friend and sharpen those shooting skills.
10. Connect 4 – Nerf gun style
Connect 4 on a whole new level. The Connect 4 Blast! game (opens in new tab), which comes complete with two Nerf blasters and 8 foam darts, requires two players to fire at the coloured discs with the aim of being the first player to hit four discs in a row.
This is a fast-paced shooting game, requiring pretty impressive target skills to win –expect lots of laughter, screeching and racing back and forth to reload with this one.
More garden ideas for kids: