Best garden games: 10 outdoor games to enjoy in the sun
These are the best garden games for outdoor fun. From giant Jenga to Swingball, make the most of the warm weather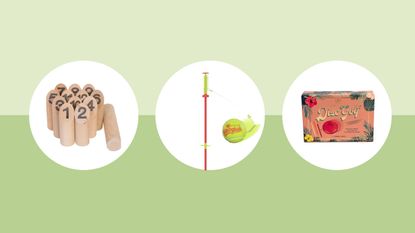 (Image credit: Future)
Embrace the outdoors this summer with the best garden games. There's no better way to enjoy the warm weather than spending time with family and friends swinging a bat and ball or throwing a frisbee in the sun.
Whether playing in large groups, teams or against one another, outdoor games are a great way to keep the kids entertained, gather the whole family and to give guests something to do at a barbecue. Of course, there's no harm in a bit of healthy competition either.
From swingball, croquet and rounders, to giant Jenga, skittles and disco golf, we've rounded-up some of the best garden games for everyone to enjoy this summer - including our favourite, best ball garden game and the best giant garden game. And if you're planning on taking a trip, want a garden game for your wedding or event, or you're searching for a fun gift, there are options for you, too.
The best garden games are generally budget-friendly, but if you are willing to splash out on outside activities, then the best trampoline may be a great investment for outdoor entertainment that will also keep you active.
The best garden games to buy for the kids this year
Why you can trust Gardeningetc Our expert reviewers spend hours testing and comparing products and services so you can choose the best for you. Find out more about how we test.
1. Mölkky Skittles Game
Our favourite garden game
Specifications
Age : 6+ years
Players: 2+
Reasons to buy
+
Great for teams
+
You can have unlimited number of players or just two
+
Great for all ages
+
Good price point
Reasons to avoid
-
Doesn't include a score pad
Our favourite garden game, this Scandinavian version of skittles doesn't just look good with its plastic-free wooden design but also is the best fun to play. It is more strategic than the classic version, but we found this heightens competition, making it all the more exciting.
How to play
Arrange the pins as displayed in the image and throw the Mölkky (a short log) underarm to knock them down. You score the number that is once the pin you knocked over (if any). Once the score has been tallied (you'll need to find something to write down the point with, mind) put the pins back where they fell. It's simple, but as the pins spread out, more skill is involved to aim for specific numbers. And the goal is to get exactly 50 points, go over and your score halves to 25 - not as easy as it seems then.
Suitable for
Play solo or split into teams, it's an incredibly versatile game for all. Get it out at parties, or casually play with your family for the ultimate back garden fun. It's quite large in size and has many components so we'd recommend it for at-home use only. It'll also work on a patio, terrace or driveway though.
2. Professor Puzzle Giant Toppling Tower Game
The best giant garden game
Reasons to buy
+
Fun design
+
Great for parties
+
Good price point
Reasons to avoid
-
Not the smallest to cart around
A levelled-up version of the original wood block stacking game, Jenga, this giant Toppling Tower Game is an unbeatable choice for the best giant garden game. Its height only accelerates the suspense of not knocking over a balancing tower, and its colourful design makes it a great feature for garden parties and family gatherings.
How to play
An oh-so-easy game to play, as most will know from its smaller imitation, Jenga, remove the blocks until the tower falls down, crushing your opponents (not literally) in the process.
Suitable for
Uncomplicated and fuss-free, anyone can play, even younger ones since there are no small pieces to lose. Obviously, given its size, there's not enough room in the boot to take it away on your next holiday, but it is ideal to get out on the lawn in your garden. That said, it does neatly pack away into a smart canvas carry bag you can keep in your garage or shed.
3. Classic Swingball All Surface
The best garden ball game
Reasons to buy
+
Only needs one player
+
Height adjustable
+
Portable
+
Good price point
Reasons to avoid
-
Can't have too many players
-
Not portable
Need a compact ball game that isn't going to go over your neighbour's fence or destroy any plants? Look no further than this best-selling garden game. It has been approved by our Editor – and her kids aged 11 and 7 – and it's easy to assemble as well as fun (and competitive) for all of the family. 'They've had hours of fun playing with it. My husband and I are fairly competitive, so we've been known to have a game as well, and I can confirm it's robust enough to withstand more than a few aggressive shots.' Any usual after effects of fun ball games, like the occasional smashed window – trust us we've been there – are contained with this ball on a string activity.
How to play
You may not have to move as far with this bat and ball game, as with others, but it will keep you on your toes. Put the tether in the middle of the spiral, hit the ball for it to fly around the pole, moving it up and down the spiral. The first to get to either end, depending on your position, wins!
Our Editor claims, 'It's really easy to assemble and you simply fill the base with water to make sure it stays upright when you're playing. I like the updated design as there's no need to screw the bottom of the main pole into the ground (like we had to when I was a kid), and it all packs away into the handy carry case for easy storage. The portable design means we've even been able to take it away with us on holiday too.'
Suitable for
Our favourite bit about this best garden ball game is that you can play it alone. Practice ready for opponents and keep your kids occupied with endless games they won't get bored of. Plus, it's a great way of developing hand-eye co-ordination.
Whilst there are a few Swingball variables on the market, this All Surface version is best, since it's not only suitable for gardens, patios and decking, and won't leave a hole in your lawn like other push-in-the-ground types, its height is adjustable for all-ages. When you're done, either keep outside, as it's weather resistant, or pack away neatly into the portable base for easy storage and taking away on your next camping holiday.
4. Great Garden Games Rounders Set
The best garden game for larger groups
Reasons to avoid
-
You'll need a large garden
-
Needs lots of players
Remember the fun you had on the school field playing a good game of rounders with classmates? We're certain at any age, that everyone has at some point played this classic garden game.
How to play
Including wooden posts, a rounders bat and ball set and instructions (if you need reminding of the rules), this game contains just about all you need for a fun summer's afternoon activity, Position the posts as bases, assemble your team with fielders and a bowler against batting opponents and game on!
Suitable for
If you've got the space, and you're not overly fussed about your garden taking a potential beating, then get everyone involved with this group pastime. Meant for a team of 6, minimum, you can't play this alone or with a small group. And since there are so many people involved, it might be best to take this to your local park or open green area. Still, it's worth a nostalgic win (or defeat) against friends.
5. Bex 6 Mallet Croquet Set
The best garden game for adults
Specifications
Age: 8+ years
Players: 2+
Reasons to buy
+
Classic game loved by adults
+
Play as individuals or in teams
A British best garden game round-up isn't complete without including the perennial classic - croquet. A once past time for the landed gentry, this game has become synonymous with sophisticated adult garden parties around the country - perfectly paired with afternoon tea or a glass of or two of Pimms. For this reason, it's our best garden game for adults - though still loved by older children, mind.
How to play
Set up the ten hoops on your lawn in whichever arrangement you choose, and tap the ball through towards the target stick with your wooden mallet. Just remember to keep track of the scores.
Suitable for
Enjoy a game of up to six players, individually or as teams, with this Bex croquet set, and even buy two if others want to get involved. It is at a higher price point, however. Nonetheless, it's a timeless garden game you'll be reaching for year after year, fit for all occasions, whether a lazy summer's afternoon spent in the back garden or celebrating at an event with friends.
6. Jaques of London Quoits Garden Games
The best garden game for weddings
Reasons to buy
+
Perfect for events or large celebrations
+
Inexpensive
+
Portable
Reasons to avoid
-
Doesn't come with a score sheet
Looking for a garden game for guests to enjoy at your wedding or event? This portable, ring toss game is perfect for taking along to your daytime, outside celebration. Beautifully packaged and in a classic wooden design, it'll look the part and go with any colour scheme too.
How to play
Unwrap your Jaques of London game to reveal a complete set of 5 rope coits, 9 wooden quoits posts, 2 wooden base strips and an instruction manual. Set up your easy-assemble layout, marking your throwing spot 3 metres away from the centre peg and let your guests take it in turns to throw each hoop. The first player to reach 230 is declared King or Queen. You may want to purchase an additional chalk scoreboard in line with the aesthetic to keep a track of points. But as a relatively cheap garden game, it wouldn't be an expensive add-on.
Suitable for
A collaborative game with unlimited amounts of players, and one you won't have to stick around to wait for the winner, is best for large celebrations or events. Guests of all ages and capabilities can give this a go before continuing to enjoy the special occasion.
7. Disc Golf
The best garden game for the park
Specifications
Age: 10+ years
Players: 2+
Reasons to buy
+
Fun for all
+
You can play with any amount of people
+
Portable
Reasons to avoid
-
You only get four frisbees
-
Need a large space
Get ready to tee off with this fun twist on a classic golf game. Easy to learn and uncomplicated to play, spend time outside in the sun with this best garden game for the park.
How to play
This garden version of a popular sport couldn't be simpler – just stake the posts into the ground and chuck a frisbee until it hits (in the fewest number of throws possible).
Suitable for
To get the best aim, you'll need a good range of space. So if your garden is on the smaller side and you risk an off-throw hitting your house or flying over the neighbours' fence, then it's best to take it to your local park. Even better, light and compact, it's one of the best garden games to take on holiday and play on the beach.
As the rules are very simple, everyone and anyone can get involved, no matter age or ability. Depending on how competitive your family is, this could provide hours of fun before having to stop the game and decide a winner.
8. Jaques of London Kubb Outdoor Game
The best traditional garden game
Specifications
Age: 8+ years
Players: 1+
Reasons to buy
+
Classic and timeless
+
Durable to last generations
+
Fun for all
Sometimes called Viking chess, this best traditional garden game was once a big hit with the Vikings. From the Swedish brand Jaques of London, it's beautifully authentic with wooden finished and a weight that's stable enough for use on grass. Traditional and timeless for a reason, we know this will last for generations.
How to play
The aim of the game is to knock down wooden knubbs by throwing batons in their direction, ultimately knocking down the king. Think a less brain-throbbing version of chess!
Suitable for
Play in teams of both adults and kids, this classic game is loved by all, and will be for years to come. It's a little bulky to take away but there's no need to over promise on simplicity, keep it at home ready for summer fun.
9. Giant Pass the Pugs Inflatable Dice Game
The best inflatable garden game
Specifications
Age: Any age if supervised
Players: 2+
Reasons to buy
+
Suitable for younger children too
+
Affordable
+
Portable
A brand-new edition of the classic party and travel game 'pass the pig', this best inflatable garden game is a fun summer addition everyone will love, especially dog lovers! Super affordable too, why not please the kids with their very own puppy, if you can get away without the real thing that is.
How to play
Inflate your canine, pass the Pug by throwing them up in the air before seeing how they land. Which position your dog stands in, be it walkies, canine combo or puppy love, will score you a different amount of points. The highest scorer takes the top dog title. Unlike most of the other games on this list, pass the pug does come with a scorepad, so you can keep a muzzle on any potential cheaters.
Suitable for
Deflate and carry in a handy case to parties, on holiday or to the local park for more space to throw – after all, these inflatable pugs are eager to be outdoors. They'll happily bounce around the garden, float in the pool or stroll in the park - just like their owners, or players. In case you end up in any doggy disasters along the way, the puncture repair kit means this garden game won't wear out too quickly.
10. Chad Valley Double Water Slide
The best water garden game
Specifications
Age: 3+ years
Players: 1 +
Reasons to buy
+
Space for two to use at a time
+
Ideal for a flat lawn
+
Good price point
Reasons to avoid
-
It uses a lot of water
-
Not portable
On a scorching hot day, top of our list of best garden games is – without question – a water slide. Yes, you can splash about in a paddling pool or have fun with the best sprinklers for kids, but the thrill and fun to be had on this best water game is far more rewarding.
How to play
Back when we were all kids, we'd make do with a strip of pond liner with someone relegated to hold the hose pipe while everyone else had all the fun. This version is far more sophisticated – you attach it to the hose and it fills perforated tubes either side of the slide, meaning that it continuously stays wet, while the sprinkler at the bottom also sprays everyone who slides down it.
Suitable for
Whilst we wouldn't begrudge adults from sliding down this garden water game, it's not recommended. Instead, let the kids have the fun getting wet and cooling down in the summer's heat. The best bit? It has two 'lanes' so you can have races, too.
---
Browse more garden games...
If you don't love the options above – or do and want to browse more – you might be wondering where to head to for a wider range of garden games. The retailers below offer great garden games you're sure to enjoy.
What to consider when choosing a garden game
When choosing the best garden games, there are a few things you might want to consider, beyond how fun the games may be. Check out these specs before you buy, so you can find the best garden game for you:
What ages is the game suitable for?
If your kids are over the age of 10, then this isn't so much of a concern. However, younger children may find certain games unwieldy for their small hands or difficult to play. Always check whether a game is suitable for their age group - if not, they may end up frustrated, or worse still, they may hurt themselves.
How many players is it for?
Two player-only games are best avoided by larger families, in part so you can all get to play, but to avoid arguments more than anything else. It's also worth seeing if a game can actually accommodate more players than it states. Certain two- to four-player games can easily be played in teams, with everyone taking a turn.
What games suit my garden best? For small gardens or patios, static games like Jenga, ring toss and, to some extent, Swingball are better choices for the best garden games as you don't need lots of space to play them. If you have a larger garden, space is obviously less of an issue but you should also consider the shape and style of your garden – some games require a certain amount of lawn area and others won't work if your garden slopes down, either.
If your kids are already fans of the best Nerf guns, don't forget to check out our best Nerf game ideas for even more ways to keep them entertained this summer.
How we chose these garden games
Despite the classic, everyone has played at one time or another games on this list, and the Swingball loved by our Editor, these best garden games haven't been tested or tried first hand by our team. Though after writing this guide and reading their fun-filled reviews we're eager to try them over the summer months. We'll provide the recommendation, they'll provide the fun. If you do get round to playing them before we do - we're certain they'll live up to their promise to entertain.
We've selected these based best garden games as suited for all, whether you're wanting a garden game to keep the kids occupied or to take away with you on your upcoming holiday. Of course, many of their best-for's overlap, so don't think the best traditional garden game won't be great for your wedding or event. Either way, spend your summer with the best garden game for you and your family and friends.
Louise is the Ecommerce Writer for Gardeningetc, sourcing the best buys to spruce up your outside space. When she's not on the lookout for the latest outdoor design inspiration, you'll find her in the winter garden of her East London flat; soaking up the sun on her outdoor patio set or tending to her ever-growing collection of balcony plants.